Rajwadi Malai Gola is serving the world's biggest 5 kg Gola in Surat that is heavily loaded with delicious sweet toppings! A delicious mix of flavours such as kachi Keri, Cadbury, rabdi, ice cream, and much more at Rs. 999!
Rajwadi Malai Gola's 5 kg Gola in Surat has taken over the internet! Surat is a paradise for aspiring food bloggers, known for the city's taste for exotic and unique street food dishes. The dishes available are sure to impress the viewers, owing to the curious experimentations. Every traditional dish gets a new makeover with experimentation in this city. Rajwada Malai Gola serves a loaded 5 kg Gola with a delicious mountain of toppings. The place is quite popular in the city, and food bloggers visit it to capture this huge dessert!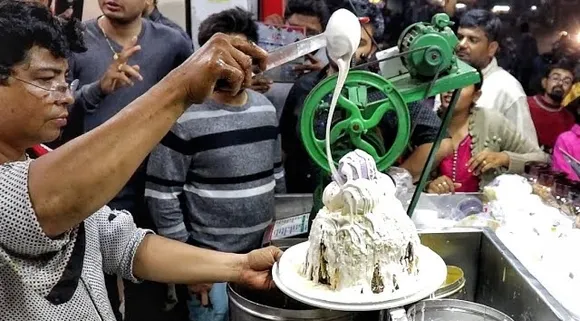 They start the process of making this 5 kg Gola with a base of 3.5 kg shaved ice with Kachi Keri syrup on top. After Kachi Keri, they put on Cadbury, rabdi, fresh cream, shaved mawa, and then three different types of ice cream. The toppings consist of American nuts ice cream, alphonso mango ice cream, black currant ice cream; and everything is once again topped off with heavy cream. Then, choco chips, dry fruits, dried figs, chocolate-covered nuts, pineapple syrup; strawberry, mango crushed with dry fruits, chocolate syrup, and black currant are added.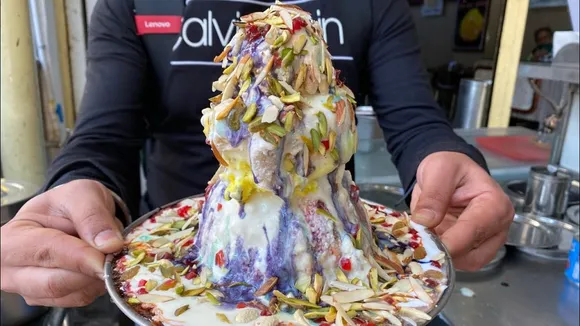 This 5 kg Gola is meant for 12 people, which is probably enough to give you an estimate as to the actual size of it. The Rajwadi Malai Gola has a variety of different sizes that varies from individual size to 9 people, and of course, this 5 kg Gola has taken over the internet by storm. This 5 kg Gola can be a really fun challenge between friends because who doesn't like a 'cold' competition.
Well, we can't wait to try this massive goal with our foodie gang when we are in Surat next time, what about you??
For more such stories follow Local Samosa on Facebook, Instagram, Twitter, and Telegram.