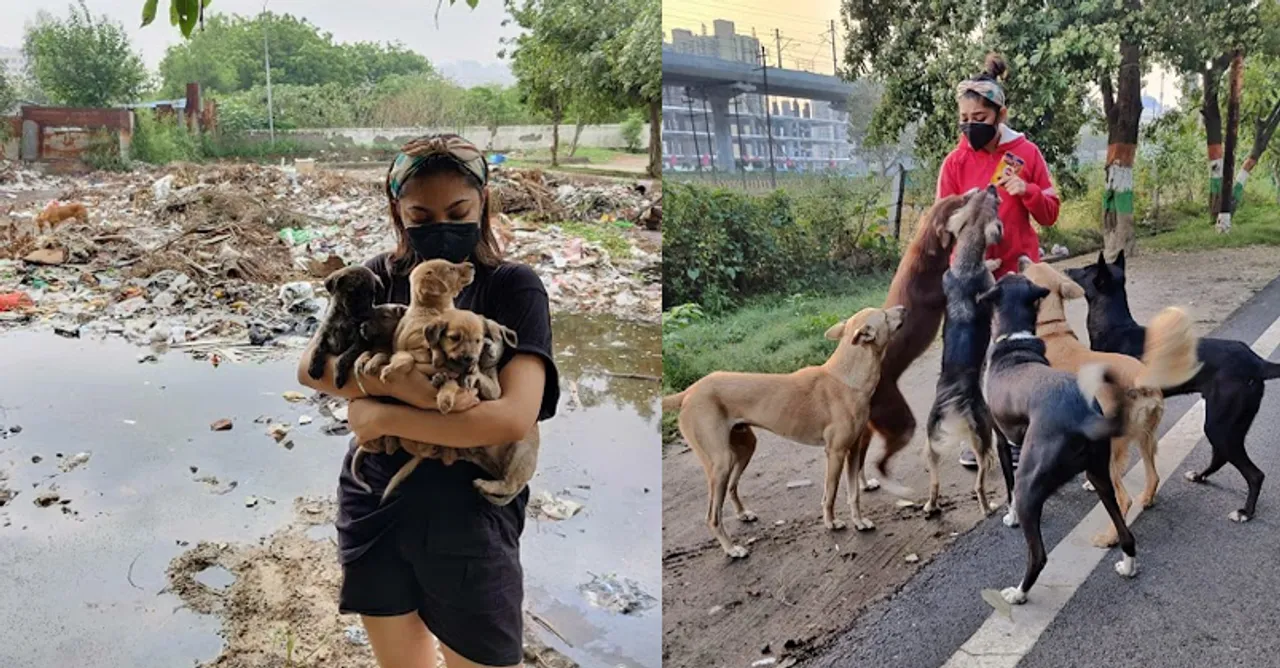 Based in Noida, Asha Foundation is an initiative of Anushka Dutta, a 21-year-old who has rescued 4,000 dogs in the last seven years.
Little Anushka would often find herself in a difficult position when it came to dealing with her schoolmates. A conscious girl, Anushka would however find happiness in seeing around 50 dogs almost daily from her balcony at sharp 6 P.M., when an old lady would arrive there to feed them. Anushka would get contentedly amazed by the lady's actions and would aspire to have a dog at her home, for which her mother had strictly refused. Who knew that the little girl would, one day, turn out to be a rescuer for hundreds of dogs and would start an initiative, namely the 'Asha Foundation', to save from all their woes?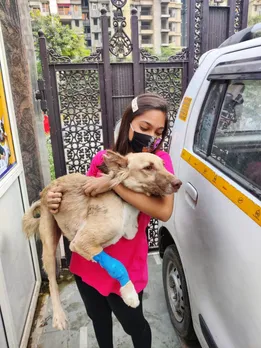 Anushka's internal linkage with the dogs is quite old as she still remembers the day, back in class 6, when she was ridiculed and could not find comfort in the presence of humans around. Then, it was a dog, who she sat nearby to share her feelings. And, to her amazement, she had felt composed even if she did not utter a word with that four-legged furry friend. But every time she would ask to adopt a dog, her mother would deny it with excuses like they were living in a small home.
As the family shifted to a bigger home in Noida, Anushka asked to bring home a dog, and her mother could not deny the request this time. The family welcomed a 26-days old puppy to their abode who would receive all kinds of comfort, as Anushka Dutta says, from proper meals to sleeping in an air-conditioned room. This made her think about the condition of the stray dogs around her area who had no one to take care of, and soon after, she decided to feed them.
Big steps at the tender age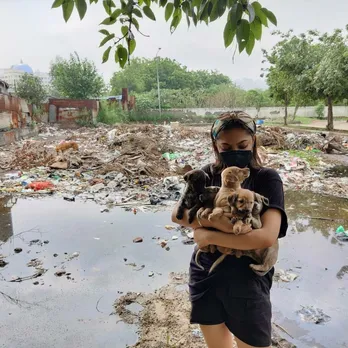 Anushka was only 15 when she started feeding five dogs in her area. At this tender age, she could not understand what else she could do for the dogs. "I was small and uninformed. But I knew that I had to reach the root cause of the problem," the 21-year-old says, talking about how she began with the sterilization of dogs. No matter how difficult it was for her, she solely began the rescue operations for the injured dogs and would take them to veterinarians for treatment and the sterilization process.
Within no time, it became a daily routine for her to dedicate an equal amount of her time to her studies and taking care of the dogs surrounding her region. However, her classes for graduation at Delhi University would take most of her time. Due to the national lockdown, when she was staying at home, she entirely focused on her "kids" aka dogs.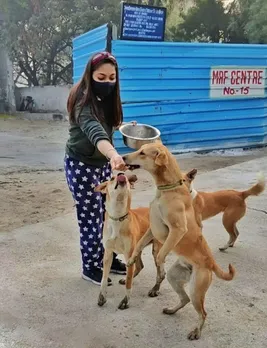 With a lot of time on her hand and keeping in mind how difficult it was for the stray dogs to survive, who would depend on humans before the lockdown, Anushka tried to make her family understand that she was required to venture out of her home. She knew that her old grandfather could be affected the most if she contracted the virus but also could not resist thinking about the dogs who also required the help. After a lot of convincing, she started preparing meals and water requirements for the dogs.
She would get up at four in the morning and prepare food for the dogs. Boiling vegetables and chicken had become common for Anushka, who was not versed with cooking before. As the clock would strike 7 in the morning, she would call her friend, Anam, who had decided to help Anushka in the noble cause. Anushka would fill the car with 9-10 water containers and bags full of food and roam around the nearby areas to feed as many dogs as she could see.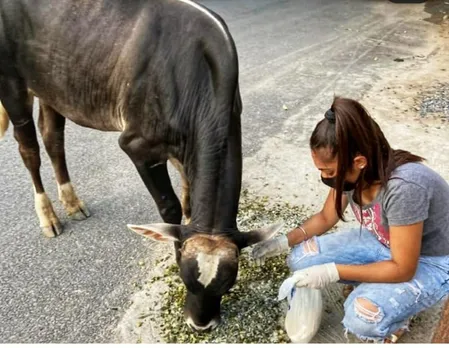 It was the time when Anushka could be seen wearing three masks and four gloves with her phone also covered to avoid risks. Gradually, she started feeding 400 animals, including stray dogs and cows, for which she would also carry a sufficient amount of chara along with water. Almost 20-30 kgs of chicken would arrive at her home daily, and Anushka's father would often help her drag those to the kitchen so that the meals could be prepared. As she says, "My family helped me out at every single step and I will always be thankful for that."
Tackling challenges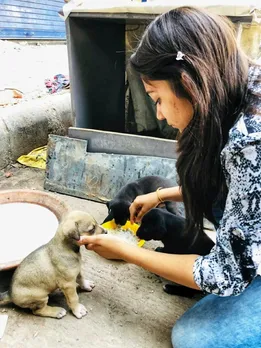 On the other hand, it was not easy for her to continue with her initiative during the harsh times as she would be stopped by police personnel for the movement and was also dealing with financial burdens. "The government hospitals were not attending the dogs so, they were being taken to the private vets. The total cost incurred in the treatment of one dog was around Rs. 2,000 to 3,000," laments Anushka, adding that the monthly expenditure was around 5-6 lakhs.
Even before the lockdown, Anushka used to visit every house in her society to ask for donations and would often come back with people shutting doors on her face while a few took her as a "beggar". During the period of the first wave of Coronavirus, her society turned hostile as they blamed Anushka for spreading the infection. At times, she was even stopped by the guards for going out of society.
But it was not for Anushka to accept the defeat, and she continued being firm on her decision. She sourced money through crowdfunding platforms like 'Milaap' while her parents also contributed to the finance. This apart, she also took some help from social media, where she had started being active in showcasing the rescuing activities over the last three years.
As much as social media turned out to be helpful, Anushka also received a lot of hatred and criticism from people who accused her of using the finances for her work. It was a miserable feeling for Anushka, who was selflessly working for the dogs. "My father helped me understand how important it is for one to 'officially' work for the social causes in our country," she says. The teachings of her father led Anushka to register her initiative as 'Asha Foundation', and it became an NGO for stray dogs in August 2021.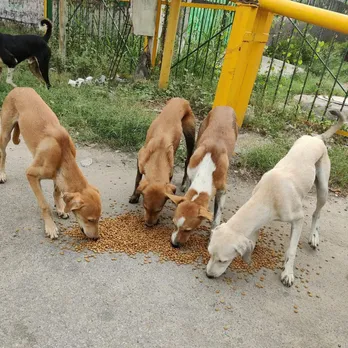 The registration of the Asha Foundation helped her keep track of the finances, and she also hired two people to feed the dogs during the day and at night. The delegation of work was done carefully by her as she put effort into training "Hemant" for six months who was going to feed the dogs and help her with working for the Asha Foundation. "Every dog has a mood. A few want us to feed them while with some dogs, one needs to put the food and watch from a distance. I was already aware of the dogs in my area and wanted Hemant bhaiya to also understand the 'pattern' before he could start feeding them," she says.
All this while, Anushka also met an OLA driver and made him understand the perks of switching to a "pet taxi" - that proved to be successful, and now, she knows who to call during an emergency. Local food service delivers the food to Anushka's home every morning, and Hemant picks it up to feed the 120 dogs who live in around Noida Sector 50, the area where Anushka and her family reside. Moreover, Dr. Shravan and Amit are associated with the initiative for providing treatment to sick or injured dogs.
In the past seven years, Anushka has rescued and sterilized around 4,000 and 5,000 dogs, respectively. Not only has she conducted her rescue operations at Delhi University North Campus, Kamla Nagar, Gurugram, Noida, and Greater Noida, but also in Meerut, Hyderabad, and Haridwar. Recently, she has also sent three specially-abled dogs to families in the US, New York, and Canada, including one paralyzed female dog, as they could not be treated better in India, as per Anushka. "These dogs have been adopted by kind families. Not sure if the dogs miss me as much as I do," says Anushka with a sad grin.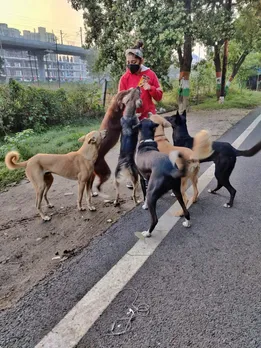 Anushka has completed her graduation and is a much more confident person now and handles the functioning of the Asha Foundation. "I would have been nothing, had I not found a meaning in saving these speechless creatures," she adds.
For more such stories follow Local Samosa on Facebook, Instagram, Twitter, and Telegram