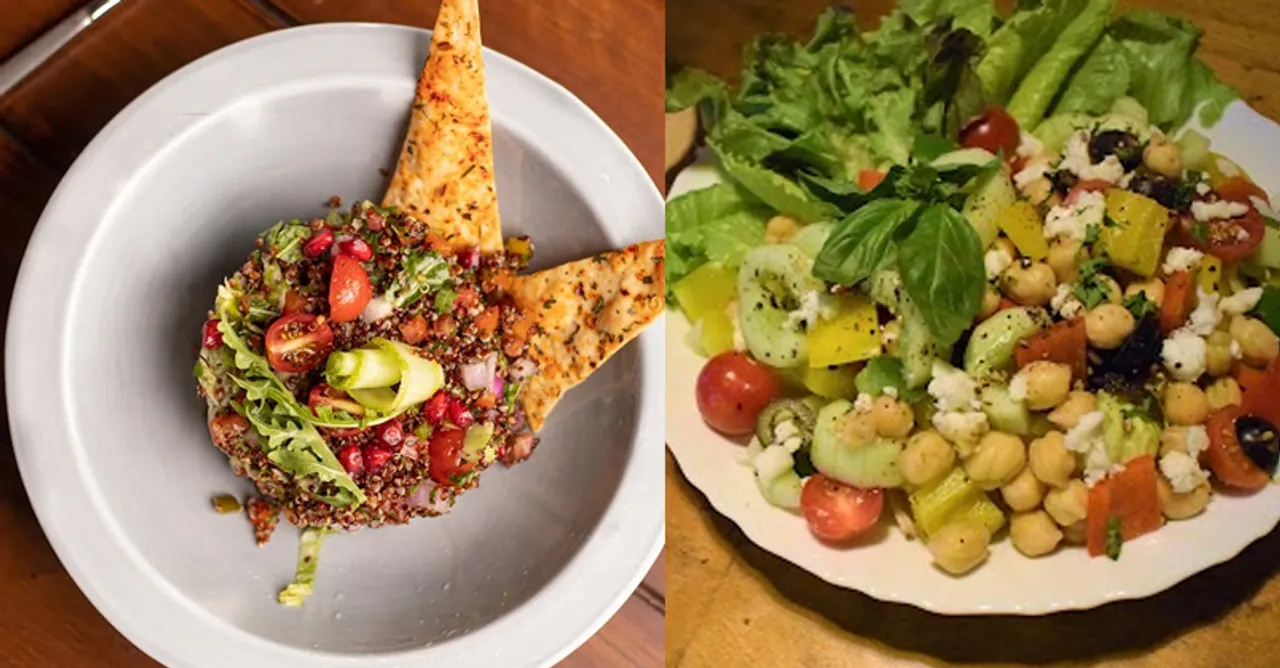 It's world health day today and so if you are planning to make your meals more nourishing, then try these healthy salad recipes by chefs that are not just nutritious but also delicious.
You are what you eat and so its' time you add some mouthwatering and healthy dishes to your daily meal. We've curated this list of healthy salad recipes by chefs that are easy to make and will fill your belly in a delicious way! So, wear that apron and be a chef for the day!
1. Quinoa and Kale
This quick recipe of Quinoa and Kale salad by Chef Navneet Choudhary of Cult House | Terra, Pune is a must-try. It has all the healthy ingredients and a subtle sweet flavour.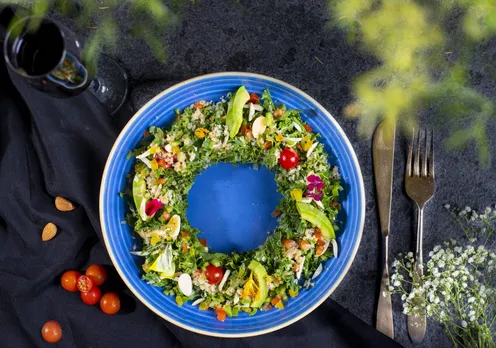 Ingredients
Kale leaves
100 gm
Quinoa
125 gm
Avocado
50 gm
Cherry tomato
15 gm
Parsley
10 gm
Almond flakes
5 gm
For dressing:
Maple syrup

10 ml
Red wine vinegar
10 ml
Mustard
1 tsp
Crushed garlic
2 gm
Olive oil
20 ml
Crushed garlic
2 gm
Salt and Pepper
To taste
Method
Clean all the ingredients in cold water. Boil the Quinoa for 5 minutes and keep it in the freezer for cooling. Finely cut the kale leaves. Add diced cherry tomato and chopped parsley as per your need. For Dressing, mix all the above ingredients and infuse the olive oil in it. Take a mixing bowl, mix all the salad ingredients and then add dressing to it. Toss all the ingredients with the dressing. Garnish with a handful of almond flakes and chopped parsley. Drizzle the olive oil on top.
2. Quinoa Salad with lavash bread
Another fun recipe with Quinoa by Chef Md Feroz of LMNO_Q, Kolkata, this salad is filling and a great replacement for your snack time. Make this and enjoy a fresh bowl of salad with lavash bread.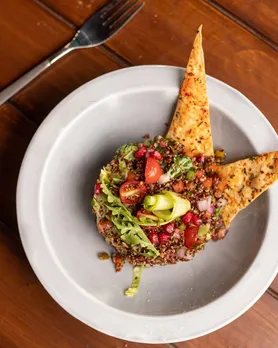 Ingredients
| | |
| --- | --- |
| Organic Red Quinoa | 40 gms |
| Red Pepper Whole | 25 gms |
| Pomegranate | 50 gms |
| Parsley | 40 gms |
| Extra Virgin Olive Oil | 2o gms |
| Cucumber | 40 gms |
| Lemon | 1 |
| Salt | To taste |
| Greek Yoghurt | 50 gms |
| Black Pepper | As per taste |
| Lettuce Roquette | 10 gms |
Method
Boil the quinoa with 2 cups of water in slow heat until it the quinoa gets soft. Cut the bell pepper and cucumber into small cubes. Take a bowl and mix all the ingredients except the Greek yogurt. Before serving, the salad takes the salad bowl and put Greek yogurt in the middle of the salad bowl. Take a ring mould, put the salad into the mould and serve with lavash bread.
3. Mediterranean Chickpeas Salad 
The chickpeas will keep you full for hours while the fresh veggies will add a juicy crunch to it. Make this plate of Mediterranean Chickpeas Salad by Chef Biswajit Das of  Farmaaish Rooftop Lounge and Bar, Pune, and enjoy a healthy munching.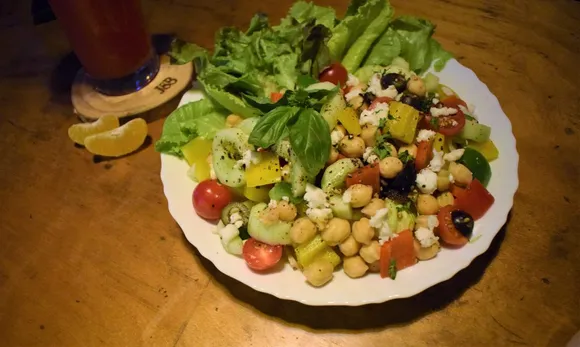 Ingredients
| | |
| --- | --- |
| Chickpeas rinsed and drained (or 3 cups cooked chickpeas) | 800 gms |
| Cherry tomatoes | 1 cup |
| Crumbled Feta Cheese | 100 gms |
| red bell pepper | 1 |
| Chopped fresh flat-leaf parsley | 1- 1/2 cups |
| Chopped red onion | 1/2 cup |
| Chopped celery plus leaves | 1/2 cup |
| Extra virgin olive oil | 3 tbsp |
| Lemon juice | 3 tbsp |
| Garlic cloves, pressed or minced | 2 |
| Kosher salt | 1/2 tsp |
| Freshly ground black pepper | 1/2 tsp |
Method:
In a large bowl, add the chickpeas, bell pepper, parsley, red onion, celery, and cherry tomatoes. In a small bowl, whisk together the olive oil, lemon juice, and garlic, and season to taste with the kosher salt and freshly ground black pepper. Add the dressing to the chickpea mixture and toss to coat. Before serving, sprinkle the feta on the ready-mix, and add more salt and pepper to taste.
4. Avocado Pesto Salad 
If you are team Avocados, try this recipe by Chef Radhika Jalan, Owner & Founder of La Macario Cafe, Kolkata. Perfect for late weekend brunch, this recipe is happy and hearty.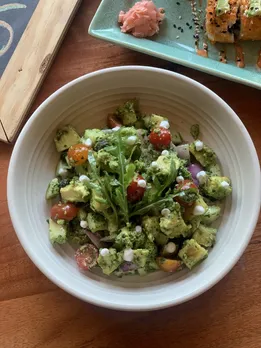 Ingredients
Homemade Basil pesto
100 gm
Extra Virgin Olive Oil
2 tbsp
Salt & pepper
As per taste
Avocado diced
1
Cucumber diced
100 gms
Arugula leaves
50 gms
Cherry tomatoes, cut into two
7-8
Brocolli florets
100 gms
Onion diced
1
Sour cream
As per taste
For Pesto
Basil leaves

200 gms
Walnuts & Almonds
50 gms
Parmesan
60 gms
Extra virgin Olive oil
800 ml
cloves of Garlic
2
salt
as per taste
Method
In a bowl, mix all veggies except Avocado and mix pesto, salt, pepper, and olive oil in it. To this mixture, add Avocado cubes and arugula at the end. Now add drops of sour cream and serve.
5. Edamame Galouti Kebab
Though this next recipe by  Chef Prakash Joshi of Kynd Cafe and Bar Pune is not a salad, we couldn't help but share it as it's super healthy. Made with Edemame and the goodness of spinach, this one will accompany your salad bowl with something yumm and colourful. Do try and enjoy some melt-in-mouth healthy kebabs.
| | |
| --- | --- |
| Edamame | 150 gm |
| Hung Curd | 50 gm |
| Spinach | 200 gm |
| Mace powder | 10 gm |
| Black pepper | 5 gm |
| Green cardamom | 20 gm |
| Gram flour | 100 gm |
| Salt | 2o gm |
| Chat masala | 30 gm |
| Cumin powder | 20 gm |
| Almonds | 30 gm |
| Coriander leaves | 40 gm |
| Green chilli | 20 gm |
| Methi mayonnaise | 2 tsp |
| Ghee | 10 ml |
Method
First take hung curd then add Chopped Edamame , Blanched Spinach ,chopped green chili, coriander leaves, gram flour, dried fruits, salt, mace powder, and freshly cracked black pepper. Mix well all the ingredients, making sure the Edamame ,Spinach and hung curd are combined well. Do not over knead and prepare small sized patties or kababs. Now, shallow fry kababs in hot plate with ghee till the kababs turn golden brown. Drain the kabab into kitchen paper to remove excess oil. Finally, serve the Edamae kabab with methi mayonnaise.
We hope now you know what to cook next when you are craving something nice. Let us know which one of these healthy salad recipes are you going to try.
For more such stories follow Local Samosa on Facebook,  Instagram,  Twitter , and Telegram.