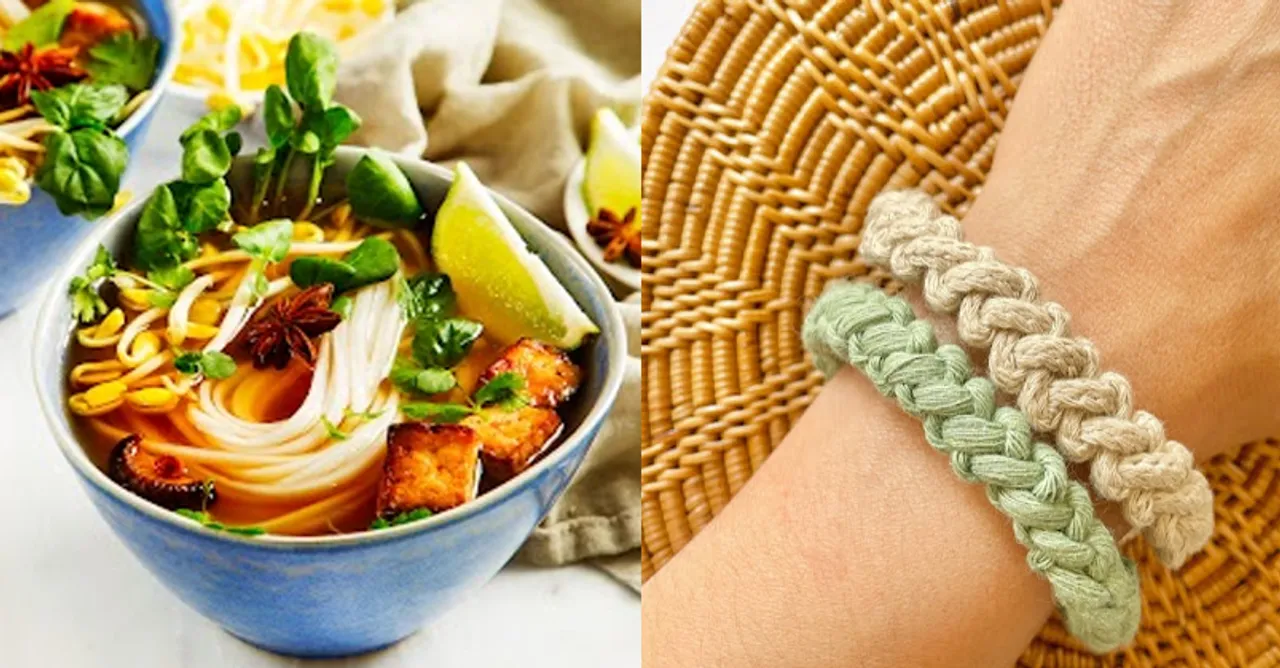 Local Samosa is back with the weekly list of workshops to help you utilize your time in the best possible way. Sign up for any of these upcoming online workshops and make the most out of your spare time.
Explore these interesting online workshops and pick the one that suits you the best. Bake cookies with beautiful icings, learn about the Chakra healing, or make some iconic Vietnamese dishes for lunch! Keep reading, as there's a lot that you can do this week with these upcoming online workshops.
1. Macrame workshop by Hobbee Horse
Learn the basics of Macrame and make a beautiful macrame bracelet in this beginner-friendly workshop. Artist Amreeta Baskaran is the founder of Riya Knots and Crafts, a sustainable home decor and fashion brand and she will help you learn everything about Macrame.
When: 9th April
Tap here for details.
2. Vietnamese Cuisine workshop by Cook and Plate
Garima Sanadhya is a recipe developer and conducts vegetarian culinary workshops. Next week, she will be teaching some of the most delicious vegetarian Vietnamese dishes like Pho, banh mi, rice paper rolls, and much more. Enroll if you are into cooking and like international cuisines.
When: 5th April
Get in touch at 9619122353
3. Cookie workshop by Gauri Kekre
Gauri Kekre is a cake artist who's been in the baking industry for the last 10 years. In her next workshop, she is going to teach how one can make cookies with royal icing and make them look fabulous. Book a slot if you are into baking and do check her other workshops too.
When: 5th April
DM for details.
4. Press on nails workshop by Blush Nail Studio
Keep your nail paint game up with this online workshop, where Varshika Sood, founder of Blush Nail Studio, will help you become a pro in making press on nails. Learn everything about press on along with 15 types of nail art and a lot more.
When: 9th and 10th April
Get in touch at 9643078084 
5. Manifesting and journaling workshop by Ri-Tarot
Riti is a tarot reader, yoga instructor, and mudra expert. In her workshop, you will learn about the correct method of setting goals and how to manifest them. Along with that, learn the basics of journaling that will help you manifest your goals in an effective manner.
When: 10th April
DM for details.
6. Chakra Healing workshop by The Heal Soul World
Chakras are the 7 energy points, starting with the crown of the head, neck, and till down the spine. This online workshop is about Chakra healing which helps in releasing blocked as well as negative emotions. You'll learn about the blocked and under-active chakras, how to tap into personal power, expanding spiritual awareness, and much more.
When: 22nd April (The last date to register is 7th April)
DM for details.
So, what are you even waiting for? Enroll in these upcoming online workshops right away!
For more such stories follow Local Samosa on Facebook, Instagram, Twitter, and Telegram.