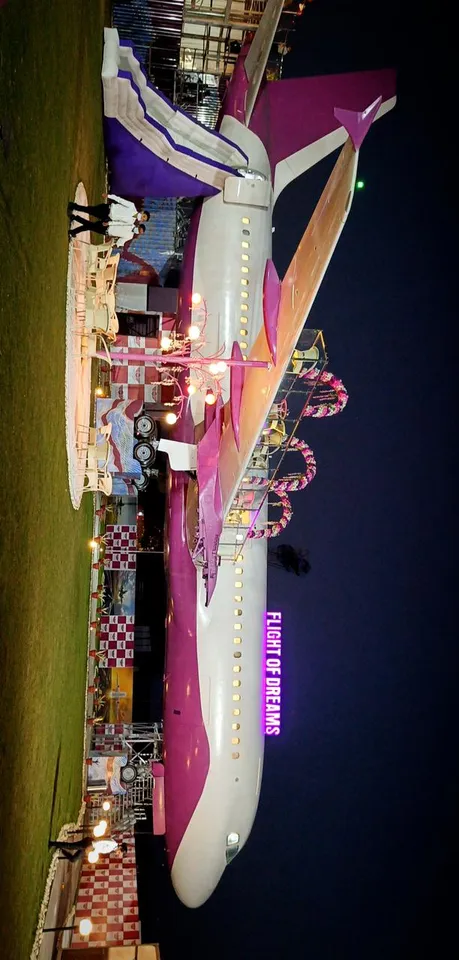 Flight of Dreams is Gurgaon's first airplane restaurant, built inside Airbus A320 of Air India. 
Take a foodilicious flight, watch your favourite movie, plan a get-together or a personalized date set-up, and shoot some fun moments with 360-degree cameras. Sounds like a plan, right? Well, all this is possible at Gurgaon's first airplane restaurant, 'Flight of Dreams', which is a complete package. This family restaurant is a perfect place to dig in as it even features a kids' play area, a drive-in theatre, and some great food in both- vegetarian and non-vegetarian options.
"It's a real Airbus A320 and we got it from Air India. We wanted to do something unique and come up with a themed-based restaurant. Unfortunately, people have a certain notion about Gurgaon, and we wanted to change that. One of our friends has been an air hostess and she suggested we do something with an aircraft. So, it was her idea. We bought the plane in an online auction, and it took us 6 months to turn it into a restaurant", told Naman Nangru, co-owner of Flight of Dreams.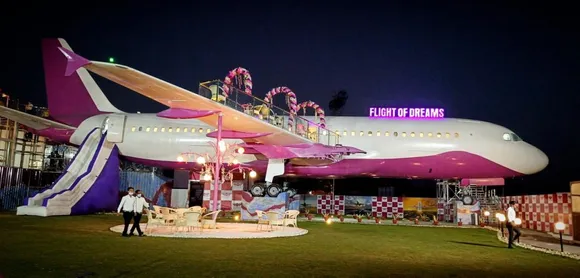 Dine inside a business class!
The concept is really interesting. At the entry, you will have to get a boarding pass for Rs.300, which is later adjusted to your bill. Now, get inside the aircraft and enjoy a scrumptious Indian, Continental, and Chinese meal. The presentation of food is also well thought out and looks insta-worthy. "I had gone there with my friends and felt should go with my family, too. It's a very nice place and the food is amazing. I'll give it 9/10. The presentation is also remarkable, and I will not forget how the french fries were served on a mini airplane", said Palak Khurana, a.k.a, gurgaonfoodmood.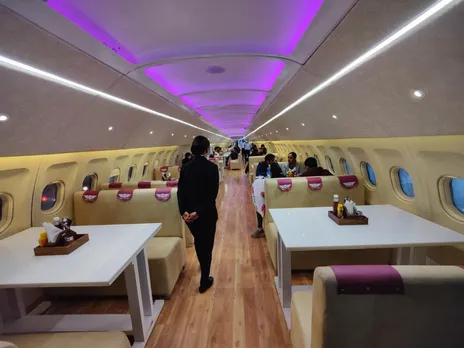 Hop on its wings, watch a movie, or see the sun go down!
The pretty purple and beige decor is inspired by the business class of the Air India Flight and looks very sophisticated. The waiters too are dressed up as air hostesses and stewards, and it definitely gives a legit flight vibe. The restaurant has 3 outdoor sections that can be booked and are called the VIP areas.
"The first wing has 3 couple tables that are exclusive for couples. It can even be personalized for dates with options like candlelight dinner, rose decoration, and more. The other wing can serve 30-35 guests and is suitable for small get-togethers and events. You can even plan a private movie session as we have a tie-up with PVR, but only after you book the entire wing. The tail of the aircraft has a terrace area. One can see the skyline of the city, and it even overlooks the Aravalli Range", said Mr.Nangru.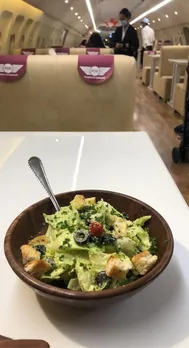 Other fun elements!
Other than these 3 outdoor areas and luxury indoor seating, Flight of Dreams also has a kids' play area with 6-7 rides, slides, and a trampoline. Moreover, there are Maplepods too that are perfect for Surprises, dates, birthdays, and more private meals. The lawn area, which is accessible for everybody, hosts live music and has chairs for you to sit and enjoy. There's a 360-degree camera too, and one can shoot videos with it. "We are also developing a private dining space inside an assembled helicopter and it'll be ready very soon", said Mr. Nangru.
Flight of Dreams, a.k.a Gurgaon's first airplane restaurant, is indeed a fun-packed place to be. We can't wait to visit it when we are in Gurgaon next time. What about you? 
Where: Backyard Sports Club, Near, Golf Course Extension Road, next to Cyberscape Corporate Building, Sector 59, Gurugram.
When: 1:00 pm to 11:30 pm
Must-try: Spring Rolls, Gulab Jamun Cheesecake, platters, Butter Chicken.
Price: Couple's wing- Rs.650 for two / Wings and Tail- Rs.1,275 for veg and Rs.1,375 for non-veg with unlimited food.
For more such stories follow Local Samosa on Facebook, Instagram, Twitter , and Telegram.