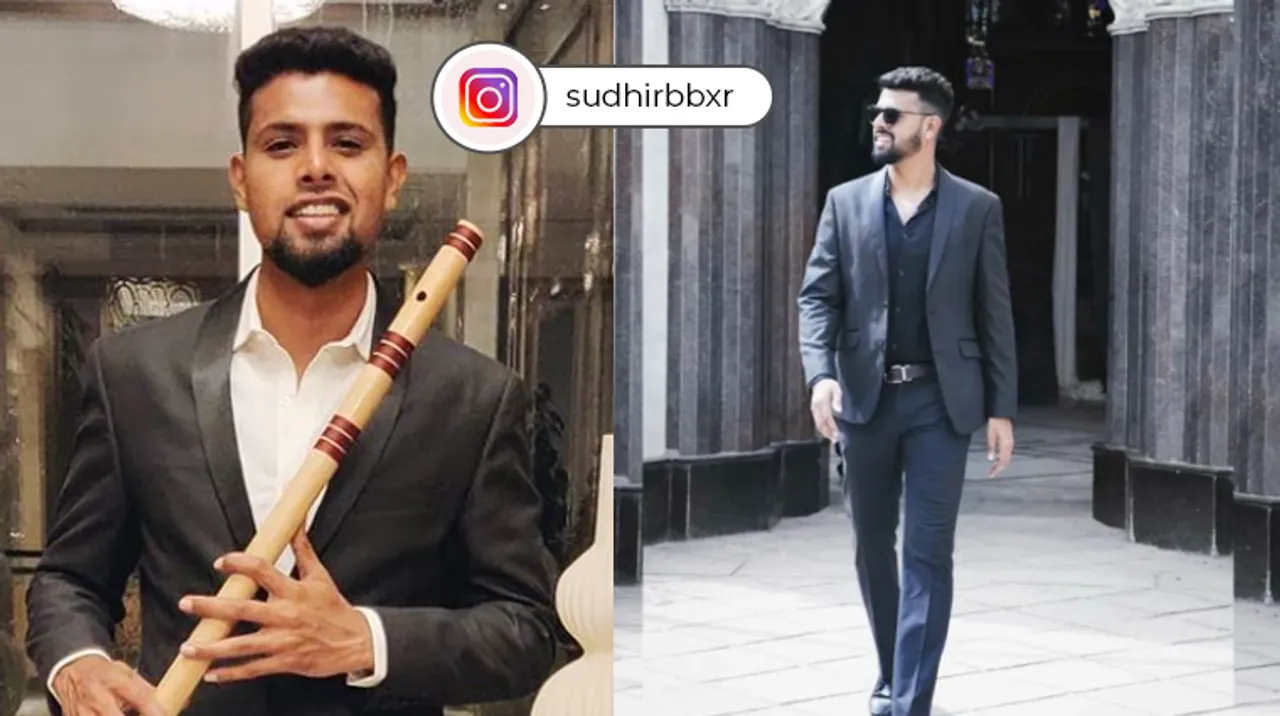 Sudhir R is not your regular beatboxer. He mixes his amazing beatboxing skills with the flute, and it is nothing but mesmerizing. He is India's first flute Beat Boxer, has been the semi-finalist of Asia's Got Talent as well as India's Got Talent, winner of MTV's Nescafe Labs, and has even been featured in India & Asia book of records for being Skilled Indian Fluteboxer as well as in the Limca book of records for most Fluteboxing Performances in India.
After watching a beatboxer in a college fest, Sudhir R was intrigued by this art form. So, he learned it, became a pro, and even won various competitions. After a few months, when he started judging beatboxing competitions at various college fests in Bangalore, something struck him, which later made him come up with a fusion of flute and beatboxing. This fun instrumental fusion was one of its kind and even took him to international platforms like Asia's Got Talent. Though Sudhir was never inclined towards music, it was indeed destiny's game that in 2012, he went to a college fest where he got introduced to the world of beatboxing. And, that was the beginning of everything unique.
"The guy was beatboxing and the crowd was going crazy about whatever he was doing. But it was not connected to what he was performing, and I felt something was missing. So I came back home, took my time, did research, and learned what beatboxing was", said Sudhir. It took him 6-7 months to practice and learn this art form, and after he felt he was ready, he performed his first act in a college fest in front of an audience of over 15,00 people.
"All my friends told me that it would be a wrong event to start with as there was a massive audience. And, if you mess up on your first show, you are going to get bullied to death. But I was just so confident about my riyaz and practice that I knew that the audience would definitely connect. And, it was such a hit performance by the grace of God that people even uploaded videos", he further mentioned.
Fluting it up!
After leaving people in awe of his beatboxing skills, Sudhir won many other competitions. He was doing great and was even being invited to judge beatboxing competitions in various colleges. One fine day, when he attended an event as a guest, he saw 30 beatboxers performing. They were fabulous, but something was missing once again, and it hit Sudhir really hard. "Everybody was doing the same thing and after a while, they asked me to perform something. I did, and even though it was different, it was still beatboxing. I kept thinking why am I judging these people, and what's so unique in me. So, I came back and decided I have to be different", he mentioned.
After this, Sudhir knew he had to do something unique, and so, he explored a lot and watched as many videos back in the time when the internet wasn't as advanced in 2013 as it is today. So, it took a lot of effort for Sudhir R to explore.
"I finally bumped into a guy Nathan Lee, who was flute beatboxing with a western key flute. So, I took a screenshot and ran to a music store and bought a bamboo flute. I did not know how to even hold a flute, let alone play it at that time. It was like a new toy in my hand. But I wanted to try it because it's not an instrument where I press a key and it produces sound. It's my breath that keeps transmitting into other musical notes and it's like I'm singing through my flute. Also, flute is an instrument that you can blend with anything and at any pace. It's peaceful and calming and that's where the beatboxing comes into play and takes it to another level ", Sudhir R further told Local Samosa.
After watching a lot of YouTube videos and practicing on his own for 6 to 7 months, Sudhir finally showed up at an event. And, he did what he did! "It was a beatboxing show, and I was the guest there. I told them I wanted to do something different, and when I did, the crowd went crazy. Later, I participated in the Times of India Fresh Face, where I was the runner-up. There were people as well as celebrities commenting and appreciating me stating that I would become a world-class entertainer. So, seeing all this, I decided I need to take this seriously and started practicing more", he said.
After a while, he gave an audition for India's Got Talent, where he became the semi-finalist. From being a local performer in Bangalore to becoming a national and later international performer was a big achievement, and Sudhir believes it's something magical.
Sudhir's experience at Asia's Got Talent was something he will always cherish. It was another massive platform where people saw him play live, and he did nail each performance.
"It was a live show, and so, there was no chance of retake. I remember I was going on stage at 7 and at 6.50 they informed me they would have to shoot a preview backstage. So, we did it, and then there was this 30-second countdown when the entire crew cheered me up. They were so warm and they kept saying you are representing India, and that brought so much energy inside me. When the last 10 seconds were left, it was pitch dark and all of a sudden, all the lights were on my face, and it was a magical moment. The respect they have for artists made me really comfortable, and it turned out to be fantastic", he said.
Practicing for 8 hours everyday
Sudhir's journey is definitely inspiring, and we're glad he experimented with his skills. He's a firm believer that learning should never stop, and so he beatboxes for 8 hours every single day. "Nobody can become a pro all of a sudden when it comes to music. I practice for at least 8 hours a day. Nothing will happen by playing guitar at home and making videos. You must polish it, brand it, and need to sell it, and then only you'll turn your passion into a successful profession. You should know how to sell your passion. Also, be a master of the basics and then master yourself in your art form. It's not a race and your time will come. Just keep learning", added Sudhir R.
For more such stories follow Local Samosa on Facebook,  Instagram,  Twitter, and Telegram.