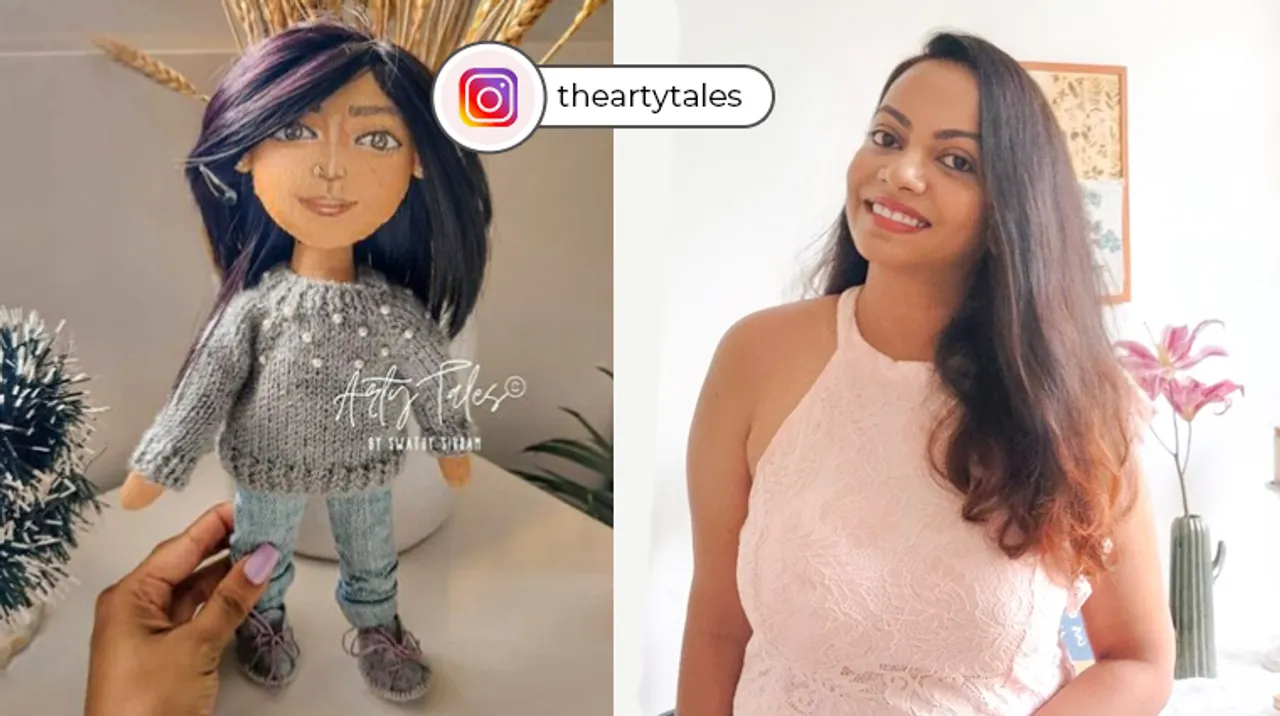 Started as a FaceBook group in 2014, Arty Tales by Swathy Sivaram, initially used to offer a range of copper wire jewelleries. But later, when she left her job to pursue her artistic dreams, Swathy started making realistic handmade portrait dolls and miniature art. And, since then, she hasn't looked back. 
The journey of Arty Tales has been quite interesting, starting with copper wire jewellery, which began in 2014 out of her interest in card making. In 2019, when Swathy decided to quit her job and become a full-time art-prenuer, this home-run business was launched with a unique range of Handmade Portraits and miniatures. Over the past 2 years, Arty Tales has gained 73K followers on Instagram and is known for the adorable Portrait Dolls (art Doll) it offers.
"It was while pursuing my master's that I reconnected with my art and picked up a new taste for card making. Later in 2014, a sudden adrenaline rush one morning gave birth to my real art journey. So, I made a Facebook page and started to share my creations", said Swathy.
Swathy then started selling different copper wire pieces of jewellery, and her collection was a big hit. The response was so good that she took part in exhibitions and sold them too. Meanwhile, she continued doing her full-time job. But the hectic work life and frequent travelling made her distant from her art. Finally, in 2019, Swathy moved to Noida and was on a break from her job and finally found a chance to connect to art communities there and attend workshops that led her to re-activate her Facebook page.
"My new love for embroidery received an amazing response that I ended up conducting a few workshops myself. In fact, I even renamed my brand as Arty Tales while trademarking the logo and name", she added. And, that's when Swathy started making dolls, and within a year, she had already created over 50 handmade dolls.
Her brand was doing great but then managing a full-time job along with complete dedication towards a fully functional art business is difficult. At that time, Swathy was working with IIM Lucknow's Noida campus and office hours kept her busy. It was tiring to manage both that she had to compromise her sleep. "So, I finally had to take that big step to quit my job by the end of 2020. I could no longer handle both dedicatedly", she further told Local Samosa.
But even after Swathy left her job, more challenges were waiting for her. And one of them was finding the materials for her dolls. "I had to import most of them and wait for months to arrive as the material cost and its shipping charges were already high. But the promotion and growth of the brand wasn't really challenging as the page grew quickly", she said.
Swathy is a self-taught doll artist. The details are impressive, and her dolls are complete replicas of all her clients. When Swathy had started, there were different kinds of caricatures and replica dolls in the market. But she could not find anything like a textile puppet or an art doll that involves creating a replica of a person in a textile doll. The Internet and foreign artists were the only sources of learning for Swathy. But she did her best and started making dolls.
"Every doll is unique and created from an image provided by the client. From the shape of the face and body, the features to the color and textures of the hair, it's different every time. The process starts from coloring the fabric to the right tone. Then I stitch the body parts and create tiny clothing and it's tricky to find the right fabric. After that I do the hand painting on them to replicate the picture the client has provided. Finally, after painting the faces, the next step involves hair fixing that takes upto 7 days for a single doll. At times, it takes even more in cases where the client likes to add more accessories. ", she said while explaining the process.
Today, it's been 2 years that Swathy has been making dolls and has stitched over 200 replica dolls. Other than this, she is also a pro when it comes to making miniature art. Her feed feature cute and adorable miniature clothes, accessories, random things like colour boxes, and much more. Moreover, she also makes hoop art and products for 𝙰𝚛𝚝𝚢 𝚃𝚊𝚕𝚎𝚜 𝙷𝚘𝚖𝚎, another venture that offers beautiful home decor products.
"Embroidery is what Arty Tales saw first during its transition and my journey as an art preneur, so it holds a special place in my heart. Home decor is something we launched in November 2021, and it's the new extension we added to our range. We started with the christmas store, wanted to launch products that are more english and have successfully launched 200+ varieties of products. The response was amazing and we recently completed 350+ orders in 45 days. So, we are looking forward to bringing in more unique collections to our range", she explained.
With its gorgeous miniature collection, home decor products, and perfect replica dolls, it wouldn't be wrong to say that Arty Tales is a perfect place to buy handmade stuff. The price is also pocket-friendly, and it's definitely you should check out. "I have always ensured to pay an artist fairly for their art. It's not just a creation but there are a lot of unseen things behind a creation by an artist. On top of our material cost, we have invested so much time in learning the art, enhancing their skills and creating the work, which is also something you pay for when you buy", she said while concluding.
For more such stories follow Local Samosa on Facebook,  Instagram,  Twitter, and Telegram.