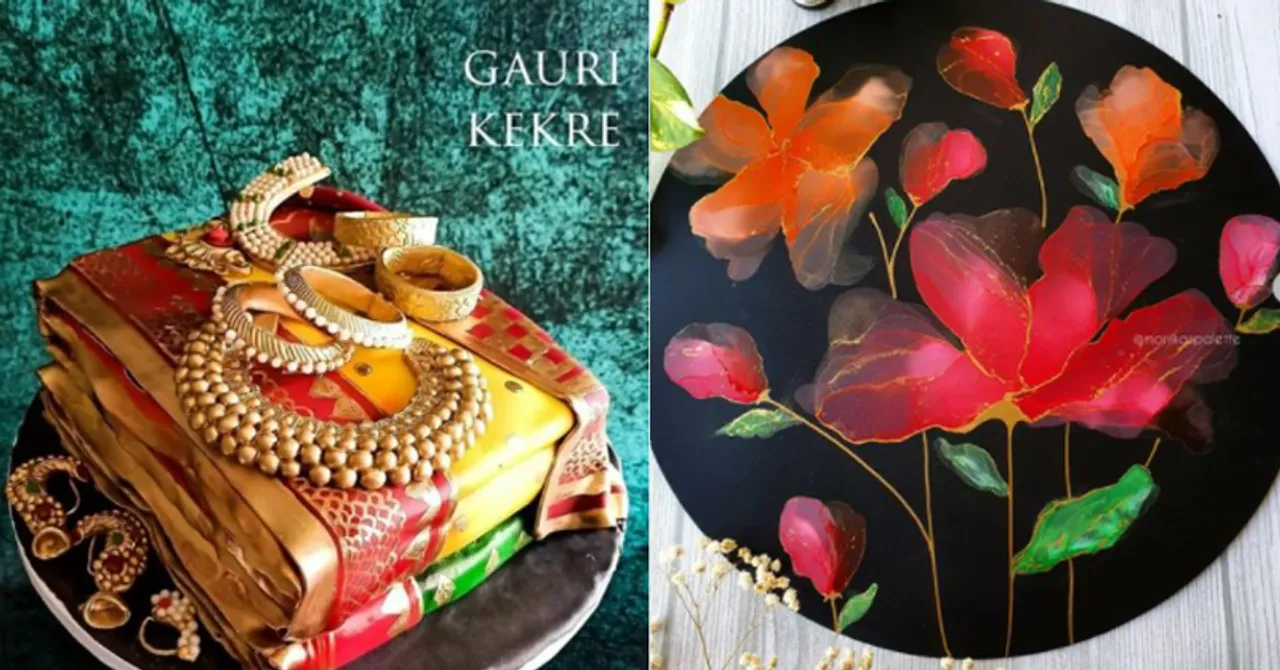 Local Samosa is back with the weekly list of workshops to help you utilize your time in the best possible way. Sign up for any of these upcoming online workshops and make the most out of your spare time.
Explore these interesting online workshops and pick the one that suits you the best. Bake realistic paithani cakes, do alcohol ink painting, or make your own terracotta sculpture! Keep reading, as there's a lot that you can do this week with these upcoming online workshops.
1. Hyper realistic paithani cake workshop by Gauri Kekre 
Gauri Kekre is an expert when it comes to baking and making cakes. She's a cake mentor to many baking enthusiasts who want to improve their cake-making skills. Learn the art of making Paithani cakes in this 2-day workshop where you'll learn how to create and decorate a cake that looks exactly like an embellished Paithani saree.
When: 21st and 22nd February
Get in touch at 9323812207
2. Haiku Workshop by Shloka's Art & Poetry Shop
Haiku is a Japanese poem with three lines of five, seven, and five syllables. Similar poems that do not adhere to these rules are generally classified as senryū. Know more about Haiku and senryū writing forms and celebrate National Haiku Writing Month. Be a poet this February.
When: 26th-27th February
Tap here for details.
3. Acrylic painting workshop by Sugyata Choudhary
Bring back the nostalgia of painting and grab your paintbrushes to make a beautiful Buddha artwork. Moreover, know the tricks and tips of doing acrylic painting, get hands-on instructions from the artist, and have a lot of fun with fellow participants!
When: 26th February
DM for details.
4. Card making workshop by Clips N Snip Craft
Planning to gift something special to your dear ones? Well, a handmade card beats everything else and so why not make it all on your own? Sounds exciting right? So attend this online workshop and learn different techniques and skills which will help you to enhance your card-making skills.
When: 26th and 27th February
Get in touch at 8791115344.
5. Terracotta and other art workshops by Me Meraki
For fifteen generations, Dinesh Ji's family has practiced the tradition of making terracotta plaques of traditional Hindu Deities. Molela is known in the area as a 'potters village' as there are about 30 families from the Kumhar caste producing pottery.  Learn more about this art form and create your own sculpture.
When: 26th February
Tap here for details.
6. Kalamkari workshop by Hobbee Horse
Kalamkari is a popular form of pen-based craft. It's one of the most beautiful art forms and it will definitely be a treat for art lovers to know that this online workshop will teach you about the same. Enroll and know how to do kalamkari painting.
When: 26th February
Tap here for details.
7. Alcohol Ink Workshop by Monika's Palette
Artist Monika is conducting this workshop on Alcohol Ink, where she will help you learn the basics & advanced Alcohol Ink techniques like colour blending, brush techniques, airy wisps, fades, abstract, and more. Know how to do black surface art, ripple, abstract florals, use of metallics, and make some cool paintings.
When: 5th March
DM for details.
For more such stories follow Local Samosa on Facebook,  Instagram,  Twitter, and Telegram.