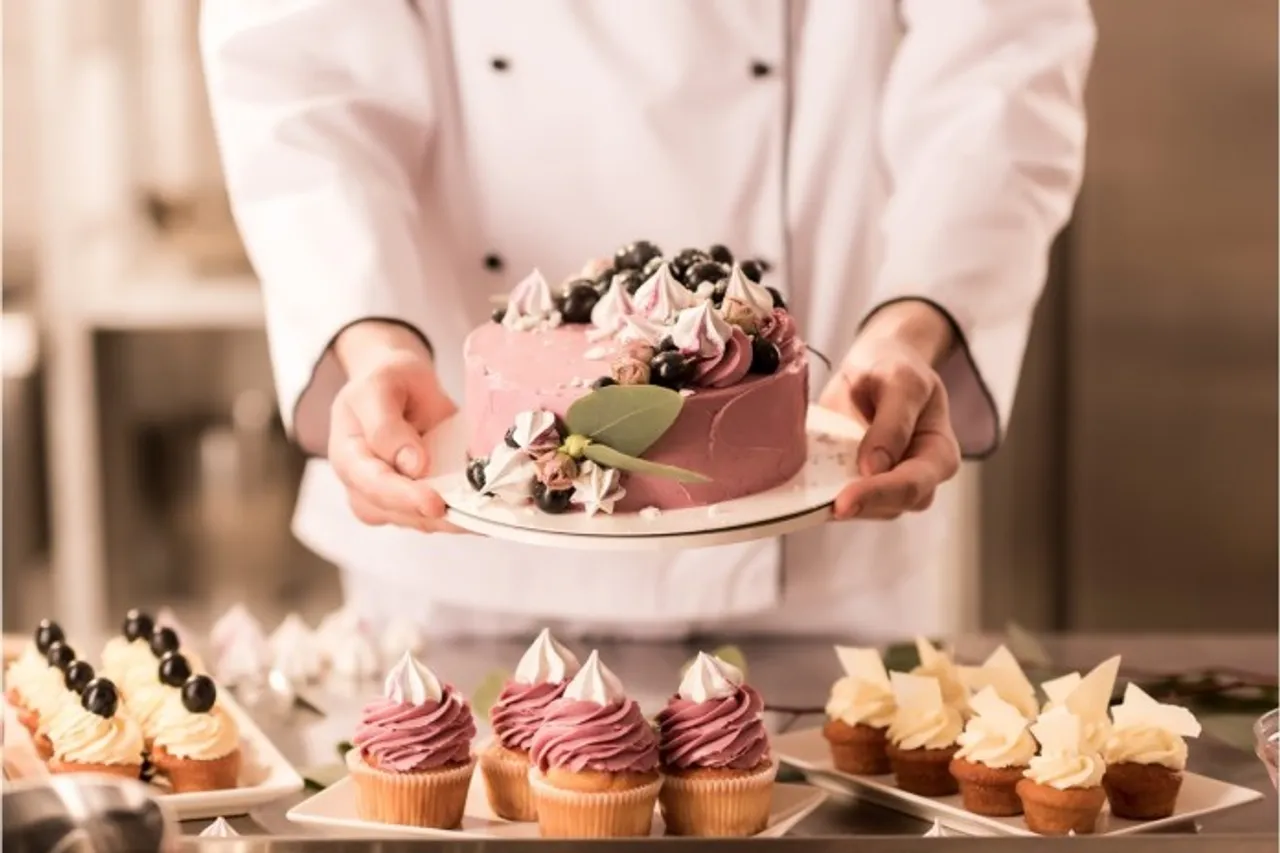 Do you fancy desserts like Tiramisu, Banoffee pastry, Croissant, or Cheesecake? If yes, head over to this listicle and know the best walk-in dessert shops in Jaipur for your sweet tooth.
India is known for its exotic sweet dishes, whether it be moti pak, kali gajar ka halwa, or simple and evergreen rosogulla. But some not-so-Indian desserts have also found a place in this country. Now, you will find many little chefs baking cookies and cakes and more people are receiving training in the culinary arts and opening patisseries and bakeries. Blueberry Cheesecake or Tiramisu has now become the perfect climax to a classy dinner. In the Pink City of Jaipur, these bakeries serve the best desserts that will surely satisfy your sweet cravings.
1. Dzurt Patesserie and Café
This cute green pastel coloured patisserie was founded by Chef Tejasvi Chandela in 2013. After learning the art of culinary and baking from Le Cordon Bleu, Paris, Chef Tejasvi opened this patisserie and introduced French pastries to the city of Jaipur. Dzurt's most applauded delicacies are macarons, s'mores chow bun, Nutella cheesecake, red velvet cake, and devil's food cake. You can also pick up their madeleines, butter or cream-filled croissants, and cupcakes. They also make wedding cakes and have dessert catering services all around Jaipur.
Where: Jacob Rd, Madrampur, Civil Lines, Jaipur.
2. Café Lazy Mojo
Café Lazy Mojo is 'all things tasty'. This neighbourhood eatery/cafe offers both Indian and International gourmet cuisine at affordable rates. While their appetizers and main course menus are diverse and exotic, the dessert menu is a touch of heaven's sweet. Their doughnuts, Irish cream tiramisu, chocolate fudge, creme de la caramel ice cream, and blueberry cheesecake are must-haves.
Where: Malviya Nagar and C Scheme
3. The Crust
The Crust is Jaipur's small dessert shop where you can get all the delish goodies you want for your sweet tooth. Their Lotus Biscoff pastry, Blueberry Cheesecake, DBC pastry, and Apple Pie are the showstoppers. Other than desserts, they also take cake orders and bakes Pizza, Puffs, and other snacks.
Where: Gaurav Tower, Amrapali Marg, Adarsh Nagar, Jan Path, and Ridhi Sidhi Chauraha.
4. Zolocrust
With a live kitchen mechanism, Zolocrust believes in transparency and a first-hand look at how your food is being cooked. As a 24x7 eatery, they always have the kitchen running and a chef ready to serve you good food. While they have expertise in gourmet food, their desserts are no less. From freshly baked butter croissants to beautifully glossed cakes, their desserts are professionally baked pieces of deliciousness.
Where: Hotel Clarks Amer, JLN Marg, Jaipur.
5. Petite Patisserie
Petite Patisserie is a dessert shop specializing in tailor-made cakes, cheesecakes, booze cakes, liquor chocolates, cookies, jar cakes, and more. Their rum cake and pista rasmalai cake are the best examples of their culinary expertise. They also make gift hampers for different occasions. You can place orders for customized cakes and other desserts through WhatsApp.
Where: B-5, Govind Marg, Raja Park, Jaipur.
6. Jaipur Baking Company
Every good hotel needs a sophisticated bakery that serves scrumptious desserts to melt hearts. Jaipur's Marriott Hotel houses the Jaipur Baking Company, a great place to have an evening high-tea and western desserts. Cakes, tarts, cookies, and other desserts are made fresh by certified chefs and decorated with attention to detail. If you are staying at Marriott, make sure you grab a sweet bite at JBC.
Where: Hotel Marriott Jaipur, Ashram Marg, Durgapura, Jaipur.
7. Jaipur Modern Kitchen
Jaipur Modern Kitchen is a boutique café & lifestyle store that focuses on delivering food made of fresh produce. All of their bread, dips, and desserts are freshly baked daily. From their dessert menu, the classic Italian tiramisu, Philly cheesecake, and Panna cotta are the most savoury goods to try.
Where: Dhuleshwar Garden, Sardar Patel Marg, C Scheme, Jaipur.
8. Crème - The French Baking Co.
Crème is an online bakery and patisserie by Chef Ayushi Agarwal. Chef Ayushi has been trained in French pâtisserie by the Lavonne Academy of Baking Science and Pastry Arts and accumulated hands-on experience and knowledge of bakery & pastry at the Taj Mahal Palace Hotel, Mumbai. With a knack and love for French desserts, Crème believes in baking a fresh batch every day with huge doses of happiness and flavour. Their main delicacies are cakes, loaves of bread, pies, quiches, cookies, tea cakes, and jams. You can place orders from their official website.
​Where: Crème Jaipur
For more such stories follow Local Samosa on  Facebook,  Instagram,  Twitter, and Telegram.