Chai is an emotion for many people, and if you are one of them, then check this list of products that every chai fan will adore. Take your Pan-Chai-Tea, and posi-tea-vity to another level and get your self these amazing chai–holic products. Scroll down to see these epic gifts for chai lovers.
If you or someone you know is a tea person, and if you find the get-togethers fun only if they have a piping hot Par-tea, then these gifts will make you happy. Scroll down and see the list of these gifts for chai lovers that will bring an ear-to-ear smile to your face.
1. A storage tin from Chumbak
Anything with quotes printed on them looks great, and so this printed Chai Time tin is a must-buy. This vintage-looking tin will keep your tea reserve during long work nights. The airtight lid will help keep the tea fresh, and every time you will open the tin, the aroma of tea will say hello to you.
2. Chai Time Decor Plate by The Plated Project
Chain in sipping Chai in our leisure time gives a Sukoon which inexpressible. Do you agree? If that's your vibe, then why not let your home also speak this for you. This Chai Time Decor Plate can be an ideal addition to your abode.
3. Quirky chai coasters from Treasure Tales
Enhance your drinkware and tableware collection with these coasters which have fun one-liners of Chai printed on them. We like how they have used different chai-liners to make it perfect for every chai fan.
4. A gorgeous tea kettle from Nestesia
This is a must-buy! Unlike your regular tea kettles, this one is not round and has a pentagonal shape. Brew some green tea and enjoy a cup every once in a while with other chai freaks.
5. Chai Tote bag from Monsoon + Chai
Monsoon + Chai is a brand that sells the feeling of warmth with naturally scented soy candles. This tote bag is for someone whose love for Chai needs a word out and on the bag they carry.
6. Layered Chai Kettle dangler from Everything Stylish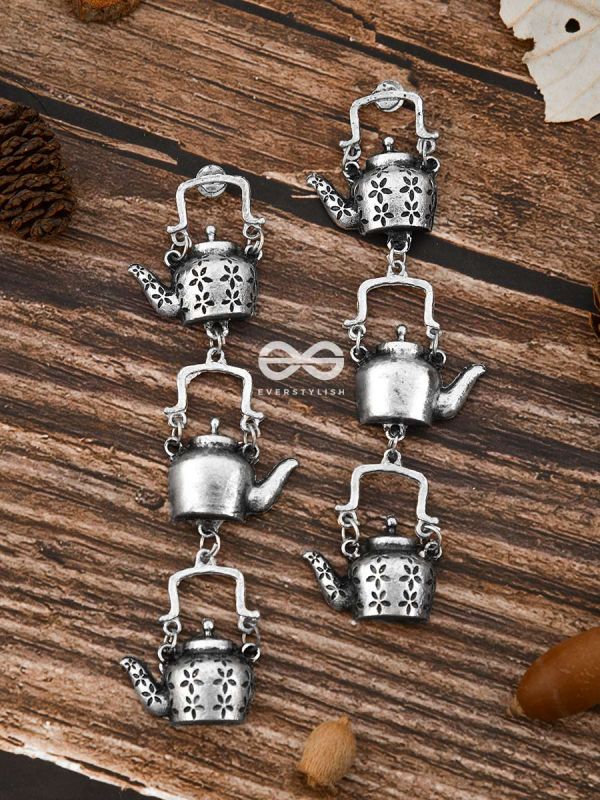 Literal chai treat for those who love wearing earrings and especially danglers, these oxidized layered kettle danglers are nothing but adorable and quirky. These earrings will help you wear your love for chai in the most interesting way.
7. These cool pair of shoes from Jolaa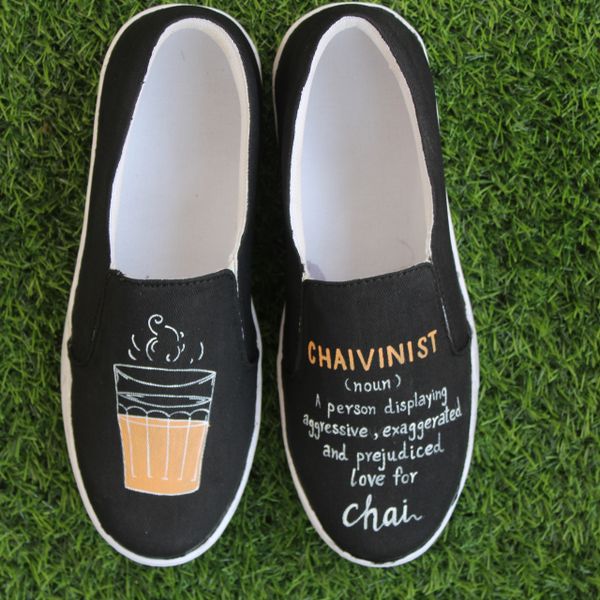 This unisex pair of chai-painted shoes is one of our favourites. If you also grab a cup of chai during the times of joy, wonder, astonishment, disguise, or whatsoever feeling of the world, then wear these chaivinist shoes!
8. A chai kettle ring from Shyle Fasion
This Jaipur-based brand offers a wide range of stylish silver jewellery, and this retro Ketli Chai Ring is definitely one of our favourites. The details are impressive and it is adjustable, making it perfect for everybody.
9. Dekh Mat Chal Chai Pila T-shirt from Be Awara
Be Awaara has an extensive collection of T-shirts and has great varieties. If you type Chai in their search box, you will come across a whole page dedicated to different t-shirts with cool one-liners about chai. Wear your love for chai and buy one of their t-shirts!
So, which one of these gifts for chai lovers you are planning to purchase? Tell us in the comment section below!
For more such stories follow Local Samosa on Facebook, Instagram, Twitter, and Telegram.
Comments
comments