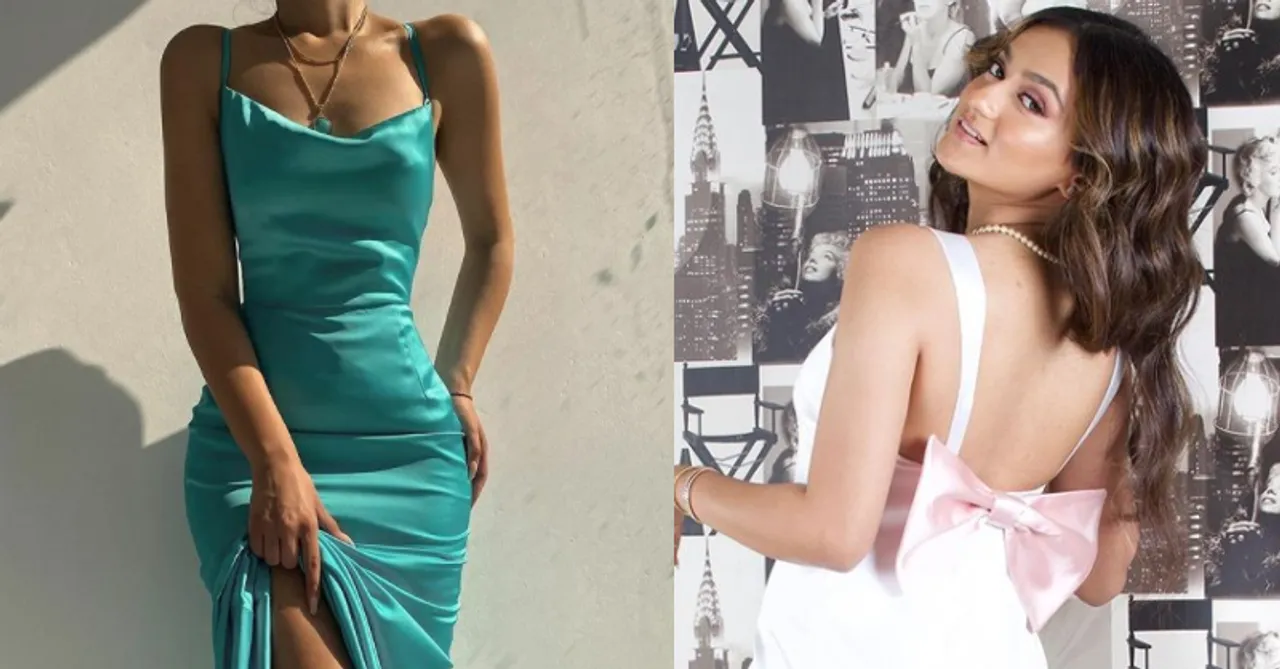 Love Shien, and miss it? Well, we've picked up some amazing homegrown Indian alternatives to Shein for you. They have a fabulous collection of dresses, accessories, and more for you to pick from, and so, keep scrolling, and buy something online!
Looking for something sexy, cute, aesthetic, or classy online? Well, we have got you covered with these Shien alternatives. These homegrown brands have a lot to offer when it comes to dresses, skirts, and even loungewear. Some of them even have accessories and jewellery, so check this curated list of 18 Shien alternatives, which will make your shopping easy and breezy!
1. Off Duty
Love denim? Check Off Duty as it's one of the few brands online that offers vibrant, and different denim products like skirts, pants, flared jeans, ripped, and a lot more. Check them out if you are a denim baby!
2. La Chik Pick
We are totally in love with their co-ord sets, frill dresses, and colourful tops. If you are someone who likes to keep it bright, and cute, check their collection once.
3. Big Mouth Company
Their ribbed cut-out dresses, Drawstring tops, and two-way ruched dresses are worth checking. This online brand is perfect for those who love pastels, and cute little dresses.
4. Ethknits
Ethknits is a brainchild of Shubhi and offers a gorgeous collection of crochet bikini sets, crop tops, and bags. If you are someone who adores Knitty-gritty, then have a look at their fabulous collection.
5. Muscari
Want to wear something sexy? Get your hands on these lustrous evening, and slip-dresses from Muscari. You have to check them if you are in a mood to slay and want your outfit to speak for you.
6. Basata
Basata claims to be a fashion brand that suits all your aesthetics, and we really like their organic collection. They also mention they follow slow fashion, and try to use 100% organic fabrics. Check them out if you are looking for wrap-up dresses and cute tops.
7. Bonkers
Check Bonkers for some quirky and printed tops. We also like their hoodie, sweatshirt, crop-tops, polo collections, and you must check them as they cater to both men and women.
8. Diamond Lady
Diamond Lady is a size-inclusive brand and offers a stylish range of blouses, dresses, gloves, socks, and midi-skirts. We will suggest you check them if you are looking for something aesthetic, sexy, and vintage.
9. JAMP
Adore tie-and-dye? We have got something for you! Shop from JAMP as they offer a great range of handmade Tie-and-dye sketchbooks, diaries, t-shirts, and more. Check their latest tie-dye masks, and match them with a similar t-shirt maybe?
10. Desi Minimals
Desi Minimals is perfect for those who find their comfort in t-shirts, and hoodies. Buy clothes with fun or aesthetic one-liners, and pair them with a cute bucket hat. Check them if you like to keep things casual, and minimal.
11. Baeby
Baeby is one of the good Shien alternatives as they have an impressive collection of dresses, loungewear, tops, and bodysuits. We really would like you to check their cozy loungewear once.
12. An'era By Asmita Verma
An'era By Asmita Verma has been adorned by celebrities such as Rashmi Desai, Rubina Dilaik, Munmun Dutta, and Divyanka Tripathi Dahiya. Their custom-made pieces are a combination of refined cuts, vintage silhouettes, and eccentric shades. Check them if you are up for street-savvy sexy style.
13. Slaet
We are really impressed by their Corset top collection, while their white slip dress and blazer dress have our heart. Do check this one of the best Shien alternatives if you are looking for something sexy, appealing, and bawsy!
14. Aventurine.co 
This brand has an appealing collection of drape dresses, bodycon outfits, printed frocks, and very cool racer jackets. Style your wardrobe with Aventurine. co and buy something trendy, and stylish.
15. Dinaaz Gabrani
Dinaaz Gabrani offers a fine range of western dresses as well as ethnic ones. You will find something for yourself, as this brand has a pretty extensive collection, and keeps coming with new ones every season. We are totally crushing over their Unsuitable collection, and would like you to check it!
16. Lazo
Lazo not only sells dress but also jewelleries, and we feel they are doing their job perfectly. Their satin dresses, cowl, and drawstring tops are definitely worth looking at, and if you are a sucker for silk apparel, you will like them.
17. The Lux Bug
Check The Lux Bug for everything sexy! Their collection consists of gorgeous latex dresses, corset tops, and a lot more. They have their outfits available in almost all possible colours, and if you are planning to get ready for your partner, or have a crazy, romantic meal to attend, wear something from this brand, which is indeed one of the best Shien alternatives.
18. Uptownie
Uptownie is another size-inclusive brand and we love their floral midi dresses and jumpsuits. They keep posting quick outfit DIYs and '1 outfit several looks' videos on their page, so do check them out even if you are not in the mood to buy, and to know some pro styling tips.
For more such stories follow Local Samosa on Facebook,  Instagram,  Twitter, and Telegram.