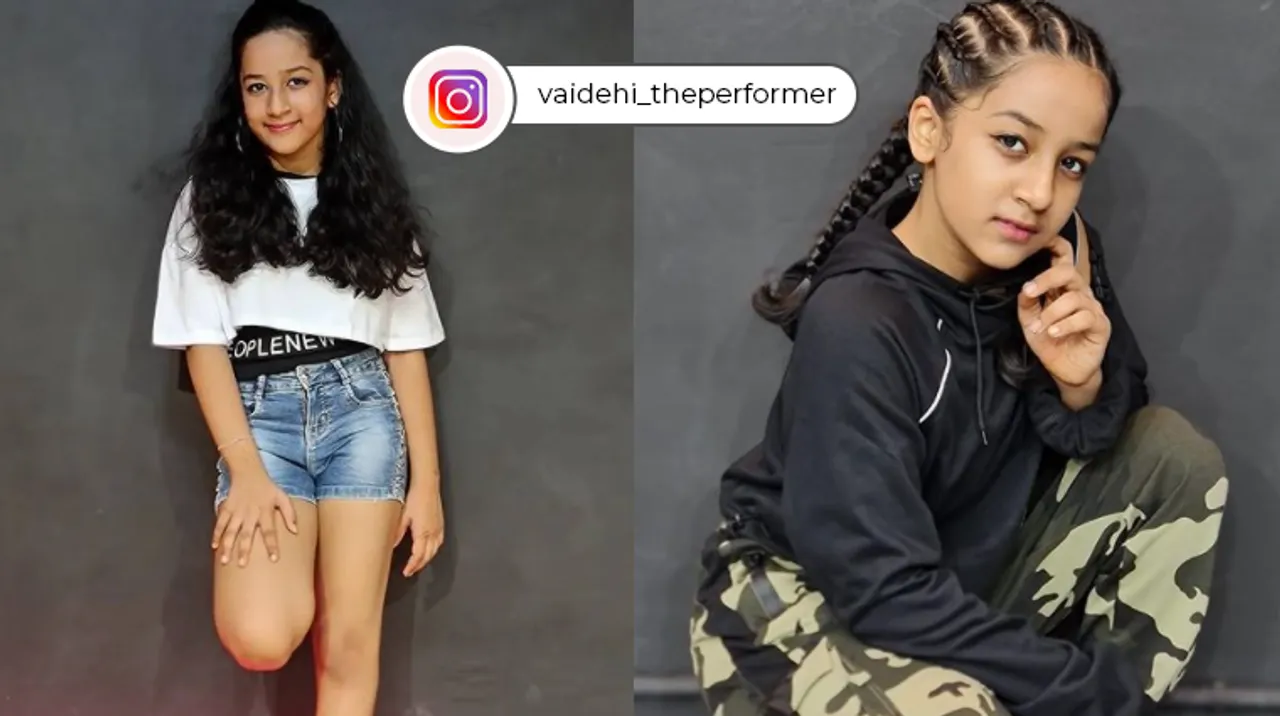 Dancing since the age of 3, Vaidehi Rastogi will leave you awestruck with her amazing hip hop, bollywood, Kathak, belly, and contemporary dance steps. She has been the winner of Dansation Arabia ( One of Dubai's biggest dance competitions), and has been appreciated by Nora Fatehi, Hardy Sandhu, and Dwayne Bravo.
Vaidehi Rastogi who's just 12 years old, has been dancing since she was 3 and believes that learning is a never-ending process. Her video with Aadil Khan on Gali Gali took everyone's heart away. While another dance duet with Nidhi Kumar on Chogada Tara crossed 39 million views on YouTube. Vaidehi, a.k.a the Hip Hop Kid, is definitely on fire with her energy and lit choreography. Her moves are so fine that even Nora Fatehi, Remo D'Souza, and Shilpa Shetty have shared her videos on their social media and we think it says a lot about Vaidehi Rastogi and her skills.
"She has a really strong passion for dancing, has big dreams, and is making an effort to achieve them. She also learned different styles of dance, kept doing workshops, and is fully dedicated to her passion.", says Pooja Gupta, Vaidehi's mother, and also her social media manager.
Other than attending workshops, this Hip Hop Kid is also a Choreographer. She comes up with her own steps and concept after understanding the lyrics of the songs from her mother. Her sharp moves and sleek steps are a ball of fire and it's a delight to watch her dance. Most of her videos have fetched millions of views and massive appreciation from the public.
The list of Vaidehi's achievements is quite long. She has been the winner of GCC Omo Super Dancer Season-1 and has even bagged the title of Dansation Arabia, judged by Remo Dsouza and Bobby Khan. She is also part of the I Am Hip Hop Crew led by Ruel Dausan, and has collaborated with many artists like Sonal Devraj, Aadil Khan, Chinmany Khedekar, Dancamaze, and Nidhi Kumar.
"It's a great feeling when your work is appreciated. On the sets of Dansation Arabia, Remo sir complimented Vaidehi by saying "Aapne Tiger Shroff se bhi achaa dance kiya hai"! She's been on the feed of Hardy Sandhu & Bravo Sir too. Nora ma'am has also shared her work on her stories. Vaidehi once did a Choreography for Bravo Sir's song on 'Asia' and it was appreciated by him. He even left a bag of goodies for her in the hotel", says Pooja while smiling.
Though Vaidehi's Instagram handle says she's a Hip Hop Kid, Vaidehi is a pro at other dance forms too. She is a versatile dancer who performs various styles like hip-hop, Bollywood, Kathak, contemporary, afro, and belly dance. Her energy, expressions, and body language would want you to learn to dance from her. "The workshop she did was a hit where all the proceeds went for providing food to COVID affected kids. She was thrilled to teach her own choreography to others and received lots of encouragement", says Pooja.
At present, Vaidehi has over 150 K followers on Instagram and 60.3 K subscribers on YouTube. Her reels have also crossed lakhs and millions of views and she keeps posting her dance videos every day. It does look like a busy life for Vaidehi, and we really appreciate it. Also, let's not forget that she is just 12 and is managing both- her studies and dance.
"Vaidehi gives quality time to her studies and also keeps focusing on her passion. She is in a British curriculum & ensures she finishes her studies before she shoots a video, or goes for any classes. Vaidehi very well knows that her studies are not an option but a priority", explains Pooja. We really appreciate her work and also respect the way Pooja is working hard for her daughter's passion.
"I left my job for her dancing career to manage her social media operations. The dedication she exhibits is commendable and I have also learned a lot from her. I only wish her loads of happiness in life and I just wish she is able to live up to her dreams & achieve her goals. Ups & downs are a part of one's life but what's important is how you deal with it and come out as a winner", adds Pooja.
With such a massive social media following comes appreciation and unfortunately some hate too. It breaks our hearts to know that even a kid like Vaidehi could get hate comments for her marvelous work. "Vaidehi faces criticism when she does her belly dance routine. Many people try to pull her down or demotivate her by saying there is no future in dancing. But, she tries to be positive and I also make sure that she doesn't get affected by these comments", says Pooja.
But no matter what people say or comment, Vaidehi Rastogi has big plans for her future. She wants to open her own dance studio and also wants to act in Bollywood. "She wants to make it BIG in performing arts and entertain the nation", mentions Pooja. We wish her great luck and hope to see Vaidehi reach new heights.
For more such stories follow Local Samosa on Facebook,  Instagram,  Twitter, and Telegram.