Winter fashion is a lot more than just layering and wearing a shawl. You can do a lot of things with a simple jacket, a scarf, pair of shoes, and a cute hat. But, you should know the right tricks and the winter styling tips for men! And that's why we reached out to these fashionistas and asked them how men can rock their winter fashion, and here's what they suggest!
Some men look so put together every time they step out. There's something about their aura and personality that makes them stand out. But, do you know what exactly is their secret? Well, one could be the right outfit, the right way of wearing it, and some great accessories. Along with these, there are some other things too that help them nail the look. Since it's all chilly and wintery around, we decided to talk about winter looks today and asked fashion bloggers Akhand Pratap Singh and Arshad Ahmed about all the needed winter styling tips for men. Follow these suggestions and be the one who leaves a mark wherever they go.
There's more than just the woollen clothes:
Winter surely is more about the warm & cozy woollen outfits, but there are also other fabrics that are perfect for winters especially when you live in a city that doesn't get too cold. These fabric options will warm your body just right and can be great if you don't wanna be a snuggle baby. "Woollen sweaters are always a big yes when it comes to clothing. Silk is also great! It's lightweight and breathable which makes it perfect for layering. Fleece which is made of Polyester also does a good job. It manages to keep you warm without weighing you down. It also dries quickly, allowing you to wear it in little damp conditions or while exercising in the cold", says Arshad Ahmed who is a fashion blogger and a digital creator from Mumbai.
But, then woollen clothes are winter staples. You have to wear them in some or the other way because let's all agree, winters will be incomplete without a good woollen sweater. "Woollen materials are perfect for winters. I think they are the best to keep you warm", says Akhand Pratap Singh, who is also a fashion blogger from Kanpur and talks about grooming and styling.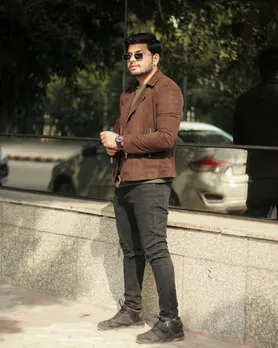 Spill the right shades
Well, there are no rules on what colours you can wear during winters or a palette you must follow. But, there are certain things that definitely need to be taken care of. "Colours have no boundaries but I prefer wearing dark colours as I love layering my clothes in contrast", says Arshad. While for Pratap it's all about following the warm and deep colour palettes during winters.
"I think they represent winters in the most beautiful ways. Warm shades include chocolate, mahogany, burgundy, olive green, and burnt orange, while the darker shades such as deep blue, Maroon, dark teal, shades of turquoise, and of course black, will take your outfit to another level even if simply worn or accompanied with a scarf or a shawl. Also, it's important to aim for a balanced appearance no matter what colour we wear. You can pair up bold colours with neutral hues to avoid clashing. Well, for a smart and stylish combo, try partnering navy with burgundy or red, whereas you can pair light shades of grey and brown with other light colours and darker tones with other dark hues", he advises.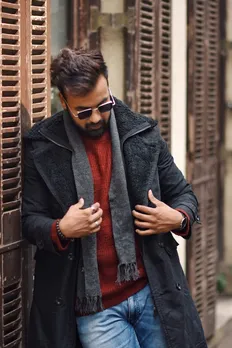 Layer your game up
Layering means wearing various pieces of clothing on top of one another. If the weather is cold, layering can be a great idea as it not just keeps you warm but also adds an elegant touch to your personality. "I think layering shirts, knits, and jackets are some of the best go-to options. If we turn around to a second choice then it would be a shirt, suit, and a coat", suggests Pratap. For Arshad, layering can be as simple as wearing a thermal under a cool turtle neck or a t-shirt and wearing winter accessories like a muffler scarf or a beanie. "Do the layering according to the temperature outside. If it's cold, make sure you wear a thermal vest and tee on it, so you style well with less layering", he says.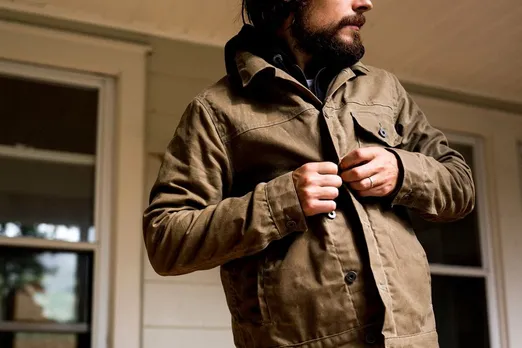 Accessorize the look
Accessories like jackets, boots, shoes, hats, gloves, muffs, shawls, scarves, and jewellery are also an important part of your outfit. When it comes to winter fashion, you can make the best out of these things, and here's what our bloggers think would look the best. "A classic wool beanie would be my call. I also love leather jackets, pea coats, woolen overcoats, and boots. Other than that oversized outerwear, Fleece, leather, Pea Coat Puffer Jackets, are in too. Also, a leather jacket is one of the most versatile pieces of clothing that every man should have in his wardrobe. If you are in Kanpur, I'll suggest visiting Naveen market, Parade & P. Road, Bada Chauraha, and Shivala market for winter shopping", says Pratap.
Arshad mentions he is a fan of Turtle Necks, Hoodies, and Denim jackets. "Turtle Neck is a must. Buy one in either black or white, as these two colours are like always IN. Go for a denim jacket when the weather is less chilly. You can layer it up over your sweatshirt or a sweater to style up your game. The hoodie is another all-time favourite. I usually do my winter shopping from Bandra Linking Road, especially for hoodies. But since it's better to stay home due to the pandemic, I prefer shopping online. My favorites are Ajio and Koovs", says Arshad.
Footwear
Winter and boots go hand in hand and it's the first thing that comes to mind when you say winter footwear. "Black Chelsea boots are a vibe. One can experiment with them a lot. Wear a turtle neck long sleeve t-shirt with a jacket, sweater, or coat, and wear those boots! You are surely going to make a statement with this duo, trust me", says Arshad. However, there are other great picks too. Pratap also feels that there are so many options one can go ahead with other than just the boots. "Well, it's not compulsory to wear boots just because it's winter. Though one can't deny the fact they keep you warm and look great. However, you can try a pair of sneakers, leather shoes, and even half sandals in winters", he advises.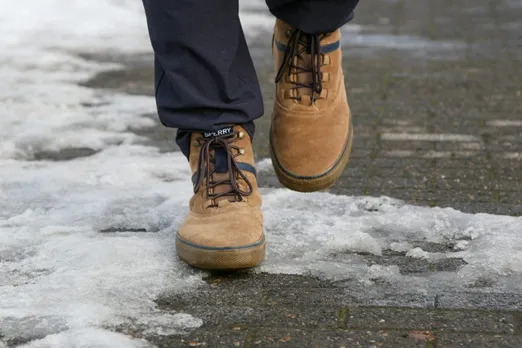 Winter in Ethnic
You'll come across many tips on how to style western outfits during winters. But, not a lot of people are talking about how ethnic wear can be styled during winters. It's more than your pashmina couture and shawls, and it's a lot more fun to style ethnic outfits. Try these tips for the next winter wedding you are about to attend. "Well, it's actually a smart idea to pair your kurta with a thick blazer/ long coat. Double layering can be really great when it comes to Kurtas and sherwanis. Wear a woolen cap if you are wearing casuals, and pashminas, if you are getting ready for an event, is what I suggest", says Arshad.
Pratap feels it's all a personal choice on how you want to style your ethnic wear. "You can try a jacket over a kurta. I personally suggest going for solid colours if it's ethnic", advises Pratap. House of Hangul for pashmina, RDKLU & House of Rare for jackets, and Spring Break for funky Festive wear are some brands that we suggest you should check.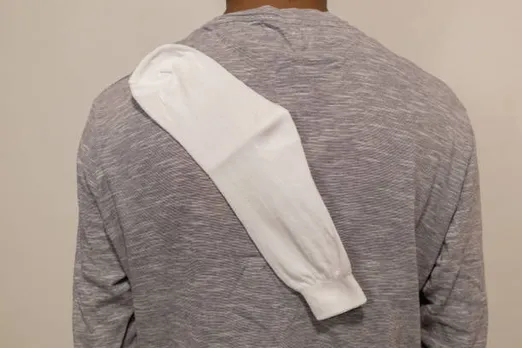 Some more suggestions on winter styling tips for men
A great outfit is definitely going to help you make a statement, but how about a winter-perfect hairstyle and makeup? " Winters would give one of the most comfortable hair looks. Messy quiffs and sweep back would be my favourite hair look for the winter. For your face, applying a good face primer is a must. SPF is also important. For a winter outing, I'll suggest using a face mist, applying a layer of foundation & a highlighter to add a glowing tint to the skin.", says Pratap.
Other than this, one thing you have to get rid of would be the irritating static cling! It gets much worse in the winter and is formed easily when the air is dry and the humidity is low. "Target extra clingy areas by applying talcum powder to your body/skin. You can also brush your wet hands over the surface of your outfits to reduce static cling. Putting a tennis ball in the dryer can also help to reduce static cling by preventing clothes from rubbing together as they dry. Also, boost the humidity within the home as very dry air is an ideal condition for static electricity. Using a humidifier can eliminate the problem", concludes Arshad.
We hope you found these winter styling tips for men useful. If you have any questions, do let us know in the comment section.
For more such stories follow Local Samosa on Facebook, Instagram, Twitter, and Telegram