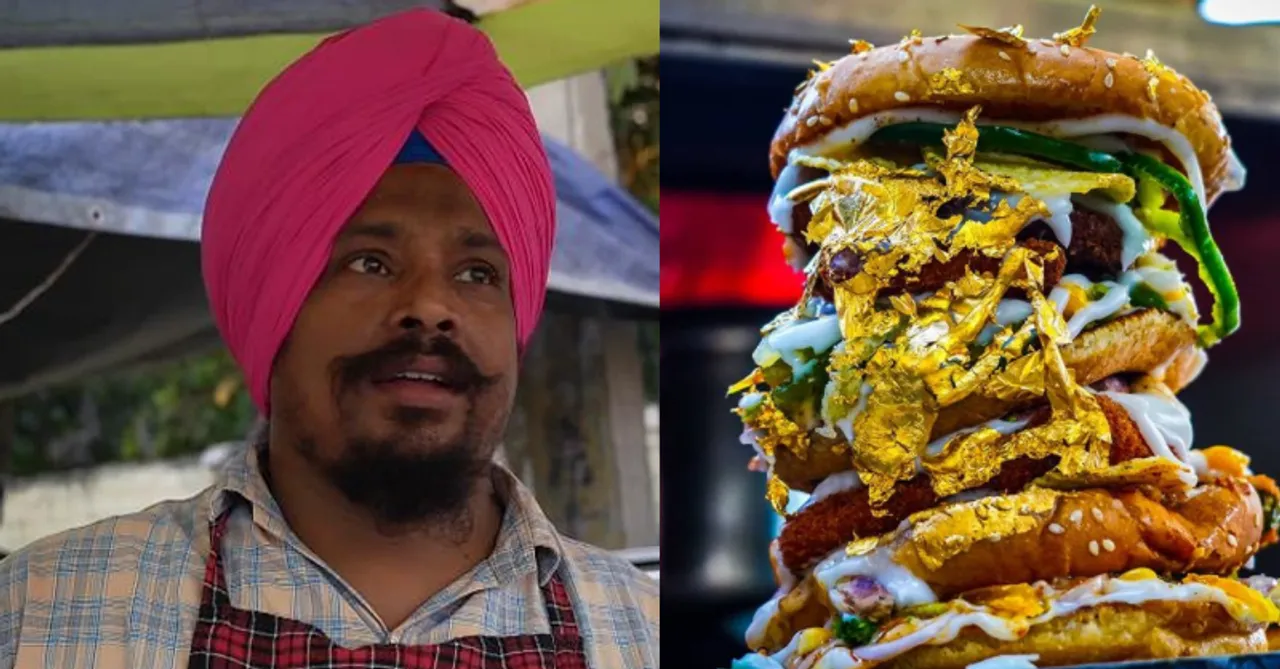 Street vendor 'Baba Ji Burger Wale' is already pretty famous for his burgers and other snack items, but this time he is making headlines for his humungous and expensive gold burger that costs Rs.999 and its challenge.
Sprinkling gold on food isn't a new idea, and we're sure you've heard about gold momos, gold biryani, and other such names. Many restaurants and chefs have been using gold as a topping for a while now. To add to the list, a street vendor in Ludhiana has taken this route too. He is offering a humongous gold burger with a fun challenge. If you happen to be here then, head to Baba Ji Burger Wale in New Model Town, finish his veg gold burger in 5 minutes and don't pay a single penny. Keep reading to know everything about Ludhiana's epic gold burger!
In a viral video by a youtube channel, ' Sahi Hai', Babaji's epic gold burger was spotted. Food bloggers Chahat and Kartik Bhalla were exploring the city like usual, and they spotted this veg gold burger. After having a conversation with the vendor Babaji, they suggested he come up with a challenge. " In this way, there will be value for money and people will find it interesting too", Chahat told Local Samosa.
This tall burger consists of 3 layers and comes loaded with 2 paneer tikkis, 1 aloo Tikki, fried capsicum, dried fruits, a secret sauce ( Babaji calls it moonch marod sauce), mayo, chips, and dry fruits. Once Babaji is done preparing, he wraps the burger from outside with 24-karat gold foil. Not just tall, but this gold burger is huge too, and weighs around 1 Kg. "Since it's impossible to eat the burger at once, you taste different flavours in each layer. It's a fun thing to try with your friends and something you should do at least once in your life", he further added.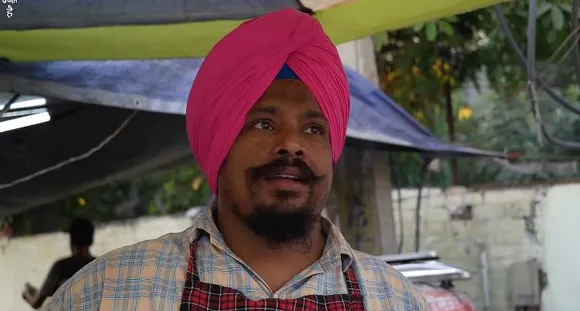 Finish the Burger in 5 minutes and get it free with a Prize Money Of Rs.999!
Well, there's even more to this massive burger! If you gobble it up in 5 minutes, you will not have to pay anything for it. In fact, Babaji will give you prize money of Rs. 999 for finishing it. How exciting is that?  Since the burger contains gold, it is one of the most expensive burgers in Ludhiana. "Each sheet costs him around Rs.250 - Rs.300 and as he adds at least 2 sheets, burger is expensive", said Chahat.
So, if you are a foodie and love big bites, then Ludhiana's gold burger could potentially be on your next food bucket list! 
Where: Baba Deep Singh Gurudwara Chownk Model Town Ludhiana
Price: Rs. 999
For more such stories follow Local Samosa on Facebook, Instagram, Twitter, and Telegram.