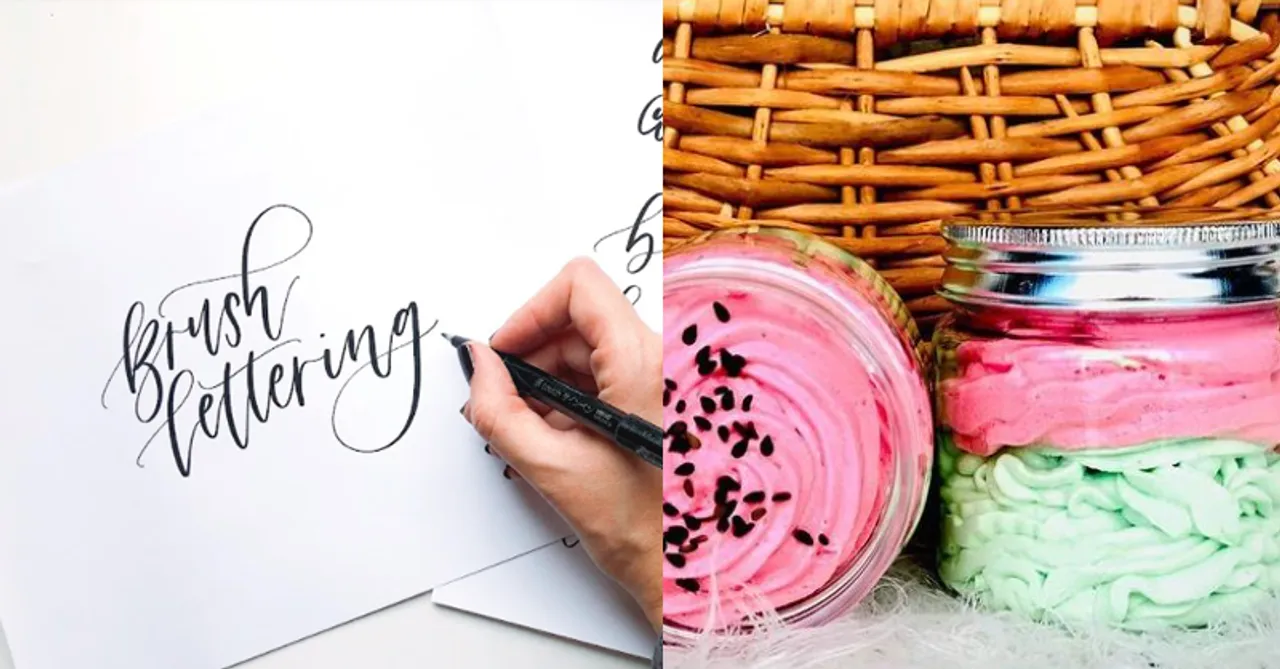 Local Samosa is back with the weekly list of workshops to help you utilize your time in the best way. Sign up for any of these upcoming online workshops and upgrade your skills.
Explore these interesting online workshops and pick the one that suits you the best. Learn brush calligraphy, painting, start your spiritual and therapeutic journey or, make your own shampoo, conditioner, and soaps. Keep reading, as there's a lot that you can do this week with these upcoming online workshops.
1. Brush calligraphy workshop by Shweta Loya Malpani
Get ready to sway your brush pen with Shweta Loya Malpani who is a Calligraphy & lettering Artist from Nashik. She has taught over 200 students as of now. Enroll in this 4-day online workshop to learn to write in beautiful ways.
When: 22nd November to 26th November!
DM for details.
2. One stroke painting workshop by Rooftop
Rooftop offers virtual workshops and has over 2000 artists associated with them. In their upcoming one-stroke painting workshop, artist Priya Satish will teach you this creative art style where double and multi-loading of paint is used to achieve highlights, shadows, and color changes in one stroke.
When: 23rd November
Tap here for details.
3. Vintage bottle lamp workshop by Dia's Art Attic
Handmade gifts and decorative pieces are always special. This week adorn your place or gift your beloved a bottle lamp painted in a vintage style. This 3-in-one workshop will teach you glass Painting, Decoupage, and Clay relief work, and even kids above age 8 are allowed. The first 5 registrations will also get an early bird discount, so what are you waiting for, bring the DIY artist in you out and enroll.
When: 27th November
DM for details.
4. DIY macramé accessories workshop by Hobbee Horse
Add a little Macramé magic to your home with boho macramé accessories! In this beginner-friendly knotting tutorial, you will be able to learn to make your own accessories to display in your home or gift to a friend. Rainbow Macrame DIY Kit is available for purchase at their website here.
When: 22nd and 26th November respectively.
Tap here for details.
5. Art of forgiveness workshop by Healing with Dr. Priya Kaul
Dr. Priya Kaul is a Life Coach, Reiki grandmaster, and Tarot Card Reader. She will be conducting this 8-day workshop where she will help you learn about the miraculous power of forgiveness. De-stress and unwind with this therapeutic workshop.
When: 21st November
DM for details.
6. Angel therapy workshop by Modmonk Anshul
Modmonk Anshul is a TEDx Speaker, Spiritual Coach, and Business Psychologist. Her upcoming workshop is about Angel Therapy which helps in Healing, Daily Hindrances, studying, maintaining Relationship Harmony, Career, and providing Protection, Abundance, Prosperity, Forgiveness, and Compassion. Begin your spiritual journey with this workshop.
When: 27th and 28th November
DM for details.
7. Facewash, shampoo, and conditioner bar workshop by The Skin Book
It's time you stop spending money on the chemically packed shampoos, soaps, and conditioners and make your own bottles at home. Make your own shampoo, conditioning bar, and shampoo in this online workshop by The Skin Book. This will be a live session, after which recorded videos will be given along with the details of 8-10 vendor details, pdfs, and notes.
When: 27th and 28th November respectively.
DM for details.
8. Fluid pour art, resin art, alcohol ink workshops by My Artsy Kit
Tithi Singh is an artist and sells handmade candles on My Artsy Decor. She has thought 700 students online as of now and is conducting 3 workshops on 4th and 5th December. Learn Fluid pour art, resin art, and alcohol ink art in these workshops for which you will also receive a kit to your doorstep. Enroll as early as possible as it will take at least 5 days to deliver the kits.
When: 4th and 5th December
DM for details.
For more such stories follow Local Samosa on Facebook, Instagram, Twitter, and Telegram.