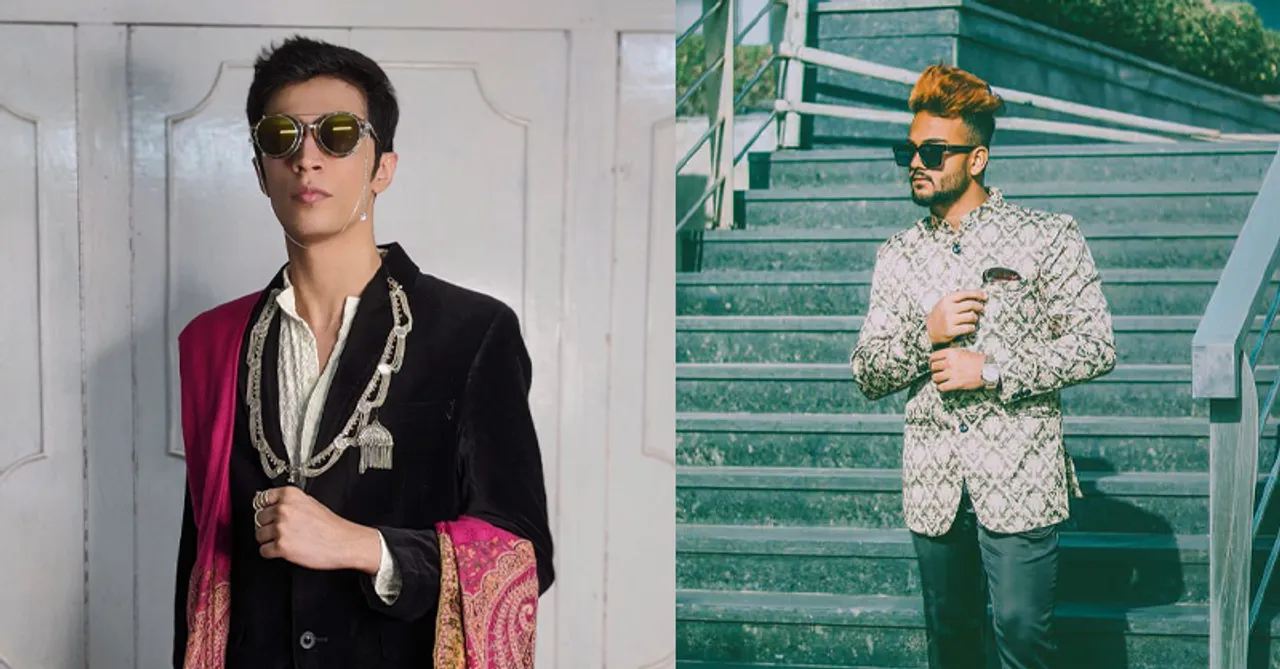 To bring an answer to this question, "How to get ready this Diwali", we conversed with a few fashion bloggers who created and described some looks that can be a good styling option for you. Read the full story below.
Since Diwali has approached the thresholds, it's not only the homes getting decked up, all of us have started searching for the best looks that can be carried out on the occasion too. And, if you are also one of them, this is something important for you as a few fashion bloggers here are talking about how to get ready this Diwali. Presenting the excerpts from the conversation with Tanish Ghorpade, Ramiz Raza, Divyansh, Siddhant Chandra, and Rudraksh.
Layered clothing by Tanish Ghorpade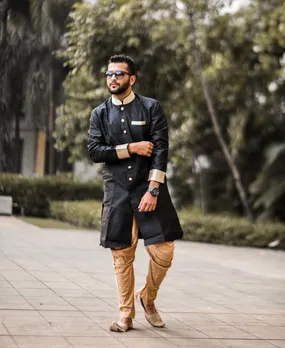 Tanish takes no second in saying that one can opt for "layerings". "Layers in clothing always helps a person look stylish, especially during the festive season," he says. He further suggests wearing a Black Kurta with a Golden Churidar and pairing it up with Mojris. "For the layerings, one can choose an orange Bandi Jacket over the Kurta," he says. Tanish ends by describing the look by saying, "Must wear a watch with it."
Simplicity, the key by Ramiz Raza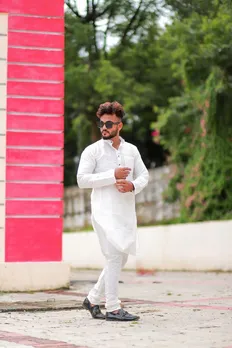 On how to get ready this Diwali, Ramiz says that one need not overdress to look good. "For a simple yet elegant Diwali look, you can simply style White Kurta and White Pyjama along with a Black Loafer," he says adding that such looks suit best on festive evenings.
On the other hand, Ramiz also suggests an Indo-western style with a Bandhgala Suit with Trousers from Hangup brand, a local store, and pair it up with good shoes. "You can also get customised tailored trousers according to your preference for the perfect look," he adds.
Nehru style by Divyansh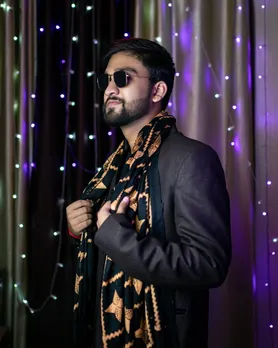 Agreeing with Ramiz, even Divyansh suggests a Bandhgala style. "Whether it's a wedding soiree or a formal dinner, the Bandhgala renders a sense of sophistication and the fact that it flatters all body types makes it a wardrobe intrinsic. So, one can wear a Dark Brown Bandhgala with an ethnic stole to make it look more traditional," he says.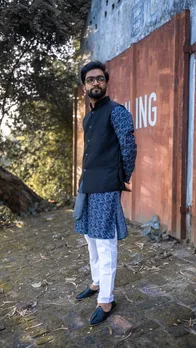 Talking about how to get ready this Diwali in a different way, Divyansh said that he styled a Black Nehru Jacket pairing up with a dark Blue Kurta and Churidar. "Being a fashion content creator, I always have something to spice up my look so I draped my mom's dupatta. The best part about this look is that it is extremely versatile, from being your saviour for an ethnic day or Diwali celebrations at the office to your Diwali party," he says. For the ones who feel that draping a dupatta is too much, Divyansh says, one can easily pull on a Shawl or use an elaborately decorated Brooch and Juti to complete the look.
Sustainable fashion by Siddhant Chandra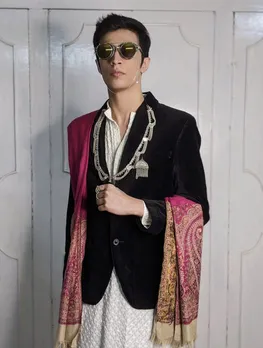 Uniquely creating two Sherwani looks by old scrapped items, Siddhant's fashion has all our heart! He suggests these looks to everyone aspiring to go experimental this Diwali. For the first look, he altered his dad's old Kurta and took mom's old saree to use as Dhoti. Not only this, he used a Blazer to give a sherwani effect and used his mom's old Shawl to give a pop-up effect to the outfit. For the accessories, he joined his mom's two Anklets as necklaces and used his sister's necklace and earrings for the Sunglasses' chain and Brooch. To complete the look, he took his mom's toe ring to use in his fingers. "One can follow the same thing if buying a Sherwani is not an option," he says.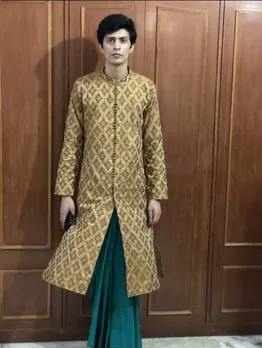 Even for the second Sherwani look, Siddhant altered his dad's old Kurta and mom's saree to use as Dhoti and paired it up with Leather Chappals. His first look, which he had created a year ago, was even appreciated and shared by the B'Town actress Sonam Kapoor on her Instagram page.
High Street Fashion by Rudraksh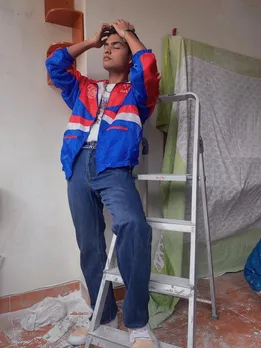 Street fashion has been in the trend for the last two years, and Rudraksh says that it can be great for the festive season too. For Diwali, he suggests this style which includes a Shirt, Jacket, and Pant from his brand Gagged. "One can wear a varsity Jacket which not only will make you look distinct during Diwali but also become your winter essential. The shirts in solid prints celebrate the festivities and is a good substitute to ditch the regular kurta we wear," he says.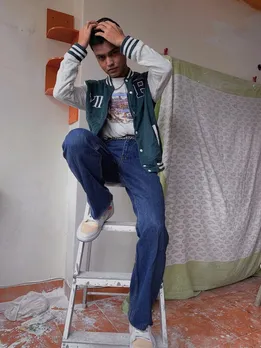 Adding to the style, he jokingly says, a picture with the repair-centric background, like the one he took, can also be taken into consideration to add to the style since it shows "the major household chore during Diwali". "Building an aesthetic out of such background, I have tried to display the modern take on Diwali merging it with street and genderless style. You can do it too," he says.
For more such stories follow Local Samosa on Facebook,  Instagram,  Twitter, and Telegram.