These young entrepreneurs of the country are here to prove that if one has a vision and a dream, then nothing can stop them from achieving anything. 
Taking 'Age is just a number to another level, these young minds have done so much at such an early age that we can't help but praise them. With their intelligent ideas and business skills, these young minds have done a remarkable job. So, keep reading to know more about India's young entrepreneurs, who are here for the long run.
1. Tilak Mehta
16-year-old Tilak Mehta was 13 when he founded an app-based courier service in Mumbai by the name 'Papers n Parcels'. It is a digital courier company that offers one-day parcel services and collaborates with the Mumbai Dabbawalas. It is a mobile-based app and employs 200 people. Other than these employees, over 300 Dabbawalas delivers around 1200 parcels on the same day. Tilak has even won the Global Child Prodigy Award in 2020 and was among the Top 100 Prodigies List of 2020!
2. Aarushi Nema
Arushi Nema is a 19-year-old entrepreneur based in Gurugram. After she saw Iron Man's Jarvis, she made her mind to create a high-tech artificial intelligence (AI) assistant for companies and ended up making Aaru Robot, a virtual personal assistant that uses AI to help businesses communicate with customers. This robot can help small and medium-sized businesses and their customers communicate through used AI interfaces like Amazon Alexa and Google Assistant. Today, she is the CEO of her company, The Smart Interface.
3. Avantika Khanna
Avantika Khanna was an avid history reader and took this love for history to another level by developing an app that tells India's history and rich cultural heritage. Avantika is a student of Humanities of Shri Ram School, Aravalli Campus, Gurugram, and feels that the loss of both intangible and tangible culture is a loss of human history and global diversity. With a motto to preserve the historical monuments of India, she started curating detailed stories in audio format and created a team of 30 history lovers and students working as writers, marketing experts, photographers, and programmers to collaborate on the project.
4. Nihal Singh Adarsh
Nihaal Singh is a student of KJ Somaiya College of Engineering in Mumbai. When he saw his mother sweating and working tirelessly in the PPE Kit during the pandemic, he decided to do something and ended up designing a cool PPE kit. Due to the lack of ventilation, the regular PPE Kits are hot and end up drenching the healthcare workers in sweat. His cool PPE suit 'Cov-Tech' takes the surrounding air, filters it, and then pushes it into the PPE suit. It ensures a complete air seal while providing fresh air to the user every 100 seconds. After receiving a grant of Rs.10 Lakhs for prototype development and product innovation by the Department of Science and Technology, Government of India, Nihaal has come up with a start-up called Watt Technovations.
5. Akhilendra Sahu
Sahu is a 20-year-old entrepreneur, who is not only the founder & CEO of ASTNT Technologies Private Limited & Scoop Beats Private Limited, but also of over 14 more companies. His companies work with major clients from all across the world, which makes him one of the most successful CEOs. He was 16 when he decided to found his own start-up and even initially worked as a freelancer in the digital marketing industry. He is also one of the world's youngest serial entrepreneurs.
6. Abhik Saha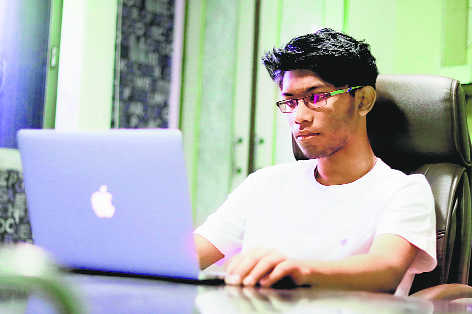 Abhik Saha is a student of Don Bosco English Medium school in Jalpaiguri district of North Bengal. He came up with a brand new search engine, 'Origgon', where one can find optimal search results based on reviews and suggestions by other people with similar queries. Not only this, Abhik has even designed 8 phone applications ranging from website building to providing free video tutorials about computer programming & developing languages, to 3D games, to even an agriculture App that notifies farmers of the latest news about crops and techniques. He now runs Arnabhik Corp, a website designing company with an international clientele.
7. Samaira Mehta
Sumaira became an entrepreneur when she was just 7! She had started creating her own coding board game by the name CoderBunnyz. Taking inspiration from her father, who is an engineer, she came up with her second AI-themed board game, CoderMindz, after a short time. It is designed to teach basic AI principles to kids. This talented kid has not only spoken at several Valley conferences but has also even been offered a job at Google once she graduates from college.
8. Advait Thakur
Advait Thakur is a computer programmer, entrepreneur, and AI researcher. He started using computers at the age of 6 and developed the first website when he was just s 9. His company Apex Infosys India was founded in 2015, which provides digital solutions in AI, Machine learning, and more.
For more such stories follow Local Samosa on Facebook, Instagram, Twitter, and Telegram.
Comments
comments