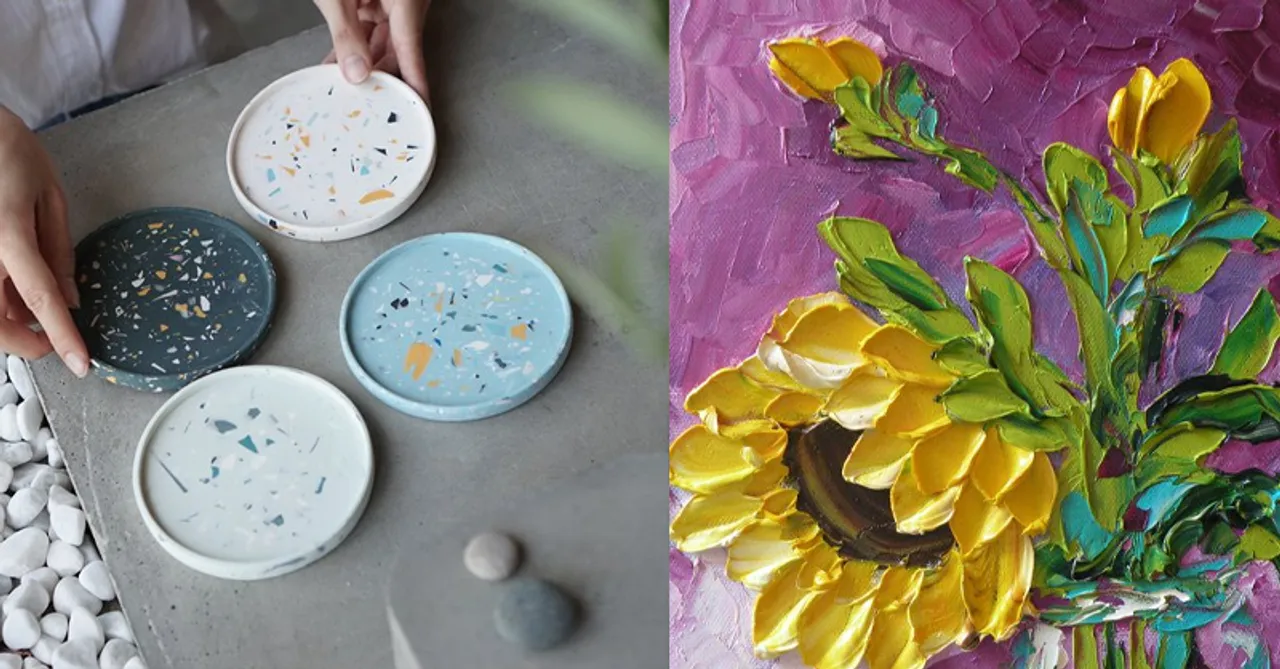 Local Samosa is back with the weekly list of workshops to help you utilize your time in the best way. Sign up for any of these online workshops this week and upgrade your skills.
Explore these interesting online workshops and pick the one that suits you the best. Learn to make whipped cream cakes, terrazzo products, paper flowers, or maybe, try your hands-on knife painting. Keep reading, as there's a lot that you can do this week with these online workshops.
1. Impasto Knife Painting workshop by Canvastint
Impasto is a technique used in painting, where paint is laid on an area of the surface in thick layers, thick enough so that painting knife strokes are visible. When it gets dry, impasto provides texture, and the paint appears to be coming out of the canvas. In this workshop, expert Vrajangna Patel will teach you about making the impasto paste, using knives, different textures, and a lot more.
When: 25th September
DM for details.
2. Resin clock workshop by Vrajangna Patel
Resin art can be used as home decor and looks very elegant. Decorate your place, and replace that boring clock with a handmade resin clock with the help of this workshop. It's beginner-friendly and will help you with everything that this art requires.
When: 26th September
Get in touch at 9004870122
3. Dreamcatcher workshop by craft store of India
Did you know that dreamcatchers are believed to be a protective talisman that protects people from nightmares and bad dreams? However, today dreamcatchers are also used as home decor, and even though you can buy a new one very easily, why not try your hand at making one for your room? Check this cool workshop!
When: 25th & 26th September
Tap here for details.
4. Draping workshop by Ullisu
In this one-hour online workshop, you will learn a lot about draping and how to make the most out of your regular outfits. Take out your dupattas, dhotis, sarees, or any 3-4 meters of soft fabric, and let Mrudula Joshi help you drape them in style.
When: 26th September
Tap here for details.
5. Paper rose making workshop by Starini creation
If you are one of those people who love flowers, but seeing them go withered makes you feel sad? Then check this awesome workshop, where you can learn to make flowers with nothing but paper! Make your own bouquet and decorate your room with paper flowers that look pretty!
When: 21st September
Tap here for details.
6. Terrazo workshop by Arta More
Terrazo is a composite material of marble chippings set into cement. It is usually used for flooring and walls, but now many Terrzao products are being sold in the market, and they look absolutely beautiful. In this workshop, you will learn 3 types of terrazzo chips, and a kit with the required materials will also be provided.
When: 25th & 26th September
DM for more details.
7. Rubber Stamp making by Ptah workshops
Craft your own stamp seal, and enroll in this online workshop, where you will get to learn about one of the most popular forms of printing. Etch, carve, and craft a regular lump of rubber and convert it into a personalized stamp.
When: 25th & 26th September
Tap here for details.
8. Whipped cream cake workshop by Aditi
If you are a whipped cream fan, here's what you can do this weekend. Register in this online workshop where baker Aditi Garware will teach you about the art of whipped cream cakes.
When: 25th September
Get in touch at 9923456219 
9. Tanjore painting on fabric workshop by Deepa Ravichandra Reddy
Tanjore Paintings is a classical South Indian art developed in the late 16th century in Thanjavur, also known as Tanjore in Tamil Nadu. It is one of the most beautiful and detailed arts, and the final piece looks mesmerizing. In this workshop, you will learn about painting it on a piece of fabric, which later can be worn on various occasions.
When: 25th & 26th September
Tap here for details or call at 6392135640 
10. Night Raga workshops by SSF Taalim
A great opportunity for singers, and those who are into classical music, this workshop has night ragas as its main theme and will be conducted by Sangeet Natak Akademi Award Winning Sarod Maestro, Pt. Tejendra Narayan Majumdar. There will even be a question-answer session, and we think it's a must-do!
When: 25th & 26th September
DM for details.
Enroll in these online workshops this week and be a little more productive this week.
For more such stories follow Local Samosa on Facebook,  Instagram,  Twitter, and Telegram.