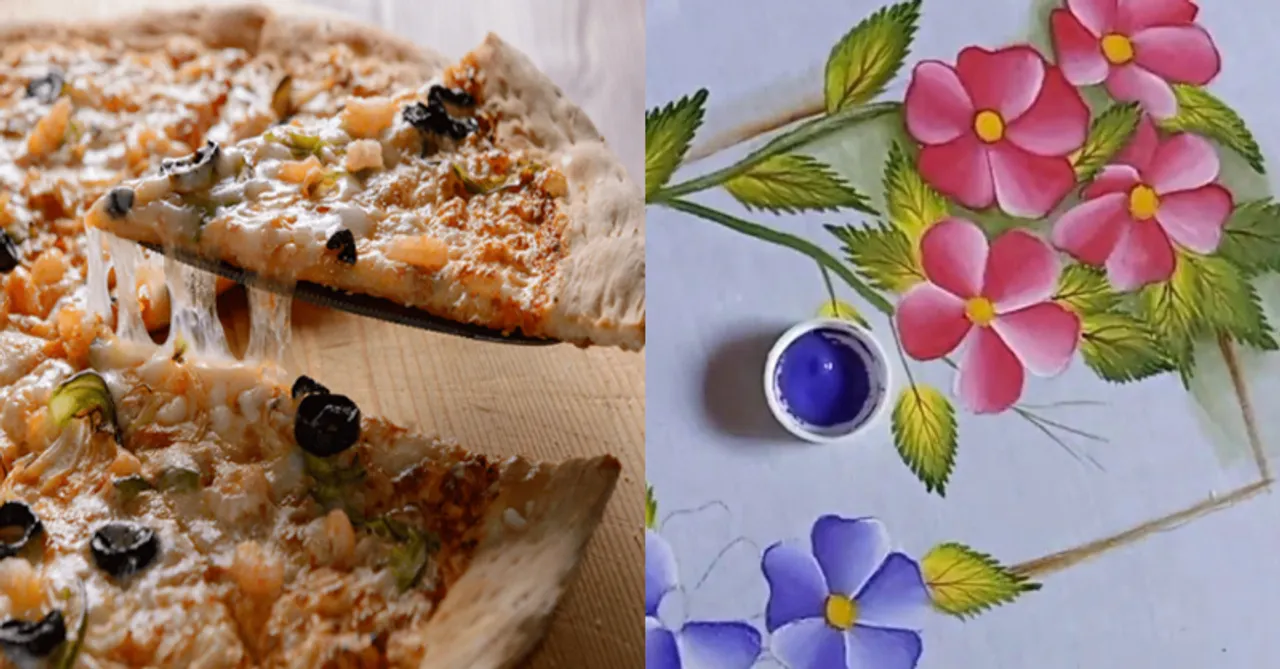 Local Samosa is back with the weekly list of workshops to help you utilize your time in the best way. Sign up for any of these online workshops this week and upgrade your skills.
Explore these interesting online workshops and pick the one that suits you the best. Calm yourself with Reiki, bake different types of pizzas, learn about composting for free, or maybe try your hands-on painting and hand block printing. Keep reading, as there's a lot that you can do this week with these online workshops.
1. Makeup workshop with Ayesha
Ayesha is a Mumbai-based makeup artist, and she is conducting this workshop both online and offline. You will learn about basic and advanced makeup skills, such as highlighting, mixing techniques, contouring, and a lot more. Enroll if you have a knack for makeup.
When: 6th and 7th September
Get in touch at 9967133186 /8828093577
2. Floral Painting workshop
Paint some gorgeous botanicals and floral patterns with Sejal, a hand lettering, and a floral artist. You will get to know about the techniques needed for floral illustration in this 3-day workshop. Register if you love floral prints.
When: 10th-12th September
DM for details.
3. Brush Calligraphy workshop by Creative By Anshika
Try your hands on calligraphy, and learn about the modern patterns, blending techniques, backgrounds, and watercolor elements. Anshika Salwan, who is a Calligrapher and a Crafter, will be conducting this online workshop and will even provide the tool kit and an e-certificate.
When: 11th - 17th September
DM for details.
4. Composting workshop by Iku Earth
Signup to learn the basics of composting in this workshop. In this free online workshop, learn the concepts behind composting with hands-on experience of making compost at your home with zero or small budget.
When: 5th - 24th September
Tap here for details.
5. Reiki Workshop by Dr.Rinki Srivastav
Reiki is an energy healing technique that involves a Reiki master using gentle hand movements to guide the flow of healthy energy through the body to reduce stress and promote healing. It even decreases stress and helps with the management of some chronic diseases. Dr.Rinki Srivastav is a mindset & spiritual Coach, author, and speaker. She will be conducting this workshop in 3 different sessions.
When: 11th, 12th, and 18th September
Get in touch at 9899361970 
6. Fabric painting & Block Printing workshop by Art Wave
It's time you learn to paint your clothes or even try hand block printing instead of buying expensive outfits online. These prints and paints can change the entire outfit, and if this sounds interesting, you have to check this online workshop by Artist Rupa Arora.
When: 8th September
Get in touch at 9988879141
7. Scriptwriting workshop with Rajat Kapoor
Learn everything about scriptwriting from Rajat Kapoor, a filmmaker, theatre director, actor, and recipient of 3 national awards. Some of his notable films directed by him are Raghu Romeo, Mixed Doubles, Mithya, Ankhon Dekhi, and Kadakh. Enroll in this masterclass mentored by him on scriptwriting, and learn the professional tips on how to work and build a good script.
When: 10th - 12th September
Tap here for details.
8. Beauty Cleanse workshop with Deepti Sehgal
Deepti Sehgal is a nutritionist, author, and Ayurveda coach. She is conducting this 7-day beauty cleanse workshop about diet & lifestyle, yoga schedule, and biology & science of beauty. If you are worried about your skin health, register for this online workshop.
When: 10th - 18th September
Tap here for details.
9. Pizza workshop by Bake It Smart
Bake It Smart is an online baking studio and they are offering this epic live pizza workshop where you can learn over 8 types of pizzas, and if it is in the pizza you crust, this workshop is for you!
When: 6th, 7th, and 8th September
Get in touch at 9309783550
Enroll in these online workshops this week and be a little more productive this week.
For more such stories follow Local Samosa on Facebook,  Instagram,  Twitter, and Telegram.