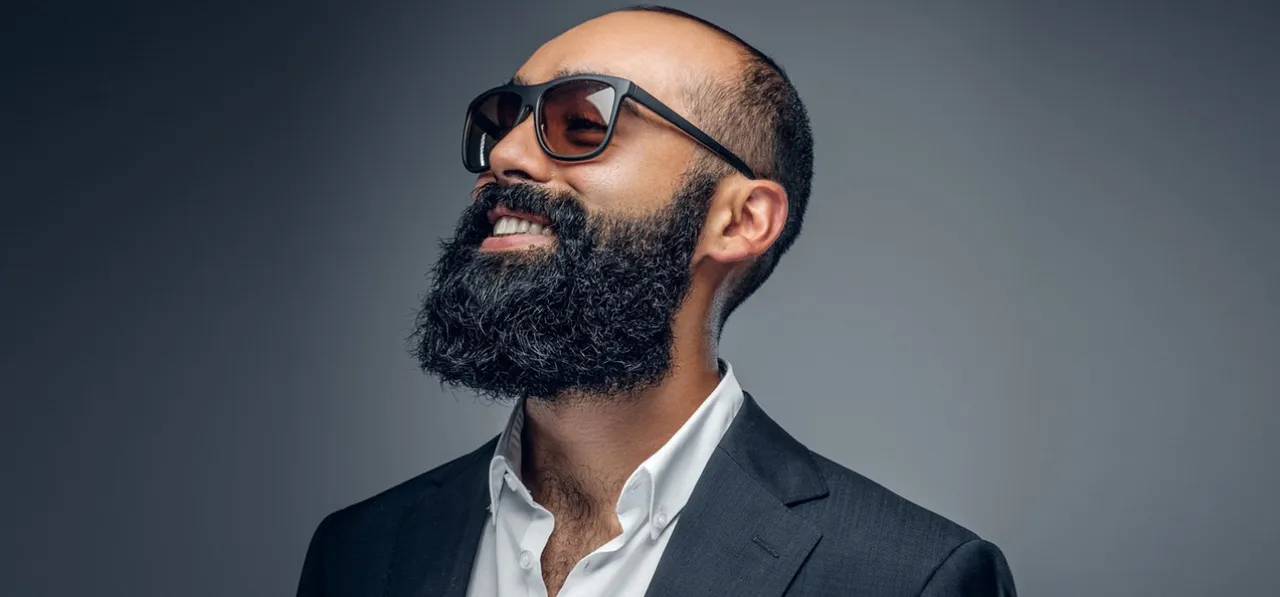 Growing your beard is simple, but it requires consistent care to keep your beard healthy, manageable, and look great. Check these simple beard care and styling tips by beard experts, and make your beard healthier and look fab.
Beard care is essential, but it need not be complicated. With some extra effort, consistency, and the right information, you can make your beard healthier and look fabulous. Local Samosa spoke to a few beard experts about beard care and styling tips, and here's what they suggest!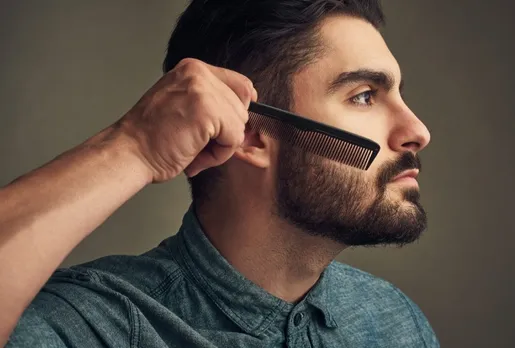 For those who have a short beard
Short Beard can't be longer than one or two inches below your chin. It may look small and low maintenance, but it requires equal care. According to Vivek Ghosh, aka The Beard Queen, using a light cleansing conditioner on your short beard and then applying good beard oil post-shower can do wonders. He suggests avoiding products that contain dyes, artificial fragrances, and lanolin.
Even though you are planning to grow a short beard, it's important to have patience. You will need an adequate length in order to shape your short beard, and it is always best to leave it a bit long as you can always trim it back. Hang in there, as the results are worth the wait! When your facial hair is at least 2 cm long, wash and dry your beard and comb it downwards.
The next step is about shaping the beard. A precise beard trimmer is your friend here. Shape your neck and cheek lines, then clean up under your lower lip. A good tip is to start with the rogue hairs around the edges and then work your way in. Symmetry and clean edges are the keys here. Take your time on this step. Now trim your beard evenly to the desired length. The shortness of your beard is your call!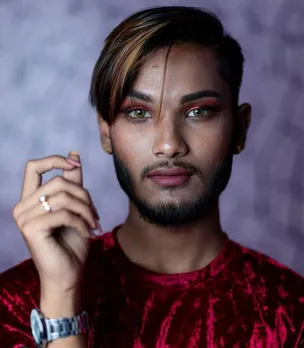 Vivek's beard care routine:
I generally use beard oil every day at night time. I use beard shampoo thrice a week, and after that, I wash my beard gently, and put on some beard oil, brush my beard one way. One of the most important things in my routine is trimming it once a week. Products that I suggest are Ustraa and Beardo. Also, I don't use the same products which I use on my head on my beard. Moreover, I exfoliate my beard with cleansers that contain salicylic acid or fruit acids to prevent my pores from getting clogged and causing ingrown hairs.
A quick Beard style for short beard:
Well, I will suggest you keep your beard finely trimmed, and when you are going out, put on some beard oil or serum to get a shiny beard look.
Those who have a medium one!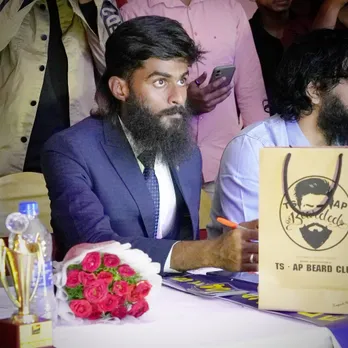 Medium Length Beards can measure up to 3-8 inches and looks great on a round or square shape. With more hair comes more responsibility, and thus the medium-length beard needs extra effort too. Rupesh Nayak, the president of Khammam BeardClub & TelanganaBeard Club says, if you will love your beard, it will love you back! He suggests keeping beard wash, oil, comb, serum, balm, and lotion to improve the health of the beard. He also says that one must not touch the beard often. Let it dry for a while, and one shouldn't apply any lubricant or oil until it is dry. 
We also reached out to Vishal Vanza, a fashion blogger and a beard enthusiast for some quick tips. For him washing a medium-length beard every day is really important. He also suggests that following a proper beard oil routine and consuming a healthy diet will help eliminate the itchy feeling a growing beard can cause. For him, three things are extremely important, washing the beard regularly, combing, and moisturizing it with oil.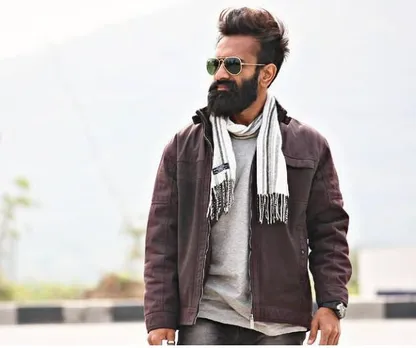 Vishal's beard care routine:
Well, I wash it every day with a beard wash. I let it dry on its own and don't use any heating product. Once it is dried, I put a few drops of coconut or castor oil mixed with lemon and massage it for a couple of minutes. I use my fingertips to gently massage the skin beneath the beard, and that's it! While, when I do the trimming, I chop the bread around my cheeks for 2mm, and then as I go to the lower portions, I increase the length. So, whenever I trim, it's 2mm, then 4 mm, and then 8 mm. It's a good way of trimming a medium-length beard.
A quick Beard style for a medium length beard:
Trim in a concave or a V direction when your head is tilted up. Then, when your head is straight, you will have a stylish straight line, and your neck will look thinner. Also, when you are using a beard brush later, brush it in the direction of your hair growth to remove dead skin cells. Apply beard balm, and you are good to go.
Those who have a Bushy Beard
Call yourself lucky if you have a bushy or a long beard, as there's a lot to explore with it. We spoke to Paras Rathod, a model, actor, makeup artist, and hair & beard stylist, and he has a lot to tell you. He advises washing a bushy beard after every 2-3 days and not regularly, as washing it often can cause fungus and infection. He also strictly suggests not to do the ironing or blow-drying frequently, as the heat isn't good for the beard. He also recommends using a heat protector on the beard if one's planning to iron it or blow dry it.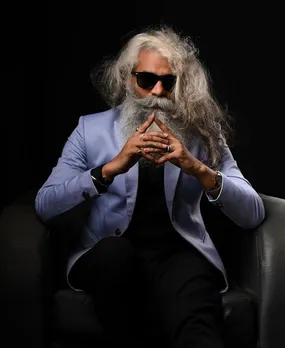 Paras's beard care routine:
I wash my beard thrice with a beard wash and rub my skin with my fingertips. I then dry it with a cool dryer, comb it, and then apply beard oil to set my beard. I always say that oiling/ moisturizing your beard must be done at night, as during the day, you are surrounded by pollution. People fuss a lot about different types of oil, but I say adding a few drops of Vitamin E into your regular coconut oil can do wonders for you. Also, if you have bushy bread, do trim it after every 25 days, otherwise, it won't grow, and you will have split ends.
A quick Beard style for a long or bushy beard:
It's important to shape your beard rather than just growing it. If your face is round, chop your beard on both cheeks. Trim the lower part of your beard in a square shape, as it will give you a classic straight British look. Now, use a heating styling comb or an ironing machine. Keep the temperature medium, and do not overheat it. Once it is set, use a round comb, and after that, apply a beard balm to get a finished look.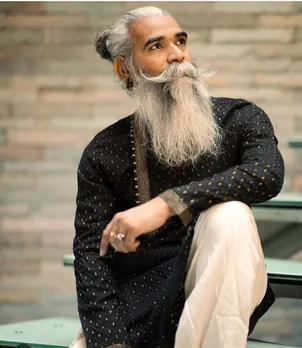 Beard Care and styling tips for different seasons:
Monsoon: If you have a long beard, use a beard wash. For the short and medium beards, face wash works well. Use a leave-in conditioner or a beard softener to maintain cleanliness. Do not forget to use beard oil as it helps in maintaining the moisture of the skin beneath the beard.
Summer: Don't wash your beard frequently, and follow your regular beard care. Make sure you are oiling your beard at least once a day. Try avoiding serum, and apply any regular oil. As your body is already dehydrated during the summers, it's important to drink a lot of water, eat fruits, and don't forget to cover your beard while travelling.
Winter: Moisturize your skin as well as your beard every now and then. During winters, the skin dries pretty quickly, and so applying a moisturizer immediately after you shower will help. We recommend using moisturizers that contain olive oil, jojoba oil, glycerin, hyaluronic acid, and dimethicone.
Now that you know these beard care and styling tips by experts, we hope you are all set to kill it with a new beard care routine!
For more such stories follow Local Samosa on Facebook,  Instagram,  Twitter, and Telegram.