A rainy day is the only time when the umbrella gets to shine, and so pick the most durable and the most pretty ones this time. Complete your monsoon shopping and buy umbrellas online.
One of the most exciting things about the rainy season is shopping for a new umbrella or Chatri. A stylish one with a great print can keep your monsoon look on point even if your outfits are not properly seen. This monsoon, flaunt your umbrella, walk-in style as we have selected a few homegrown brands where you can buy umbrellas online.
1. Home Centre
Home Centre has a good collection of three-fold printed umbrellas to protect you from the rain. They have plain colors too, but the ones with prints and patterns are what we loved the most. Check them for some colorful umbrellas.

Shop here.
2. E Series
E Series is a brand of Jyoti Umbrellas that has been manufacturing umbrellas at affordable prices since 1983. Their collection at E Series is impressive too, and we really like how they have umbrellas for Men and Women in 2 Folds, 3 Folds, 5 Folds, and even Long segments. Explore their collection and find something that suits you.

Shop here.
3. Nethra Umbrella
Buy for a cause as the umbrellas at Nethra, an initiative taken by the NADE or National Association Of Disabled Enterprises, and employs differently-abled persons. Pick some classic 2-fold and 3-fold umbrellas from them and support these people.

Shop here.
4. Sun Umbrellas
Their 'Swag' collection features some cool and quirky 3 fold umbrellas, while the 'Premium' collection has some unique designs. Shop for the little munchkins, and yourself from Sun, as they have something for everyone.
Shop here.
5. India Circus
Say bye to the monsoon gloom and get the funky umbrellas from the house of India Circus for you. Their designs are usually inspired by Indian themes. Add a little drama to your monsoon look with these umbrellas.
Shop here.
6. Sugar Box
Buy this, watch the rain through the funky canopy and count the many colors this umbrella refracts and reflects. This one can be a cool gift and a fun prop for a photoshoot too.

Shop here.
7. First Cry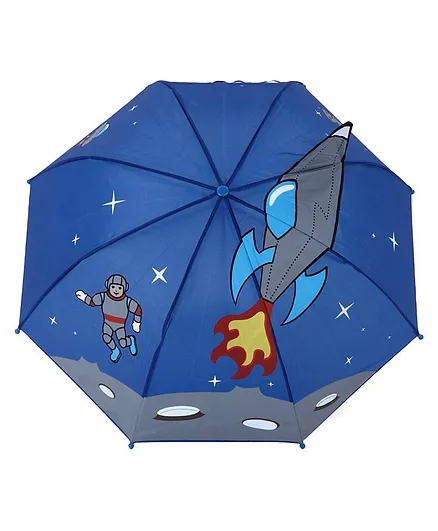 First Cry has a crazy collection of colorful and even 3d design umbrellas that can make the kids happy. They are budget-friendly and have an endless collection to choose from. Find their favorite cartoon characters, fun prints, and cute animals on umbrellas.

Shop here.
8. Bosky
Bosky believes in all things bright, cheerful, and happy. The umbrellas by Bosky are sure to add color to the grey rainy day.
shop here.
9. The Bling Stores
The Bling Stores has a variety of Umbrellas, but what caught our attention is the pocket-sized folding umbrella. They are stylish as well as compact, a must-have this monsoon. The cute little umbrellas are available in different colors. Apart from these, they also have a range of other umbrellas that you can pick.
Shop here.
10. John's
John's have a range starting from 1 to 5 folds. These are the teeny-tiny ones that will fit in your bag conveniently. Their range is not just confined to umbrellas, they even have a variety of raincoat options to choose from. Also, do check their special collection for kids.

Shop here.
For more such stories follow Local Samosa on Facebook, Instagram, Twitter, and Telegram.
Comments
comments