If you are still confused about what to cook for the Feast of Sacrifice, then check these special Eid-al-Adha mutton recipes, and cook a mouthwatering Eid meal.
Start the day with Kheema Pav, eat it further with the mouth-watering delicacy of Punjab ' Mutton Beliram', and then gorge onto some heavenly Ghosht Biryani along with lip-smacking 'Mutton Kunna'. Make this Eid truly meatilicious with these special Eid-al-Adha mutton recipes! Cook them with the family and enjoy a true Eid feast at home.
1. Mutton Kheema
Kheema with naan or parathas is a must on Eid-ul-Adha. Follow this quick recipe of Mutton Kheema by Chef Ranveer Brar to satiate your taste buds in the morning.
Ingredients
Mutton kheema
1 kg
Red chilli powder
1 tbsp
Turmeric powder
1 tsp
Curd
1 ½ cup
Salt
To taste
Ginger Garlic paste
2 tbsp
Green chilli, slit
2-3
Nutmeg
whole
Mutton bones
5-6
Ghee
3 tbsp
For Tempering
Ghee,
¼ cup
Oil
2 tbsp
Bay leaves
1
Cloves
2
Black peppercorns
10-12
Black Cardamom
2
Onion
3-4
Curd
1 cup, beaten
Ginger Garlic paste
2 tbsp
Degi Red chilli powder
2 tbsp
Coriander powder
2 tbsp
Turmeric powder
1 tbsp
Cumin powder
½ tsp
Asafoetida
a pinch
For Masala
Black peppercorns
3
Black Cardamom
5-6
Green Cardamom
3-4
Cloves
3-4
Coriander stems
3 tbsp
Green peas
½ cup
Prepared masala
1 tbsp
Green chilli, chopped
1-2
Coriander leaves, chopped,
Hand full
Mint leaves, chopped
Hand full
Method
In a bowl, add mutton kheema, red chilli powder, turmeric powder, curd, salt to taste, ginger garlic paste, green chilli, whole nutmeg, mutton bones mix everything well. Transfer this into the cooker. Add ghee, cover and cook till 2-3 whistles.

For Tempering: Heat oil and ghee in another saucepot, add bay leaves, cloves, black peppercorns, black cardamom let the whole spices splutter. Add onion and sauté till light golden brown. In a bowl, add curd, ginger garlic paste, degi red chilli powder, coriander powder, turmeric powder, cumin powder, a pinch of asafetida mix well. Transfer this mixture into the saucepot sauté well. Remove the mutton bones, nutmeg and mix it well. Put the kheema in the sauce pot and mix well. Add chopped coriander stems and green peas and then the prepared masala mix it well. Cover and cook for 2 minutes. Lastly add chopped coriander, mint and green chilli. Garnish it with coriander leaves and serve hot with roti or pav.
For Masala: In a grinder add black peppercorn, cloves, black cardamom, green cardamom and grind it into powder. Keep it aside for later use.
2. Mutton Beliram
Mutton Beliram is a delicacy of the Punjabi cuisine and was curated by Chef Beli Ram, who was the head cook in the kitchen of Maharaja Ranjit Singh. This recipe is a flavorful combination of meat, yogurt, ghee, ginger, garlic, onion, spices, and we suggest you try this recipe by Chef Ranveer Brar this Eid for lunch as it is one of the lips-macking Eid-al-Adha mutton recipes!
Ingredients
For Marinating Mutton
Mutton

1 kg
Onion – sliced
2- sliced
Ginger-Garlic-Green Chilli Paste
1 tbsp
fresh Green Chilli
2- sliced
Bay Leaf
1
Black Peppercorns
6-8
Cloves
2
Black Cardamom
1
Curd
1½ -2 cups
Coriander Powder
2 tsp
Turmeric Powder
½ tsp
Degi Red Chilli Powder
1 tsp
Salt
to taste
For Gravy
Ghee
2 tbsp
Cumin Seeds
1 tsp
Ginger julienned
1 inch
Green Chilli
1- roughly chopped
Onion
2 -chopped
Marinated Mutton
Salt
to taste
Coriander Seeds
2 tbsp
Water / Mutton stock
2 cups
Coriander Leaves
2 tbsp- chopped
For Garnish
Ginger

Julienned
fresh Coriander Leaves
Handful
Method
For Marinating Mutton: In a bowl add mutton, onion, ginger-garlic-green chilli paste, green chilli, bay leaf, black peppercorns, cloves, black cardamom, curd, coriander powder, turmeric powder, Degi red chilli powder, and salt. Mix everything properly then keep aside for at least 1 hour or overnight in the fridge.

For Gravy: In a kadhai heat ghee. Add cumin seeds, ginger, green chilli, onion and sauté it properly until golden brown. Now add the marinated mutton sauté it properly until the mixture starts to thickens and the oil starts separating. Now add salt, crushed coriander seeds and sauté for a minute then add water/mutton stock and cover it with a lid and cook until the mutton is completely cooked (stir it in between).

Remove the lid then add chopped fresh coriander leaves and stir it once. Switch off the flames and serve hot on a serving plate then garnish with ginger julienne and coriander leaves.
3. Ghosht Biryani
Biryani is a mood, and when you have fresh meat at home you know you have to make it! Follow this mouthwatering recipe of Ghosht Biryani by Chef Hiren Kumar, Saltt, Karjat for a hearty meal.
Ingredients
| | |
| --- | --- |
| Mutton Leg Boneless | 600 gm, cooked |
| Onion | 250 gm, fried |
| Curd | 150 gm |
| Cumin Powder | 6 gm |
| Coriander Powder | 10 gm |
| Turmeric Powder | 4 gm |
| Red Chili Powder | 8 gm |
| House Garam masala | 2 gm |
| Green Chilli | 3 gm |
| Ginger | 20 gm – paste |
| Garlic | 20 gm – paste |
| Kewda Water | 4 gm |
| Rose Water | 4 gm |
| Salt | 6 gm |
| Bay Leaf | 1 gm – whole |
| Cloves | 1 gm – whole |
| Cardamom black | 1 gm – whole |
| Biryani Rice | 600 gm |
| Ghee | 180 gm |
| Mint Leaves | 10 gm – chopped |
| Coriander Leaves | 10 gm- chopped |
| Raita | 80 gm |
Method
Marinate the boneless mutton with ginger, garlic, green chili, and salt. Leave it for 3-4 hours. In a big copper, vessel put ghee and once heated add marinated mutton cubes and cook it for 15-20 mins. Add cumin, coriander, turmeric, red chill and whole garam masala powder and cook it for some more time. Add fried onions, curd chopped mint, and coriander leaves. Top it up with cooked biryani rice and cook for another 45 mins on slow flame with lid.
For Biryani rice – Soak the basmati rice for 30 minutes. In a heavy bottom vessel, add ghee, whole garam masala and whole cumin. Stir the rice in ghee for some time and then add hot water (one and half times the qty of rice)Flavor with rose water and kewda water. Season the rice with salt. Cover the vessel with a lid and cook further on slow flame. Use as required.
For Raita: Mix curd, cumin powder, salt, chilli powder, coriander leaves and keep refrigerated. Garnish with chop coriander.
4. Mutton Kunna
Kunna means clay pot in Punjabi. This recipe was originated from the Chiniot district in the state of Punjab, Pakistan, and is made of mutton and several spices, and tender mutton. Eating it with naan would be a great choice on Eid dinner. Follow this simple recipe of Kunna by Chef Kamlesh Salve, Mirador Hotel, Mumbai, and enjoy one of our favorite Eid-al-Adha mutton recipes.
Ingredients:
| | |
| --- | --- |
| Mutton/lamb | 750 gms |
| Oil | 150 ml |
| Black cumin | 1 |
| Black pepper | 6-8 |
| Cloves | 4 |
| Cinnamon stick | 1 |
| Black cardamom | 1 |
| Onion, thinly slices | 1 tbsp |
| Green chilli paste | 1 |
| Ginger/garlic paste | 1½ tbsp |
| Kashmiri chilli powder | 2 teaspoon |
| turmeric powder | ½ teaspoon |
| Whole wheat flour | ½ cup |
| Curd | ½ cup |
| Butter, optional | 1 tbsp |
| Salt | To taste |
Method
Heat oil in a pot and fry onions until golden. Add whole spices and fry until spices crackles. Mix in grounded spices, stir for a few seconds and then mix in mutton pieces. Cook on medium heat for another 5 minutes until the meat has changed its color. Next, pour 2 cups of water into the mud pot. Close the pot with a tight lid and cook on medium heat for 45 minutes until meat is well cooked.
Dry roast wheat flour on medium heat with constant stirring. Remove flour from heat. Mix wheat flour with 1 cup of water to form a slurry without any lumps. Set aside. When the meat is cooked add wheat flour slurry and yogurt to it. Mix well and add 1 cup of water till desired consistency. Cook for some more time. Add a dollop of butter and garnish with ginger julienne and serve with garlic naan.
5. Bohri Kheema Samosa
Kheema Samosa is one of the flavourful Eid-al-Adha mutton recipes. It is easy to make and is loved by every non-vegetarian. Make them for an evening snack or serve them just like that, as nobody's going to say no to a samosa. Try this yummy recipe of Bohri KHeema Samosa by Chef Kamlesh Salve, Mirador Hotel, Mumbai.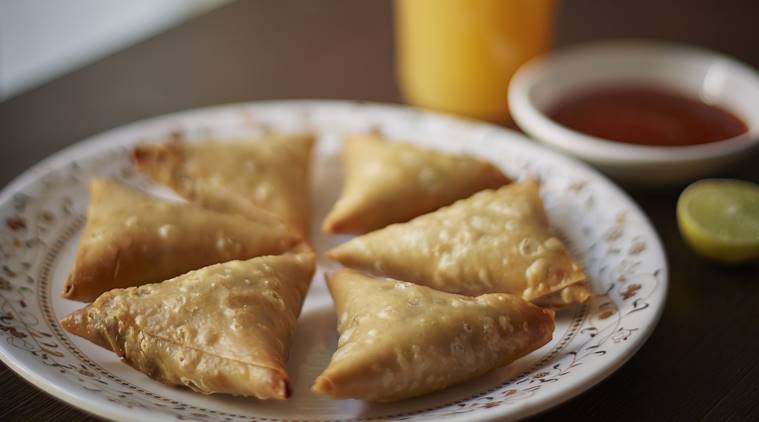 Ingredients
Moong dal
¼ cup
Minced meat
500 gms
Ginger garlic paste
1 tbsp
Salt
To taste
Turmeric powder
¼ tsp
Chopped onions
¼ cup
Green chilli chopped
2
Coriander leaves
For garnishing
Mint leaves
For garnishing
Cumin powder
1 tsp
For Samosa Patty use Readymade
Or else follow the below recipe
Oil


For frying
Wheat flour (Aata)
2 cups
Salt
to taste
Water
As needed
Ghee
1 tsp
Method
Samosa Stuffing: Take moong dal in a bowl. Add water and soak for 2 hrs. In the meantime take a pan and add mincemeat, ginger garlic paste, salt, and water. Cover and cook on medium heat until the meat is tender. In a separate pan add soaked moong dal, salt, and turmeric powder. Cover and cook on medium heat till dal is cooked/soft. In a big bowl add boiled mincemeat, boiled moong dal, spring onion, onion, green chilly, coriander and mint leaves, cumin powder and salt to taste. Mix them all.

For samosa Patti: Take a big bowl and add wheat flour, salt, and water. mix it all together and make a soft dough. Make two small balls from the dough, With the help of a rolling pin give one of the dough balls a circular shape, roll it together and make a thin circular shape.
On medium heat Tawa, place roti and roast it from both the side properly. keep pressing it with the help of a cloth, once done separate the two rotis from one another. Take a bowl add some Atta and water to make a thin paste, take one roti cut in three parts. Take one piece and fold it in a cone shape, fill it with keema stuffing and make a triangular shape. Deep frying till golden brown.
6. Matka Dum Gosht
Try your hands on this simple and lip-smacking Matka Dum Gosht recipe by Chef Dayashankar Sharma of Heritage Dulwich, London, and enjoy it with hot butter-garlic naan.
Ingredients
| | |
| --- | --- |
| On the bone diced lamb | 1000gms |
| Mustard oil | 25 grams |
| Fried Onions | 150 gram |
| Ginger. Garlic Paste | 50 gram |
| Yogurt | 100 gram |
| Red chilli Powder | 2 tbsp |
| Turmeric Powder | 1 tsp |
| Coriander Powder | 1 tbsp |
| Cumin Powder | 1 tbsp |
| Whole green cardamom | 4 pieces |
| Cinnamon | 1 cm stick |
| Bay leaf | 2 |
| Badian Khatai | 2 |
| Whole Black pepper | 1 tsp |
| Salt | To taste |
| Ghee | 50 grams |
| Hing | 1 pinch |
| Chopped garlic | 2 tbsp |
Method
Wash and cut Lamb Leg dice. Peel wash and slice onions and fried. Peel garlic and ginger and wash and crush them in a mixture grinder to make a fine paste. Mix meat and all above ingredients in a bowl mix well and keep aside for 1 hour. Place above marinated meat in a clay pot and cover with the lid and seal with dough. Place this clay pot on live charcoal and let it cook for 2 hours. Remove seal from the pot check and mix. Now heat ghee in a steel bowl hot add chopped Garlic cook till golden brown. Put above tempering on meat mix and serve hot.
So, which one of these delicious Eid-al-Adha mutton recipes are you going to make? Tell us in the comment section below.
For more such stories follow Local Samosa on Facebook, Instagram, Twitter, and Telegram.
Comments
comments