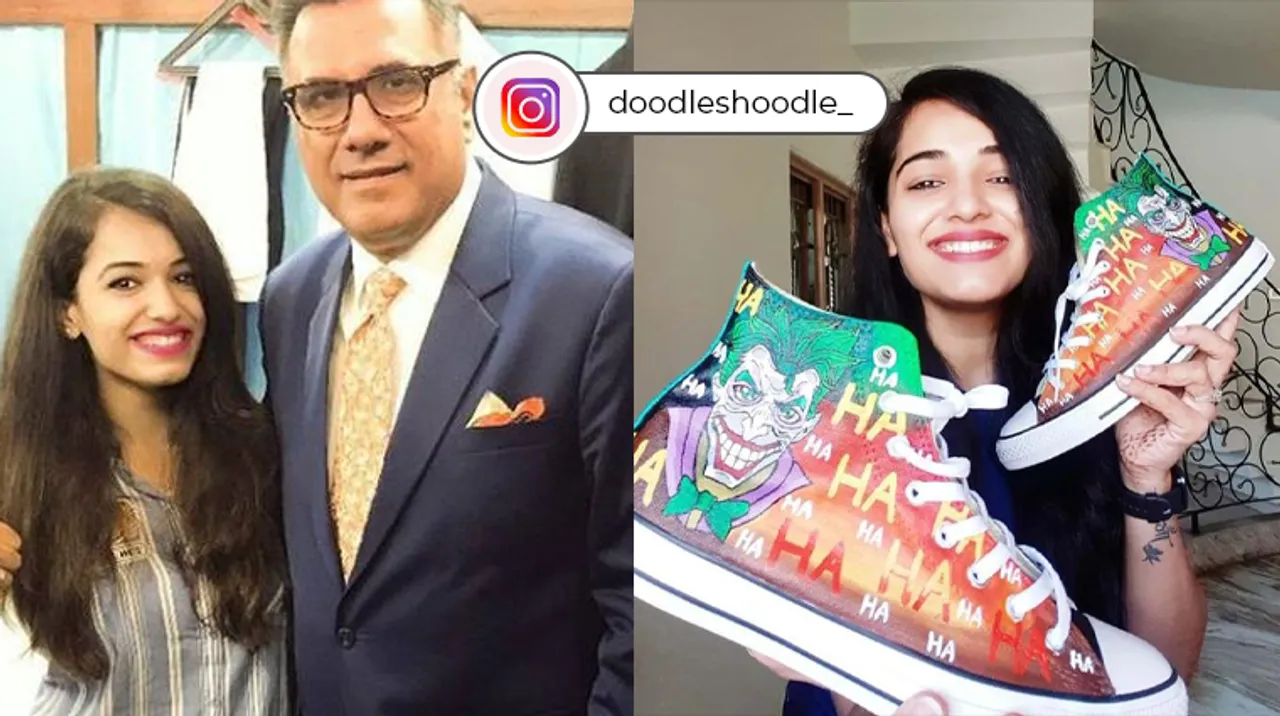 Shweta Singh aka Doodleshoodle is an engineer by degree but an artist at heart. She has worked in a manufacturing firm for 4 years and then left it due to the monotony of the job and desire to express herself through art. She has been doodling since she was a kid, and now it's been 5 years that she is a professional doodle artist!
Shweta's Instagram feed is warm. Her artworks are a blend of colorful illustrations depicting happy people, and fun doodles. Through her startup 'Diseno Studio' Shweta Singh has been customizing visual gears like shoes, bags, t-shirts, and has catered to celebrities like Shweta Gulati and Boman Irani!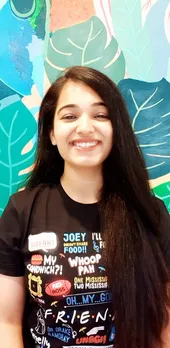 Shweta Singh started doodling at such an early age, that she doesn't even remember it. " I have been drawing since I can remember. Be it at the back of the notebooks or tissue paper, on a bench or newspaper I have always found myself scribbling. In school I was called the artist of the class and usually made DIY gifts for my family and friends.", she said.
This passion for doodling, and illustrating lead to the start of her venture Diseno Studio. " In 2010 I started my brand called Diseno Studio where I customize various products. That was the starting point of my artistic journey. While customizing for clients and brands I realized I loved doodling random things and loved the freedom to experiment with my thought process.". After this realization, Shweta created her Instagram Doodle Shoodle in 2019. " It gave me a platform to not only draw but also experiment with different styles at the same time. Now I conduct Doodle Basic and Advance workshops and teach the simple art of observing and drawing", she added.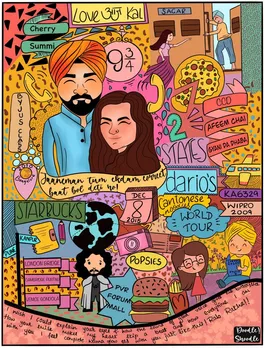 One of her artworks features a very cute couple with the name " ShowngoTales'. Last year when she was in Goa, instead of clicking pictures, she doodled them. " Showngotales was my wedding hashtag. I doodled the moments spent in goa during a wedding I attended, and it was so much fun.", she mentioned.
Shweta also adores the Couple stories she usually does for her clients. Her Instagram is flooded with these cute artworks, and it does give you an insight into the journey of these couples. " I always wanted to capture people's stories in the form of art. To make them, they have to walk me through the journey they have been. It leaves me in awe whenever I come across stories that are full of love, faith, passion, climax, and then a happy ending. I am always glad to be a tiniest part of their journey.", she said.
If you are a fan of the classic black & white doodles, you should definitely see Shweta's work. " I started with black and white because I really looked up to Kerby Rosanes, who is a very famous artist from the Philippines. B/W is still my go-to when it comes to doodling.", she said. Talking about how warm, and cozy her feed looks, she said, " With time I got more interested in colors, learned about the color theory, and since then I have not been able to stop myself from rendering with them. My heart lies with colors.", she said.
Shweta Singh is a wall muralist too, and she believes that one needs a lot of patience. Time management and physical strength are also a must to work on scaffolding and ladders. Shweta is a Punekar and has immense love for her city. " I love the fact that it's not a chaotic city & apart from the climate nothing else has changed. I would love to illustrate the camp side in Pune. Especially the lane where we have the very famous restaurant Marzorin and a few other eating joints. I have a lot of memories as a kid visiting this lane with my mother and younger brother.", she smiled.
Speaking on leaving a corporate job, and taking up art as a full-time career, Shweta said, " I would say it was more exciting than daunting. To doodle new characters, ideas, and thoughts are the best part. Sometimes I have to push myself out of my comfort zone to create something. It's an ongoing learning curve. Turning a passion into a profession is the best thing to do. Also, you get to be your own boss, and that is the best feeling ever. I literally can draw every single day!"
An inspiration in herself, Shweta Singh has a long list of people she looks up to. " There are so many talented artists I follow and who inspire me every day. To name a few, it would be Alicia Souza, Sumouli Dutta, Mamta Singh, Shailly Gajjar, and Keshav Rathnavel. They all are my favourites", she said.
In a world of chaos, and misery, DoodleShoodle is surely an escape. The warm vibe, feel-good doodles, and illustrations that Shweta Singh has in store for us are just great.
For more such stories follow Local Samosa on Facebook,  Instagram,  Twitter, and Telegram.