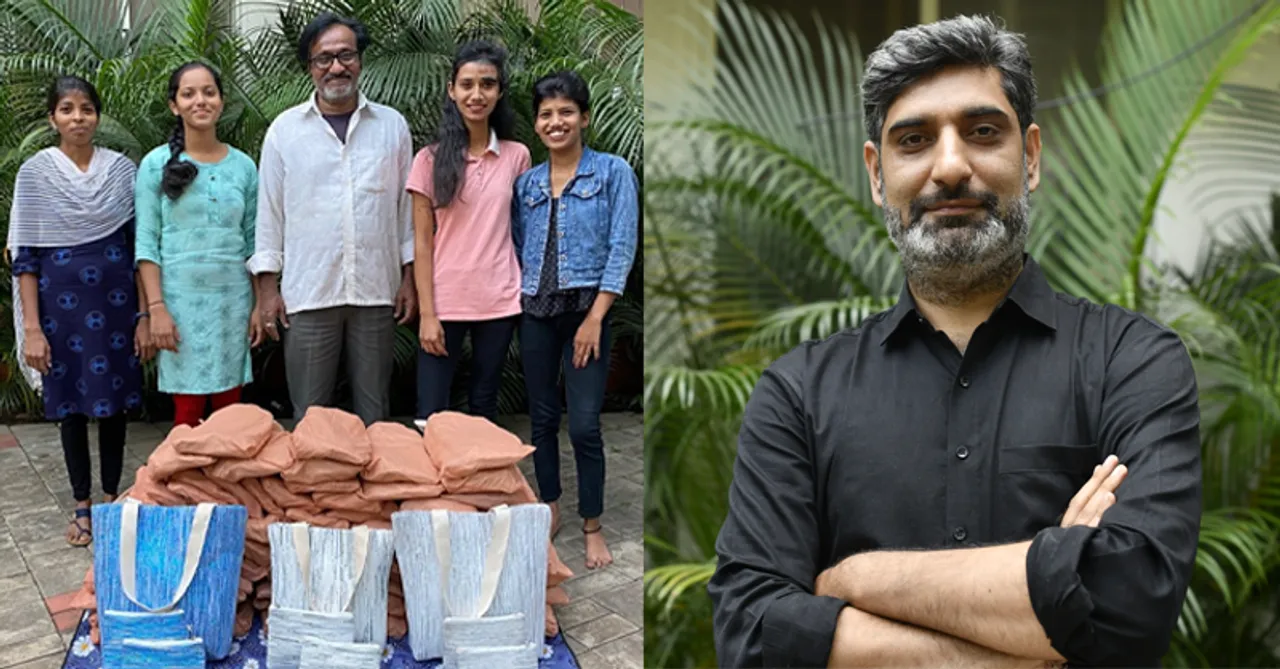 EcoKaari is a brand that upcycles waste plastic into durable products like bags, pouches, backpacks, cushion covers, plantable pencils, laptop sleeves, and much more.
In the time when 9.4 million tons of plastic is generated in India annually, EcoKaari is a name that is resolving waste management, especially with the non-biodegradable and difficult-to-recycle waste plastic. With a mission to encourage individuals from less privileged backgrounds to learn and acquire new skills, and helping them to earn, EcoKaari is using traditional methods to enable livelihood opportunities for rural women and youth. " Our process is green as we use no heat, electricity, or chemicals during the upcycling process.", said Nandan Bhatt, founder, and Director of EcoKaari.
EcoKaari- a relationship between the Artisans and Environment.
EcoKaari mainly upcycles discarded non-biodegradable and difficult-to-recycle plastic bags, grocery bags, multi-layered wrappers of cookies, chips, gifts wraps, old audio, and even video cassette tapes. These wastes are used for making fabrics by using spindles, and handloom. Their weaving is entirely manual, and looks breathtaking!
It is indeed fascinating to see how a random plastic bag can be transformed into beautiful useful products. EcoKaari is doing well, but there is a high competition. " The response is great. The demand is there but not a lot because we are competing with a market that produces machine-made products at significantly lower prices as compared to our handmade – handcrafted product. Also, We upcycle anywhere from 7 to 60 plastic bags for one product. So, it takes time. However, we have upcycled more than 15,00,000 waste plastic till now!"
Sourcing
EcoKaari sources its raw materials from three different ethical sources. The first one is the local NGOs who directly work with waste pickers. These NGOs keep the required waste segregated for them, and then EcoKaari purchases it. The second source is the conscious consumers who donate their household waste plastic to EcoKaari from around the country. Lastly, the corporates who discard their plastic packaging, donate their waste to EcoKaari, and that's how they get their raw material.
The process!
Once the waste is collected EcoKaari starts its recycling process. In the first step the waste plastic is segregated, washed, sanitized, and sun-dried. After this, they segregate the plastics into different colours and then cut using just a pair of scissors. Then it is rolled on a charkha and woven on a handloom. Then EcoKaari designs, stitches and checks the quality manually. Lastly, they work on these fabrics to make daily utility items such as handbags and fashion accessories, home décor, and office stationery products.
After this long, and detailed process, the designing team comes forward. As the upcycled-handwoven fabrics do not quickly transform into products due to some limitations of the material. The designing team spends a lot of time on Research & Designing. This last step is equally lengthy. EcoKaari also takes suggestions, and feedback on existing products from their customers, and makes changes accordingly.
A sustainable brand that upcycles, weaves, and empowers!
All the products that EcoKaari manufacture are handwoven by rural women who have either lost their job or did not work earlier due to personal reasons. Also, there is a good number of youngsters who also work for EcoKaari. They attend their lectures in the morning and then come to EcoKaari. " Most of them got to know about our organization from artisans already working with us. In our initial days, we met artisans, explained our vision and work, and they joined us; that's how a team of 3 is now a team of 21 and growing!"
The products they manufacture are pretty durable, but EcoKaari still has a return, and repair policy. " If the customer doesn't want to use the product anymore or is at the end of its lifecycle, they can return to us so that we repurpose it in some way or dispose it off safely."
EcoKaari believes in sustainability. Their brand values are all about sustainable development, and revolves around ethical practices, empowering individuals from less privileged backgrounds to learn & acquire new skills. EcoKaari believes in giving back to the communities where the weavers and artisans work to bring a meaningful positive change through their empowerment programs.
In a world of machine-made products and brands, EcoKaari is making things eco-friendly, but it is not as easy as it looks. The labor-intensive work leads to high pricing, which leads to higher competition. The process of making is also time-consuming and takes 3-4 days. Also, the assumption that the products should cost low because they have waste plastic in them, is another task. Waste segregation is a massive part of EcoKaari's work. Receiving dirty plastics or plastic which they can't weave, has to be given to another organization for safe disposal. All these things collectively make things challenging for EcoKaari.
In times like these, where everything comes wrapped up in plastic, brands like EcoKaari are pure bliss as they accept waste plastics, and use them for something good. One can donate their household waste plastic to EcoKaari by either dropping it off at their Pune workshop or couriering it to their Pune workshop.
So, what are you waiting for? Ditch those plastic bags, and help EcoKaari by donating your waste. Click here to know how! Also, shop from them here, and be eco-friendly!
For more such stories follow Local Samosa on Facebook, Instagram, Twitter, and Telegram.