When we say it is 'Rang Brase' in Kolkata, we actually mean it! These colourful hampers and other Holi products are surely going to make your Holi shopping a lot more fun this time. Complete your Holi shopping from these homegrown stores in Kolkata, and celebrate colours, and fun!
If Holi for you is all about getting dressed up, eating good food, and munching on snacks, then you are scrolling the right page! Local Samosa has curated this list of homegrown stores in Kolkata, that will make your shopping
1. Sweets from Chittaranjan Misthanna Bhandar
This sweet shop in Kolkata is a hidden gem, and not a lot of people know about it. It was established in 1907 and has one of the softest rasgullas, and the freshest sondesh in the city. Bring home some authentic, and local delicacies from here, and celebrate Holi!

Where: Shyam Bazar St, near to Hati Bagan, Hati Bagan, Shyam Bazar
Contact: 092393 25599
2. Organic Holi colour from Satavik Farms
They are making Organic Gulals since 2008, and in 2009 they even distributed Holi colours for free, and now they are selling organic holi colours through schools, institutions, shops, retailers, etc. Their colours are made with herbs, turmeric, agricultural produce, food crops, fruit, and vegetable extracts. The packaging is also plastic-free, and so it's time to make your Holi, organic, and happy with these organic colours. To order, call on the following number.

Contact: 91 98300 29003
3. This Holi hamper from Artistique
This hamper comes with a Hookah shaped pichkari, fun Holi props, drinks, cookies, and much more. Get your hands on this one, or the other hampers Artistique has to offer this Holi because they all look equally good TBH!

Shop here.
4. This sweet hamper from cake It Away
This sweet hamper has 2 dessert buckets, 2 chocolate slabs, 3 types of cookies, balloons, pichkari, and 5 nilgiris. If Holi for you is about eating chocolate, and having fun, then book this tiered platter now!

Shop here.
5. Namkeen from Ujjala Chanachur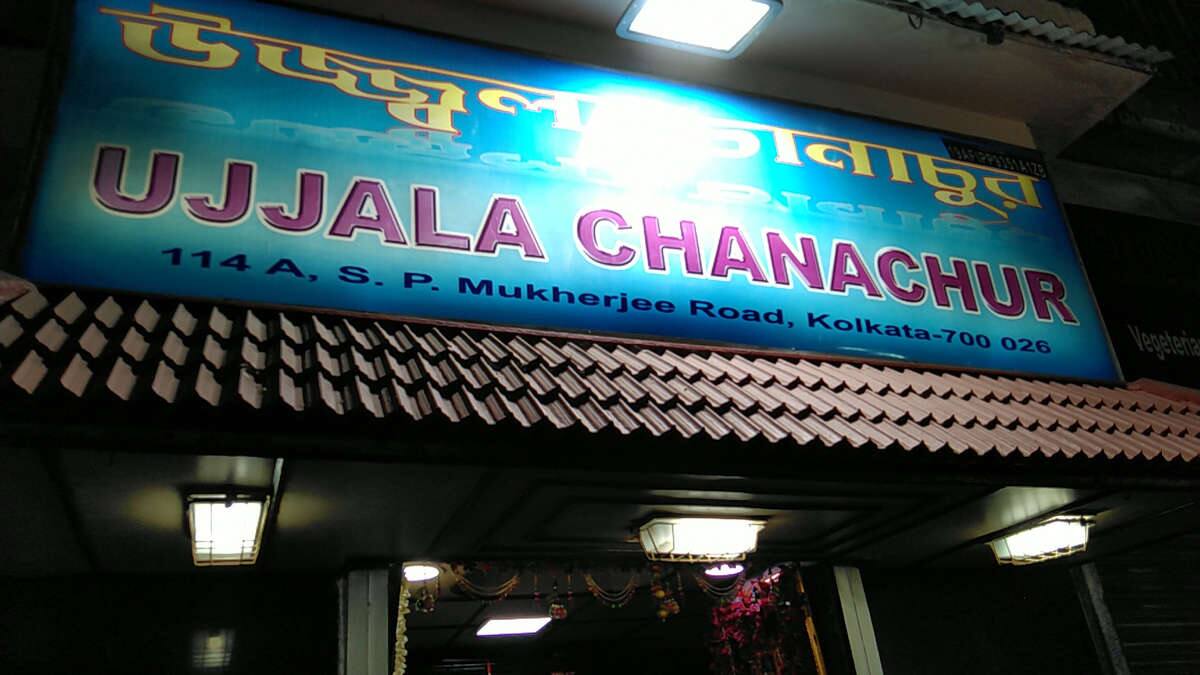 This old namkeen shop is just a two-minute walk away from hazra crossing and is mostly crowded. They have one of the best, and the fresh chanachur in the town. Their fried taro root(kochubhaja) is a must-try too, and if you love munching on snacks while playing Holi, this place is for you.

Where: Kalighat
Contact: +918798249193
6. Personalized Holi T-shirt from Presto
Put your name on the T-shirt, wear it on the day of the festival, and look all Holi ready! Presto will print your name on the T-shirt, along with a cool Holi print! Get one for yourself now.

Shop here.
7. Pichkari, and other Holi items from Old China Bazar's local shops
Buy Holi colours in Kilos, get your hands on colourful, and fancy pichkaris, atrangi hats, and other such Holi stuff at Old China Bazar Street this Holi. Though this market is famous for the best stationaries, but on this Holi, it has become a Holi shopping spot in Kolkata! Hurry up, and buy!

Where: Old China bazar street
8. Buy colourful white chocolate bars from The Bake Story
Either gift these cute, and colourful chocolate bars, or just eat them up like no one's watching. Celebrate the season of vibrant colours with these vibrant chocolate bars, and satiate your sweet cravings!

Shop here.
For more such stories follow Local Samosa on Facebook, Instagram, Twitter, and Telegram.
Comments
comments