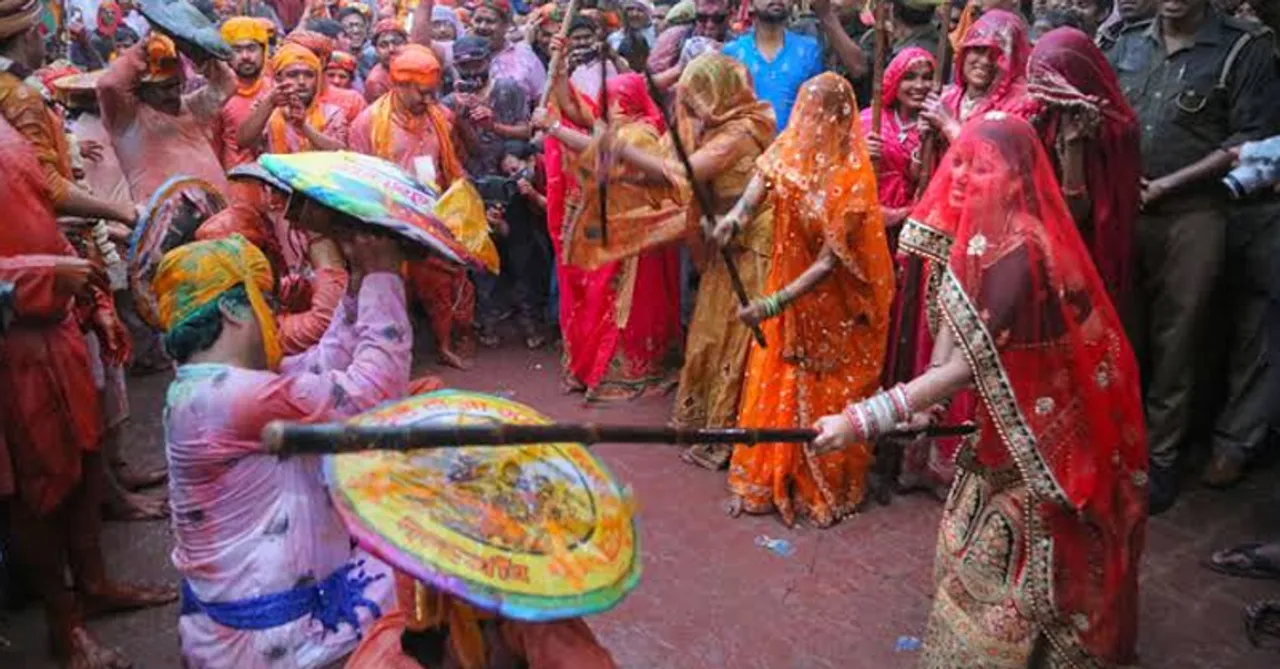 Holi is a happy festival which fills the minds with colours. This year, we are talking about how Barsana, Vrindavan, Bihar, Goa, Manipur and others have different forms of celebrating Holi. Read it below!
We know that with Holi being around the corner, you are all set with your pichkari and rang to celebrate the festival in the best exciting way. But do you know that Holi is not just limited to how you celebrate it? In fact, there are various forms of celebrating Holi in different parts of India which will totally make you go "wow"! Check them out here:
1. Lathmar Holi - Barsana, UP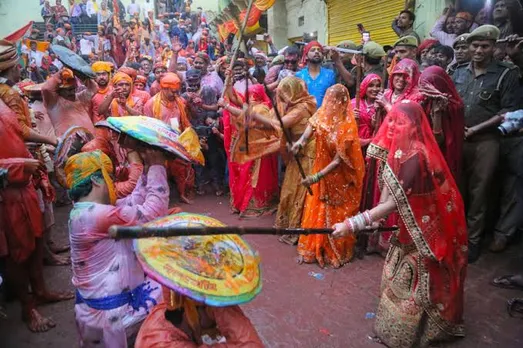 This has to be the most exciting and unique type for celebrating Holi. Lathmar refers to "Laathi see maar" (Beat with wooden sticks) and dates back to the time of Lord Krishna and Radha, as per the beliefs. It is said that Krishna and his friends were beaten by Radha when they had reached Barsana to play Holi with Gopis. According to the ritual, the men of the villages play Holi with the women where they retaliate by beating them with sticks in a joyful way.
2. Phoolon ki Holi - Vrindavan, UP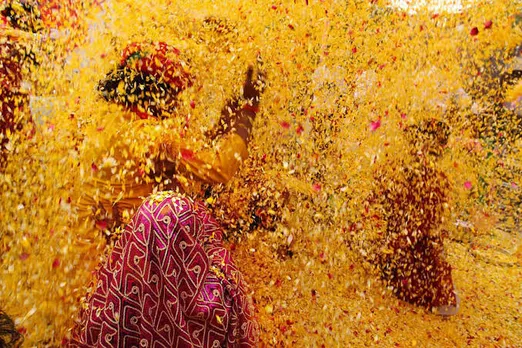 Undoubtedly, this is one of the best forms of celebrating Holi where you don't throw colours on others but flowers and flower petals. People here believe that Lord Krishna and Radha from Hindu mythology used to throw flower petals on each other as part of their Holi celebrations. Hence, this place has continued this tradition where the Banke Bihari temple at Vrindavan celebrates it in a unique style with flowers on Ekadashi before Holi.
3. Day and Night Holi - Bihar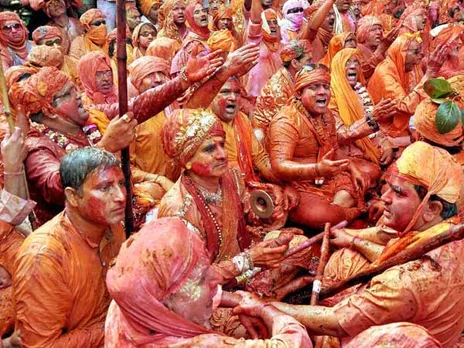 Where the whole country celebrates Holi just in the morning, Bihar celebrates it in both day and night. It starts from the early morning where people mix colours with water to use them on others. Having bhang wali lassi is also customary during this time. The celebration gets a halt for a few hours during the day time, mostly between (2 pm to 4 pm). However, after that, people wear new clothes and start visiting the homes of all acquaintances to play Holi with just gulal and not watered colours. The guests are served with various Holi special dishes like Malpua, Dahibara etc.
4. Hola Moholla - Punjab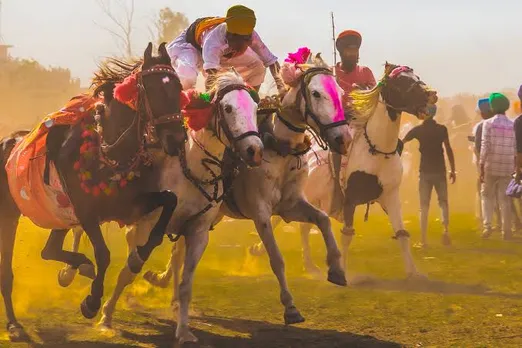 Hola Moholla is a three-day event that takes place a day after Holi or sometimes coincides with it. A fair is organised for three days at Anandpur Sahib where Nihang Sikhs perform various martial arts. On this occasion, people also display their bravery through different art forms and engage themselves in Kirtan. The event also observes music and poetry sessions on all three days which is much spectacular.
5. Khadi Holi - Kumaon region, Uttarakhand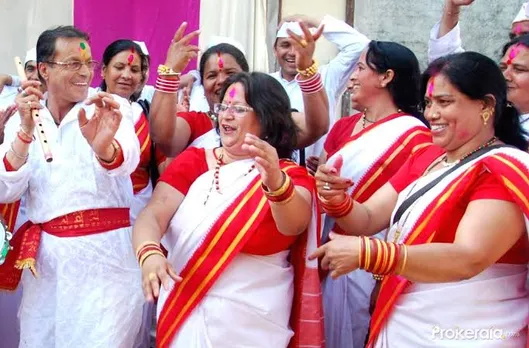 Kumaon region includes various towns of Uttrakhand where this form of Holi is celebrated. To celebrate Holi, people here wear traditional clothes and gather to sing Khari songs and dance in groups. The musical gathering done on Holi is in various versions like Baithika Holi, Khadi Holi, and Mahila Holi. Moreover, these people keep on greeting passersby who comes their way.
6. Shigmo - Goa
Shigmo is celebrated by the Konkani diaspora where the 'Shigmotsav' festival is a 14-day affair, with the first day falling on Holi. It is a celebration with colours, dance, and music performed by the Goan farmers. They also take out a well-lit colourful parade across the city where people are seen holding colour flags and artificial swords. There are various dance types which are common during this period like 'Ghode-Morni' also known as horse dance, 'Fugdi Dance' and 'Rommatamel'.
7. Manjal Kuli - Kerala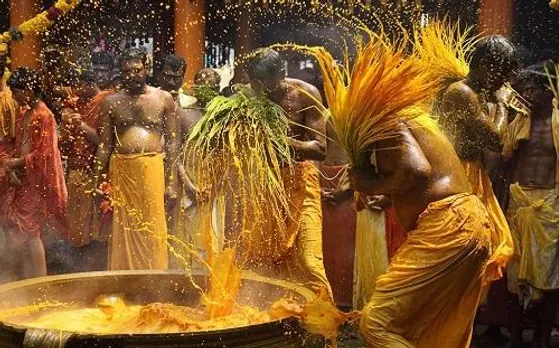 Though Holi is not celebrated by the Malayalis in Kerala, there are certain Brahmins and Konkani communities who celebrate the festival. On the second day, the Kudumbis community here play with getting coloured water (containing turmeric) and dance to traditional Kerala percussion. As part of the customary, a figure of a crocodile is carved out of the mud in some temples in Thrissur. People here believe that goddess Durga, in the form of crocodile, had helped Kudumbis when they encountered trouble migrating to Kerala.
8. Phagwah - Assam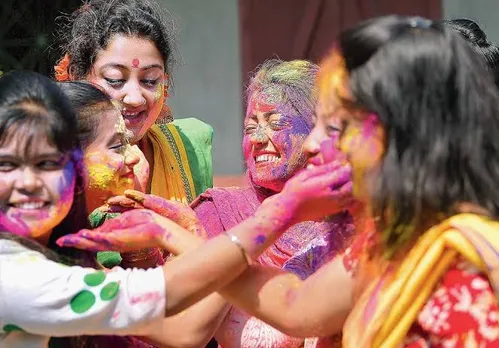 Phagwah is another name for Holi in Assam. It is almost celebrated for 3 to 5 days in the state where the event is divided into two parts. The first one includes burning clay huts to celebrate the 'Holika Dahan'. However, the second part included paying with colours, waters, and flowers. The people mostly worship Lord Krishna and Radha during this time. The celebration also included 'Dol Jatra' which is a kind of procession carried on roads.
9. Yaoshang - Manipur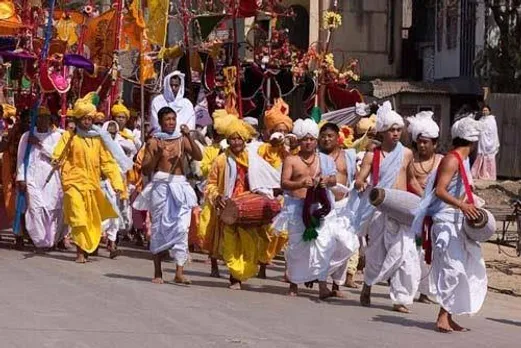 The name Yaoshang refers to a small hut where sheep are kept. The best of this festival is 'Thabal Chongba' where people dance in circles to folk music under the moonlight. Nowadays, people collect bamboo and construct a hut with an image of Chaitanya Mahaprabhu, the founder of Gauda Vaishnavism. At present, various matches are held for young people interested in sports during this festival.
10. Dol Jatra - West Bengal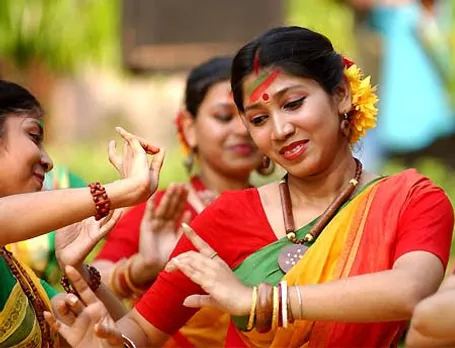 West Bengal, though, is popular for celebrating Durga Puja, has a different way to celebrate the festival of colours as well. During Holi, both men and women dress up in saffron-coloured clothes. They take the idols of Lord Krishna and Radha along with them on the street procession that takes place during this festival. People sing and dance their hearts out in Dol Jatra while also spraying colours on each other.
Happy Holi, Everyone!

For more such stories follow Local Samosa on  Facebook,  Instagram,  Twitter, and Telegram.