Without any formal fashion training in hand, this mother-daughter duo Hetal Desai and Lekhinee Desai founded The Indian Ethnic Co. purely out of their love for handloom and all things crafts. Now, they are one of the most loved Indian women's handloom clothing brands in India and winning hearts with their designs and of course dance reels on Instagram.
Abhishansa Mathur was in conversation with Lekhinee Desai in exploring her love for dance, making it a part of the marketing plan for The Indian Ethnic Co. and how they expanded from being a home-based store to one of most loved Indian Handmade Clothing online.
Where did it all begin for you?
It was actually a brand by accident, a passion project that we happened to start. My mom was always good in her aesthetic sense when it comes to clothing and designing attire. So, while we were growing up, we never really bought our clothing. It was always mom making something for us and people would always appreciate the clothes we wore and used to ask where we got them from. Though, she did not have a formal degree in Fashion. She discontinued her practice when we were growing up.
But in 2016, when I started to pursue my MBA, then, she felt like life has come to a full circle and her latter part of life should be more meaningful. At that time, shopping through social media was gradually gaining popularity and then I told her that she must do what she does best which was making great clothes.
One day, we just purchased Ajrak fabric worth Rs 50,000 from an artisan. We made some clothes and we just put them up on Instagram and Facebook. And the next day two of our kurtas were sold. It's then that we started to invest a little more. However, the process was always very organic. We used to shoot in our backyard. Slowly and steadily, we kept posting photos on our Instagram. We gained followers in a very short span and also started getting orders from all over India and even abroad.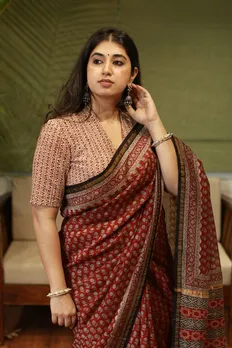 Can you tell us something about you?
Dance has always been my passion. I have learned classical dancing. I have been trained in Jazz Balecon contemporary as well. As a child, I also used to act in ads, movies, and serials and so has my sister. I never left the dance, worked on to become an assistant choreographer in Ramleela where I was training the actors. But then, I always wanted to do an MBA after my graduation. So, I worked for two years at the company as well and then actually moved on to do my MBA. It was always my dream to have a job in FMCG companies. I did get a job in ITC as well. At this time, I was also managing our brand. But I had never thought that I would leave my job for this and that it has such potential to grow. After joining ITC, I realized that my passion actually lies in building my brand. Hence, I left the job after some time to fully focus on our brand.
Please share the What, When, & How of starting your brand The Indian Ethnic Co?
Like any other person of that age, my mom was not very tech-savvy and I was about to join a job after which managing the social media handle of the brand would have become impossible. But before that, I had a break of one and a half month. In that period, I created a website myself and uploaded the products so that it becomes a bit easy for my mom to manage it or even for me remotely. But then I realized that only making a website is not enough, we had to drive the traffic too and since we had started the brand from our savings, we could not afford to hire a professional. So, I also learned a bit about Digital Marketing. That's when it took a turn for our brand. Starting it from our bedroom getting approximately 13 lakhs revenue to three offices in Mumbai, now getting revenue in crores, that's how we grew from scratch, and this has been our story. We had started on April 5, 2016, but our website went live on May 21, 2018, when we also registered for the sole proprietorship. Now, we are a private limited company.
Tell us about your sourcing of textiles , designing the collection, manufacturing.
My mom manages the designing and creative part of the business. Due to the lockdown, we are not able to travel to the artisan's town. Earlier, my mom used to visit all the craft centers that are present in India. She used to travel to find out at the grassroots level, the artisans who are skilled in a particular craft and used to contact them. In our initial days, she used to send the requirements on Whatsapp about the colour combination and fabric that she wanted. They used to create and send those to us. We have always followed the designing principle of being contemporary yet traditional.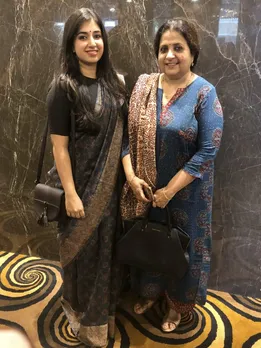 What are some challenges that you faced while running The Indian Ethnic Co?
The products that we make are naturally dyed and hand-blocked printed and they always have some kind of irregularities. It's a human-made process and hence, it's not possible to have the same print all over. Sometimes, some people don't understand the beauty of that irregularity which is why it is known as hand-block printing. So, communicating this is difficult to the people who are not regular handcrafted product buyers.
Another challenge in terms of handmade products is that the colour keeps changing with the intensity of the sun. And, we produce in batches. So, it is difficult to maintain that consistency in batches. Apart from that, it is the customization that is also a challenge, despite being an advantage because sometimes, people are dissatisfied when they do not receive what they expected. Further, coordinating and communicating with the artisans is difficult due to the remote location since they are not tech-savvy.
How is working with your mom? Any pros and cons you both feel working with family? Tell us about your team.
It's complex to manage both the relationship- a parent and a child and co-founders relationship. But my mom is so enthusiastic and has that "forever learning" attitude that without my help she learned operating a computer and website. She is as capable as any of my other employees. Also, in our generation, we want to take off and maintain a work-life balance but my mom works all the time and has the energy of a 16-year-old. Sometimes, I receive a call regarding work at 1 am. So, It becomes challenging at times to keep up. She manages our house and works 24×7. She does it all by herself which inspires me and I really look up to her in terms of dedication. However, we also have differences sometimes which affect the work but it has got better with time now.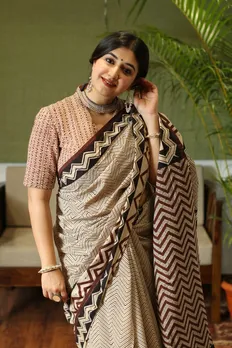 What according to you makes The Indian Ethnic Co stand out amongst other brands?
Two things that really helped us stand out were the relatability factor in terms of projecting our brand and marketing our products. Since its inception, we have always showcased real women using our products. My sister and of different sizes so when we showcase a product, it becomes easy for people to relate to it. On the other hand, the competing brands have the same set of models though which people do not easily relate to their sizes. Even if I have to select models for my brand, I select my friends so that the relatability factor remains there.
If you see the range of our products, we are more curated. If you buy a kurta, dupatta, and a Palazzo set from us, you realize that we don't believe in the principle of matching them. So, our design principle has been such that our products need to align with the other products that a customer has. They need not be confined to wearing the same Dupatta with a particular kurta. So, each of our pieces is so individualistic that you love to cherish and wear them with any other product. So, our brand is a cheaper alternative to having your stylist. Also, we always try to mix two crafts. Like, it's always a mix of Kalamkari with Bandhani
How are you using Social Media to promote your homegrown brand? You have been using Reels to showcase your products via dance/entertainment. Could you tell us how it fits into your overall social media strategy?
Honestly speaking, we are a brand that has been born on social media. We have grown on social media. Currently, we are not advertising on any other platform or any other way. So, talking about overall marketing strategy, it is social media, apart from word of mouth and referrals. Also, we always try to use the new features that Instagram and Facebook launch and try to mould to our benefit.
When Instagram Live was launched, we kept posting about our new launches and all in the longer format. Now, with the Reels coming, we are using it to market our products through that. In terms of marketing also, we are doing paid ads only for Instagram and Facebook. Currently, we do not use much of Google ads because it turns out to be more expensive for startups to advertise through Google ads. We have always thought of scaling up our business through these two platforms. So, basically, our existence revolves around social media.
We are specifically using Reels to promote a very specific type of product which is Saree. We have also tried using our Kurtas dancing in reels but it works better with Sarees. So, right now we are focusing on Reels because whole Instagram as a platform is supporting it and promoting content. So, around 50% to 60% of our focus is on Reels. But the number also changes according to the videos we put up in a month.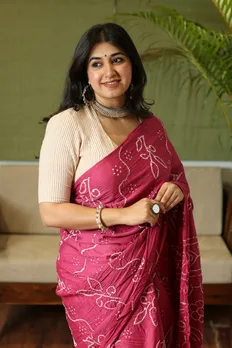 Does Instagram help you get sale conversions? What are your objectives on Instagram? How do you calculate RoI?
For ROI, we always try to link it to the website sales. Otherwise, through reach, impressions, likes, and comments, the social media profile looks good but it generally does not help you to make sales. We get to know how many people have bought the products through our post too with shopping tags. So, those are the major metrics. Whenever we post, in terms of the photo, we usually put only one product so that we can see the sales of a single product related to that post. Due to the shopping feature, we have on Instagram, we can tag the products and see what kind of conversion we are getting on our website. After posting, we track it for seven to ten days to see how that particular post is generating sales. Even for Reels, they pick up and die down. So, the first three days are very crucial for the reach and then once it picks up, it goes on for another seven to ten days. So, it is always about sales rather than reactions, comments because I really don't think they help drive conversions. And, getting conversions is more important than getting likes.
Could you share some insights into how you plan your Instagram strategy?
Honestly, we not too much of a planner. The process is always more organic because I feel Instagram or social media in general as the environment is so agile. You never know what is going to be rolled out tomorrow. So, planning too much in detail sometimes does more bad than good. So, we rather focus on what is happening now. I just plan it out for a few days than having a long-term plan because social media is redundant.
What is your 5-year plan for The Indian Ethnic Co?
In the next five years, what my mom and I want to do is to create a library or encyclopedia for Indian crafts. We want The Indian Ethnic Co. to be a one-stop destination wherein all the crafts are documented and are for sale in terms of fabric, sarees, and Kurtas. So, if anyone, who likes any of the craft, the first thing in their mind should be that anything that I like about Indian handicraft is available on The Indian Ethnic Co. Apart from that, majorly our customers are the mature audience who are about to marry or are married, so, our way forward would be to launch kids collection, men's wear, and home decor.
Can you share your business model with us?
As a business, we are currently an e-commerce only brand and we want to keep it that way, at least, for the next three to four years. Because I think, that's what helped us to be more agile and spend on the right set of investments that startups need in this phase rather than spending on investment-heavy structures like retails. So, we'll keep working like this. Secondly, we always follow a process of "Just in time manufacturing". Unlike big brands, we do not mass manufacture or mass produce any product. We start production only when we receive the order. So, we don't produce to later put it on sale. We put Sale for once in one and a half year. Also, I believe in increasing the human capacity to deliver on time.
One advice/suggestion you'd like to give aspiring entrepreneurs out there.
I think the biggest challenge is to take that "action". A lot of entrepreneurs spend a lot of time planning, thinking about what they want to do. I believe that just do it as "starting" gives you so much more advantage. Because that's how you start understanding what things are working and then can improvise on it. Another thing is, a lot of entrepreneurs don't believe in spending on digital ads. Spending on right paid ads really helps a brand to scale up. It helps you reach a larger audience. Start going digital.

If you are looking out to buy from The Indian Ethnic Co., check out their star product Daliya block print Kurtas.
For more such stories follow Local Samosa on Facebook, Instagram, Twitter, and Telegram.