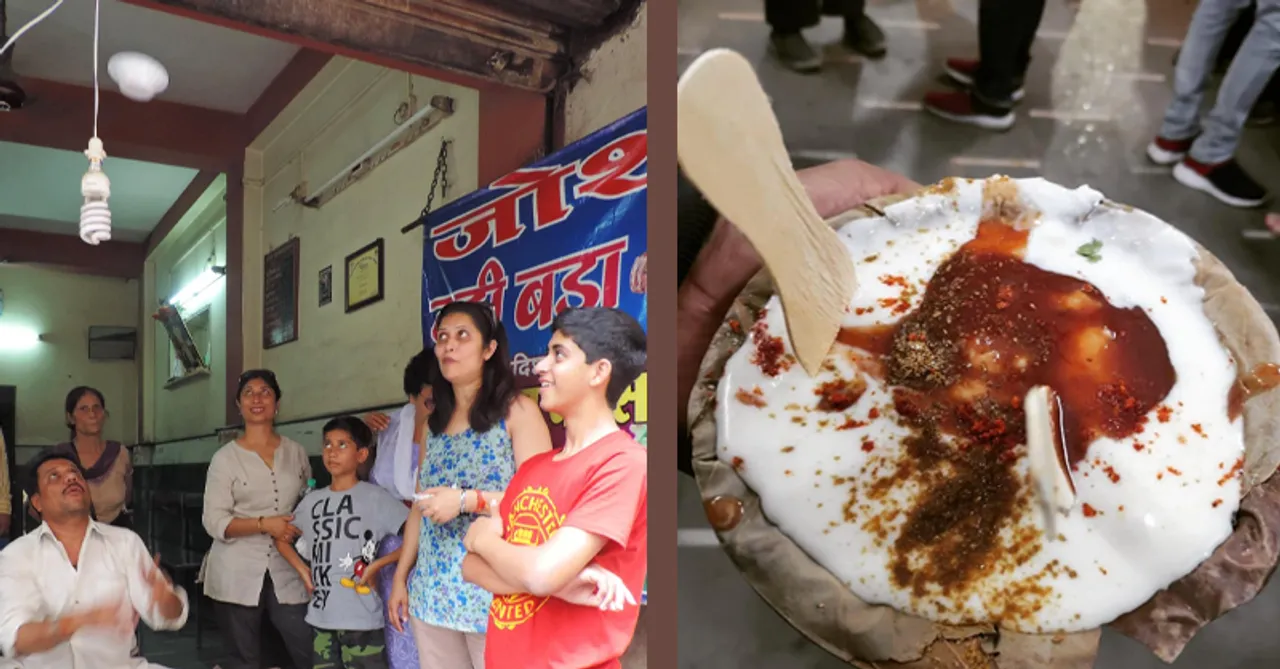 The cheerful owner of this chaat joint in Sarafa Baazar is quite popular for serving Dahi vada like a boss. His cool serving skills are a delight to watch, and after flying dosa, we can't wait to try this unique flying Dahi vada!
Dahi vada has a different charm and has got many names. Some people call it Dahi vada, some name it Dahi Bhalle, and some as Dahi Bada. But now we have a new name for it! Joshi Dahi Bada House in Indore is selling this delicious cool Chaat and people are calling it 'flying Dahi vada!
Tucked in the narrow lanes of Sarafa Bazaar, this chaat shop serves some epic chaat items like kachori, bhutte ka kees, aloo vada, and more. But one thing that has made this place popular is its Dahi vada. The local people love Joshi Ji who is the owner of this eatery, for throwing Dahi vada in the air and catching it like a pro! Joshi Ji is one talented man! He even sprinkles different masalas in just one go and will name each masala before dropping it on Dahi vada.
Joshi Ji will definitely amaze you with his serving skills, and the taste of his flying Dahi vada will make you eat another plate. This chaat joint is always crowded with people, and Joshi Ji never fails to strike a conversation with his amused customers. Chatting with him is as interesting as watching him not spilling the bowl.
This Dahi vada center has an old-world charm in it and is known for selling jumbo size and soft vadas that have the right amount of masala on them. You can even ask for extra Dahi if you want. (What's better than that?)
If you are in Indore, not seeing Joshi Ji swirling Dahi vada would be a big miss. It's something that every foodie should definitely try at least once. Eat this flying Dahi Vada, bite on the lip-smacking bhutte ka kees, sip Kadak Chai, and get lost in the amazing taste and conversations!
Where: Joshi ji Dahi Wada House, Sarafa Bazar, Indore
When: 10 am to 2 am
Price: Rs.60
For more such stories follow Local Samosa on Facebook, Instagram, Twitter, and Telegram.