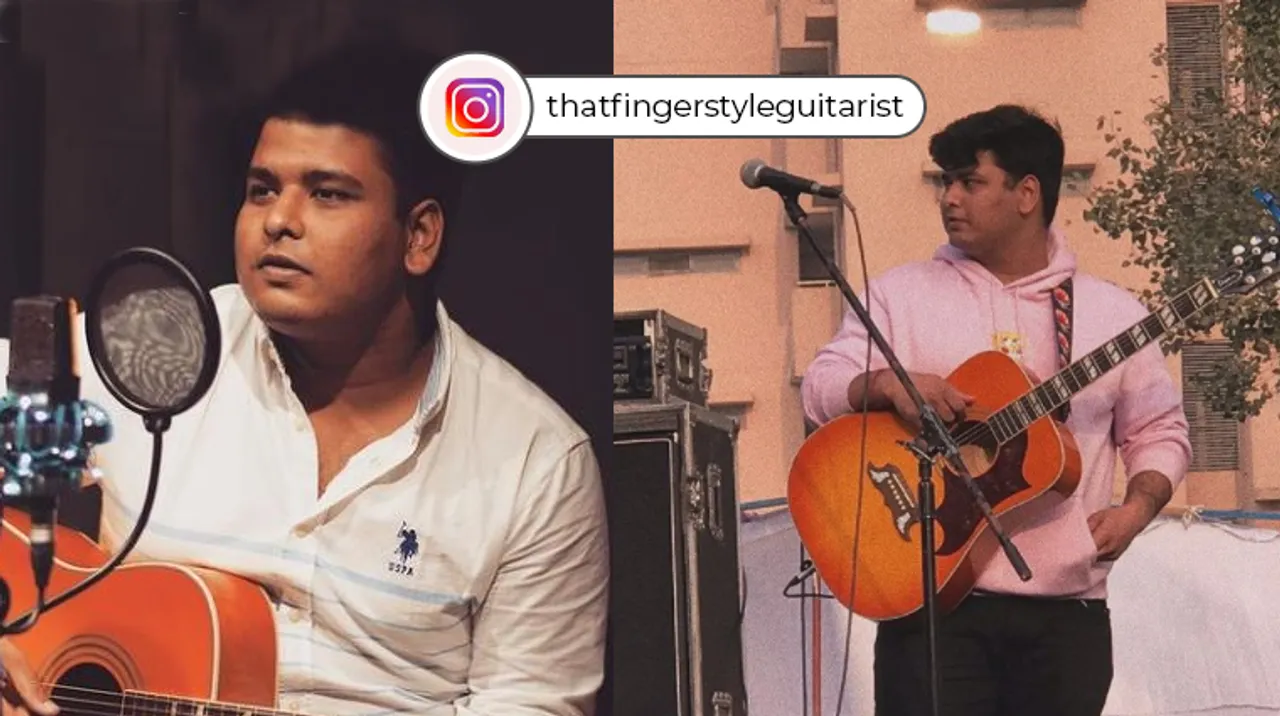 Shrey Gupta never really realized that he'd ever get so knee-deep into music, but now his guitar covers are going viral, his debut song was released in 2019, and these days he is busy teaching fingerstyle guitar through online workshops!
Shrey Gupta is a 20-year-old Delhiite and is a percussive fingerstyle guitarist, which involves playing the guitar by plucking the strings directly with the fingertips, fingernails, and not with a guitar pick, and it's bliss to watch him play.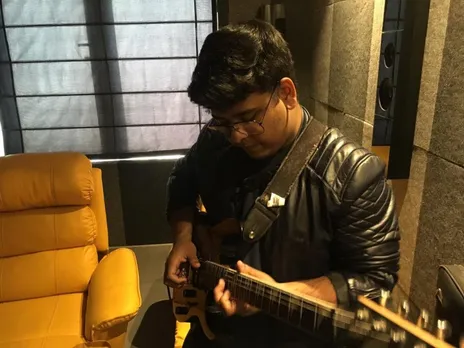 Though Shrey's father wants him to be an IAS officer, it was always guitar and music for him. ''My dad wanted me to join dance classes back when I was in class 3 so he took me to this institute close to my place. The institute held all their classes in the basement, not just the dance ones but others too. As soon as I reached, I saw the music room right in front of me, and it was full of various instruments, but, the only thing that caught my attention, was this gorgeous guitar. I casually strummed all the strings with my thumb, and that is when I realized this is something I want to learn.''
Shrey belongs to a family that has no connection with music. He wouldn't have been a guitarist if he hadn't come across random guitar videos on YouTube. It was these videos that gave him an urge to play something similar.
''I was in 7th grade when I got the chance to do a solo performance on stage. So I prepared the fingerstyle cover of the song 'My heart will go on'. I worked really hard but, my guitar got out of tune on stage and the performance got messed up. But, it was honestly a really sad day for me but now when I look back at it, I feel like I wouldn't have been here without that.''
Being a percussive fingerstyle guitarist, he feels once you get the techniques of playing it correctly, you're more or less like a one-man-band, though the poor guitar gets a lot of beating :D
It may look simple, and easy when you watch Shrey playing his guitar, but the process of working on such covers requires a lot of hard work, patience, and hours of preparation. '' It involves listening to the song as many times as I can, making sure that I remember each and every bit of that song by heart. I usually play the song in the morning and listen to it while doing my morning rituals. By the time I sit with my guitar, I already have an idea of what the song is like, so the hit and trial process of the arranging becomes easier.''
From all of the fabulous covers that he has done until now, his personal favourite is the song 'Breathless' by Shankar Mahadevan. The arrangement of the song took Shrey around 3 months and has almost 10K views on Instagram.
During the lockdown, Shrey even shared live streams with Ehsaan Noorani, and he was appreciated by Noorani for his guitar skills.'' I still remember, I had opened Instagram and got the notification that Ehsaan Sir was taking people to live. After which I dropped a comment saying 'percussive fingerstyle guitarist here' with a thought 'why would he take me to live', that is exactly when Ehsaan Sir accepted my request. I was shaking but I somehow managed to play something for him. And, that's how my Instagram live journey began. Ehsaan Sir's presence kind of gave me the confidence that I needed.''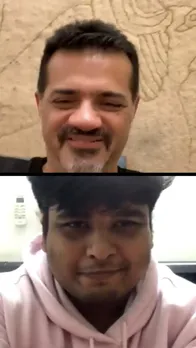 Shey has also collaborated with Shalmali Kholgade twice and gave Shamlamli's songs a fingerstyle twist. He re-created 'Zara Zara, and 'For You' on 'Friyay with Shalmali'. '' I still remember, I didn't have a proper recording setup, and I was nervous about telling this to her. So, I thought if I don't record properly, we won't be able to collaborate. But, she was cool, she even said it was okay even if I had recorded with my phone! She's literally such an amazing human being, really glad to have the opportunity to collaborate with her.'', said Shrey.
After trying his vocals, and his fab writing skills on his debut song '' Kya Karu tere bina', Shrey has written 3 more songs since then. He has started working on some instrumental originals too. Hopefully, some of his original content will be out by the end of the year.
Shrey Gupta is someone who can juggle up different things at one time. He is currently pursuing his degree in Economics from Delhi University but somehow balances both, his passion and studies. ''It kinds of gets really difficult to manage both, but I'm somehow managing to make ends meet.''
We did a quick 5 with Shrey about his favourites:
Current Fav song/songs: Saajan by Nawazishein
Fav Indian Music Artist: Shankar Ehsaan Loy
A song that usually uplifts your mood: Liggi by Ritviz
If your life was a song, it would be: Tuntuna by Shamoon Ismail
Your most cherished music project to date: Friyay with Shalmali
We also asked his top 5 local spots in Delhi:
Fav Food:  Momos
Fav Cafe/ Club: Champagali
Your Fav. street food stall: Momos @green park
Your go-to local spot: the market close to my place
A song you would like to dedicate to your city: Mai tumhara by Jonita Gandhi xD
Follow Shrey Gupta on his Instagram here.
For more such stories follow Local Samosa on Facebook,  Instagram,  Twitter, and Telegram.