As we are about to reach the end of 2020, it's time for us to set new goals for 2021 and begin it with these planners and calendars.
This year has been a roller coaster ride, with loads of ups and downs, and who knew 2020 was gonna treat us this way, but it's okay! Because you survived. And so it's time to start fresh and begin again in 2021. Check these awesome planners and calendars that will help you write all your ideas, plans, and schedule for 2021 without any hassles! Let's hope for a stable new year. We are entering 2021 with Nimbu Mirchi in our hands.
1.Alicia D'souza
Alicia Dsouza is a doodle artist, and we just love her. She's got her art on everything. From stationery to apparel to footwear, but now there's more. She has released the ultimate Trio for 2021, which includes the 2021 planner (with a free pocket planner), a wall calendar, and a little notes desk calendar. This epic planner has even got a period tracker, habit tracker, and a cute pocket at the back to hold small notes or other essentials. It's a great deal for all stationery lovers.

Buy here.
2. The Ink Bucket
The Ink Bucket is all about floral doodles and print. The founder Vidhi Khandelwal is an artist and loves to paint nature and its beauty. And that is where her brand gets this leafy and floral vibe from. The Ink Bucket has got a wide and pretty range of planners and calendars in various botanical designs. It even has a desk calendar named pet therapy, which is indeed a treat for animal lovers!

Buy here.
3. Hoopla Back Girl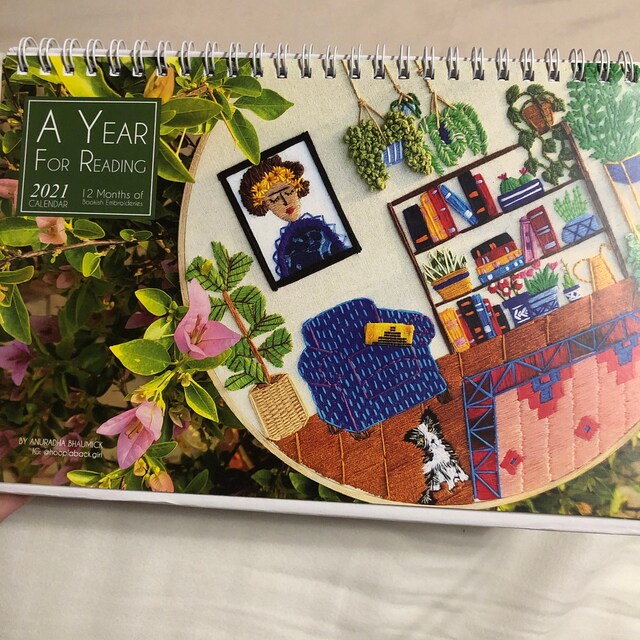 Anuradha Bhaumick is an embroidery artist, and she is definitely a pro at her job. She mainly focuses on common people and their life. Her collection is all about bright colours, and gives 'the person next door' vibe. You should check her 2021 Desk Calendars, the images are pretty and are patterns of her some amazing work. It would look perfect with your pen holder and a cup of coffee on your desk!

Buy here.
4. Vimal Chandran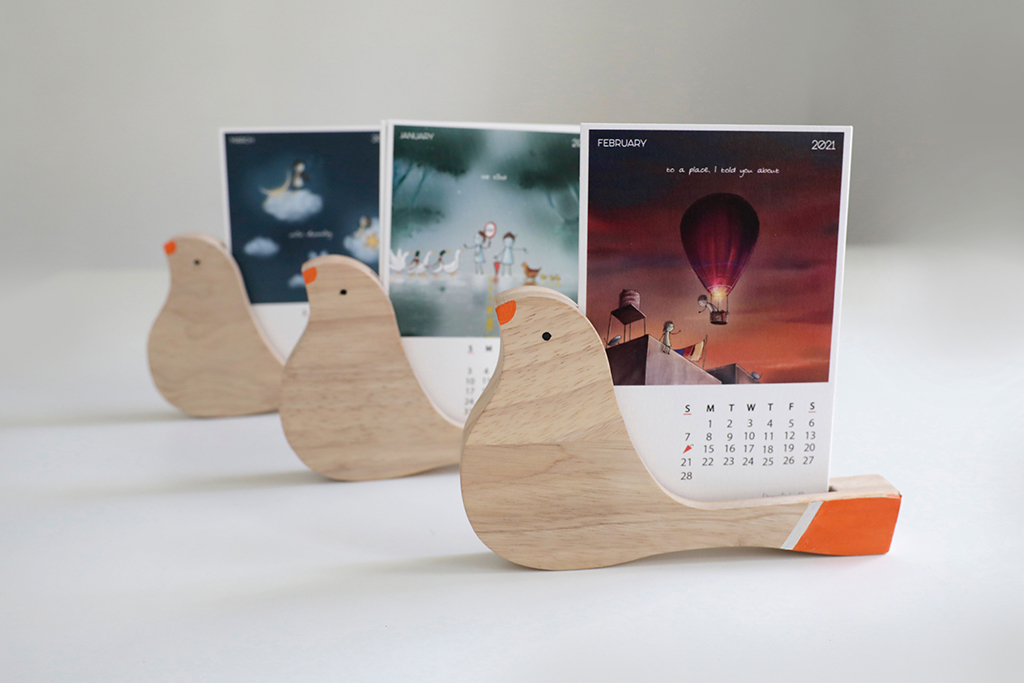 He is a visual artist, and a photographer. His collection holds beautiful symbolism with a dreamy vibe to it. And that is why his 2021 Art Calendar is worth buying. Featuring his 12 brand new illustrations, it comes with a beautiful wooden bird stand. It's relatable and it will definitely make your desk look beautiful.

Buy here.
5. Chaitanya Limaye
Founder of @ruandchai, Chaitanya is a talented illustrator, animator and visual storyteller. His work will leave a bright smile on your face, as it is all about happy people. His 2021 calendar is out and has 12 super cute illustrations of the 'Flight of an Imaginary Journey'. It comes with a hard wooden base and a clip to hold the calendar cards. Add adventure, and positivity in 2021 with this fun travel calendar!

Buy here.
6. Happy Being Doodle
Sriramasanthosh is here to give you a dose of happiness to kick start your day with loads of enthusiasm. Rightly named, The happy doodle has got some really cute calendars. The Happy Window calendar and the Being Happy tabletop calendar will brighten up your day. The Tamil Typo calendar is one of its kind and is filled with motivational and positive quotes.

Buy here.
7. Dilly Dally
Priya Jindal is a Fashion designer, an artist, an Illustrator, and even a Printmaker. Dilly Dally is her start-up, and it has some cool 2021 planners ready for your shelf! It has fun sections like a letter to self, brain dump, savings and debt planning, things to clean and organized, and much more. It's an undated planner that gives you the freedom to use it the way you want. You will also get some freebies!

Buy here.
8. Outlined
Started by Graphic Designer Ursheta Chandra, Outlined is all about aesthetics. Available in Plush Blue and French Rose, the 2021 Outlined luxe planner will dazzle your desk. You can get your name embossed in Golden Foil if you pre-order this planner. It has got multiple sections, and some special sections, like the reminder to de-stress and SWOT analysis. This planner is all about minimalism and aesthetics!

Buy here.
9. Pranitart
Pranita Kocharekar's shop (as she calls herself a shop owner) has a wide collection of accessories, cards, stationery, gifts, and whatnot. Her planners and calendars are just too adorable. The undated planners have 3 cover options: JOURNEY, DESIGNING MY LIFE, and SHOWING UP. These planners come with a lot of quick tips like 12 basic finance tips, and 12 tips for consistency. The planner ends with – space to plan next year and – space for notes. Designed for growth with encouraging tips & notes curated by Pranita, this book is more than a planner!

Buy here.
10. Noriiart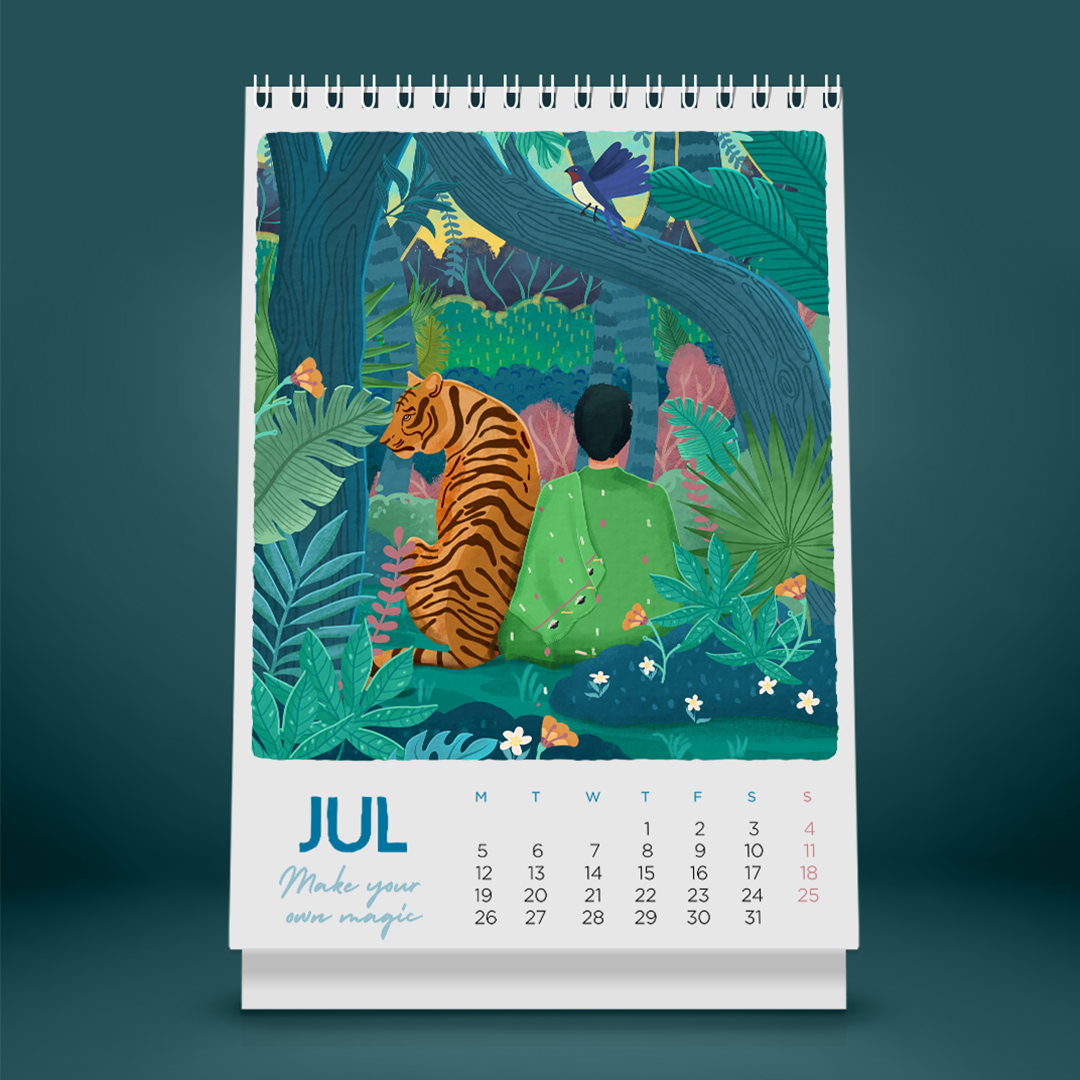 Nori Norbhu is everything about art and blues (but in a happy way). Her collection gives a fun yet peaceful vibe. The 2021 calendar is inspired by 'Mother Nature' and it has the artworks that she has made over the last year, from the Wild Women pattern in March to the coffee inspired artwork in November, and it's beautiful!
PS: You should definitely check her stamp series that is focused on Phobias.

Buy here.
For more such stories follow Local Samosa on Facebook, Instagram, Twitter, and Telegram.
Comments
comments