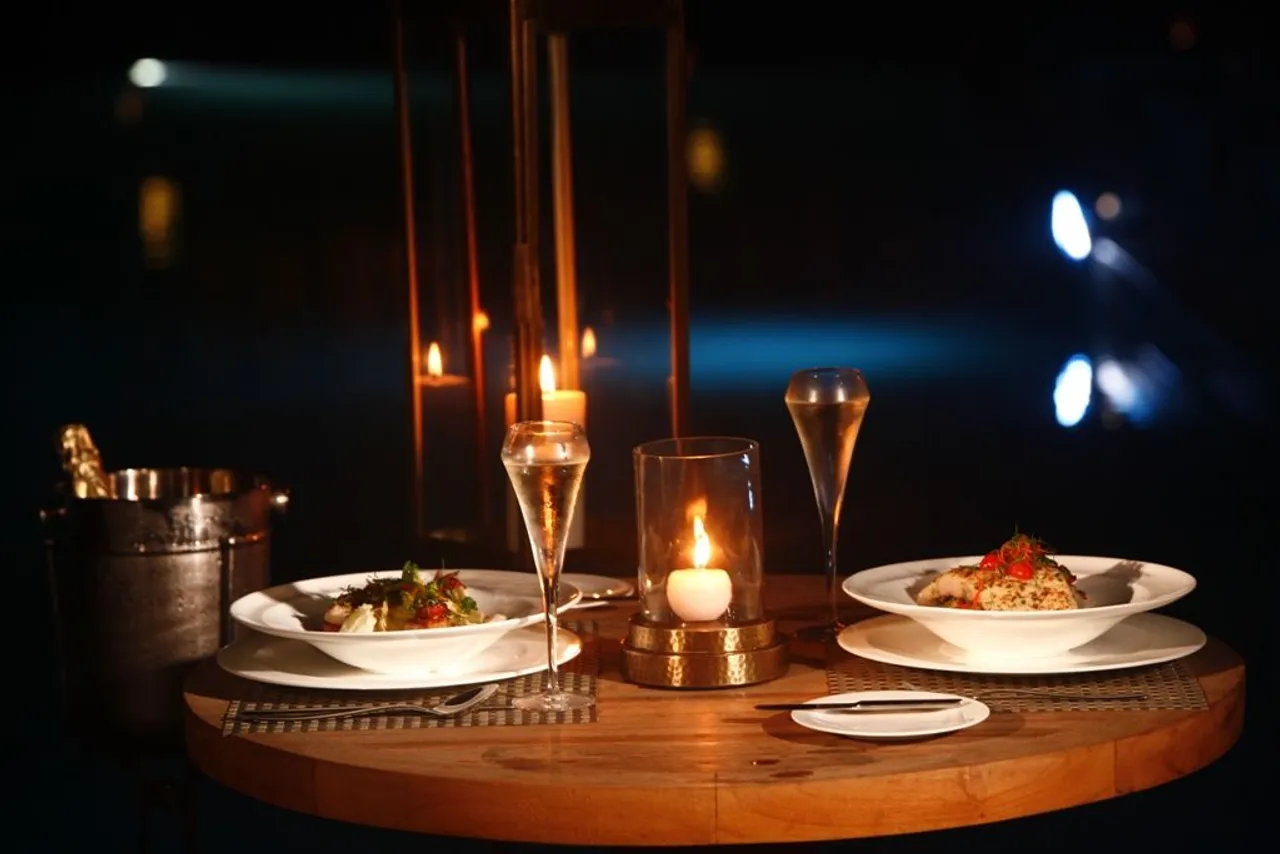 Be it your first date, or one after a long break, these restaurants and cafes in Mumbai will make your dates utterly romantic.
If two souls are in love, nothing seems impossible, except deciding that one perfect place to dine. Selecting a place where you two can chat, hug, laugh, and eat is a task, even if it is your 20th date. Let Local Samosa help you this time. Check these restaurants and cafes in Mumbai for a romantic date with your beloved, and experience the most romantic date of your life. Well, to be honest, these places will be great even with your best friends, or on a solo date. So what are you waiting for?
1. Fable Café
Fable café in Juhu is perfect for an evening date. The lights, the beautiful indoor, and outdoor seating, with chandeliers, and the iconic book wall will leave you in awe. This place is cherished for its Italian dishes, and especially for the Pesto Pasta. Feel free to give instructions to the staff, they will do anything to make your food taste and look great. Do not forget to order some Molten Lava cake in the end. Add this place for a romantic date!
Where: Vithal Nagar, Juhu.
Price for two: Rs.2000
Time: 12noon – 10pm
2. Asilo
Asilo is all dreamy after the sunset. The rooftop cabana-styled seating will leave you speechless. It's nothing but mesmerizing. The slow music, comfy couch, cocktail, and barbeque are exactly what you need for a romantic dinner together. Sit for long and enjoy the romantic view with your date.
Where: Phoenix Mills, Lower Parel
Price for two: Rs 5,000 for two people (approx.) with alcohol
Time: 5 pm – 11:30pm
3. Dome Intercontinental
When we say this place is meant for candlelight dinners, we mean it. Candles are placed on each table, and with a glass of wine, the view becomes breath-taking. Treat yourselves with Japanese and North Indian cuisine, and yes, they have a lot of awesome drinks on their bar menu, so leaving them would be a sin. Dome Intercontinental is worth trying if you are looking for an uninterrupted romantic date with a glass of wine or anything nice! We'll summarize this one with a Taylor Swift lyrics!
'Whiskey on ice, sunset and wine, you've ruined my life, by not being mine! ' Well, It's time you sing a song for your lover.
Where: Hotel InterContinental, 135, Churchgate,
Price for two: Rs.3,500
Time: 5pm – 1:30am
4. Olive Bar & kitchen
One of the most romantic restaurants in Mumbai, Olive Bar and Kitchen is a place with an old-school charm to it. Another great Mumbai restaurant for a romantic date with your lover. The interior is pretty and aesthetic. The white uneven walls, plants on each corner, round wooden tables, and chairs with pillows will give you a homely feel. Trust us, you would fall in love with this place. The cocktails are delightful, and the appetizers are delicious. People have been drooling over their pizza and desserts.
Where: Pali Hill Tourist Hotel, Khar
Price for two: 3,500 for two people (approx.) Without alcohol
Time: 12noon – 11:30 pm
5. Sheesha Sky Lounge
A late-night dinner with your better half, with some tempting North Indian food on the table, is something one can never say no to. But what if this combination comes up with a hookah lounge! Yes, that's what Sheesha has to offer. It's a perfect place to eat, dance, party, chill, and go crazy. The dance floor is there, and missing Sheesha's Chinese menu would be very unfair. Wear those shimmery, party outfits, and get ready to have one of the best evenings with your BAE!
Where: Veera Desai Road, Veera Desai Area
Price for two: 2,500 for two people (approx.) with alcohol
Time: 12noon – 1am
6. The Sassy Spoon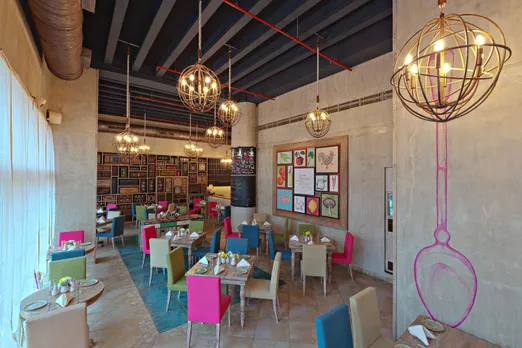 Planning on a romantic lunch date? The Sassy Spoon should definitely be on your plate! A super cozy, colourful, and bright restaurant will always be perfect for an afternoon date, and The Sassy Spoon is a combination of all this. The 'Trunk wall' gives a vintage vibe, but on the other side, the colourful décor will make you smile. It's simple, beautiful, and romantic. The vegetarian menu is limited, but the food is good, and the staff is courteous. The Non-Veg Tray is a must-try. Save some space for the cookie dough and ice-cream too. Do not forget to click pictures with your loved one.
Where:  Ramnath Goenka Marg, Nariman Point
Price for two: 2,000 for two people (approx.) with alcohol
Time: 12noon – 11:30pm
7. Aer
The stylish décor and the neon egg-shaped bar looks exotic. The scenic view of the city from the 34th floor is mesmerizing, and you will never forget the beautiful views. Try reaching the place before the sunset, otherwise, you'll miss out on one of the most beautiful views the city has to offer. With soothing music playing in the background, a glass of your favourite drink in your hand, and the perfectly made Italian and Spanish food will make your date even more romantic and memorable!
Where: Worli
Price for two: 4,500 for two people (approx.) Without alcohol
Time: 5pm – 1am
8. Plum by Bench Chair
The Plum is warm, vibrant, and happy. Perfect for an afternoon date. This place is known for its artistic décor, Lime Cheesecake, Prawn Sesame Toast, Beijing Chicken, Mongolian Lamb, Spicy Salmon, Crispy Water Chestnuts, and much more. The ceiling is decorated with lights, money plants, and beautiful chandeliers. The food and the ambience will make you two stay and talk for another hour! Visit this romantic restaurant in Mumbai for a romantic date.
Where: Lower Parel
Price for two: 2,400 for two people (approx.) Without alcohol
Time: 12 noon- 1 am
9) Gadda Da Vida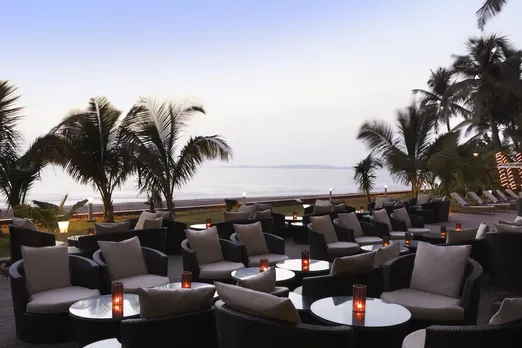 Gadda Da Vida has always been on the list of the most romantic restaurants in Mumbai, and it has a lot to offer to its guests. Nothing beats the breath-taking view of Juhu beach from here while you sip on your favourite tropical drink and feel the ocean breeze on your face. Gadda Da Vidda is indeed a place to relax with your beloved and hog on to its Arabic Pizza, Three Mustard Chicken, Vegan Falafel Kebabs, Dumplings, and a lot more. Be ready to witness a great view, and his/her face to get lost in to.
Where: Juhu Beach, Bairaj Sahani Marg, Juhu
Price for two: Rs.4,500
Time: 2pm – 11:30pm
For more such stories follow Local Samosa on Facebook, Instagram, Twitter, and Telegram.