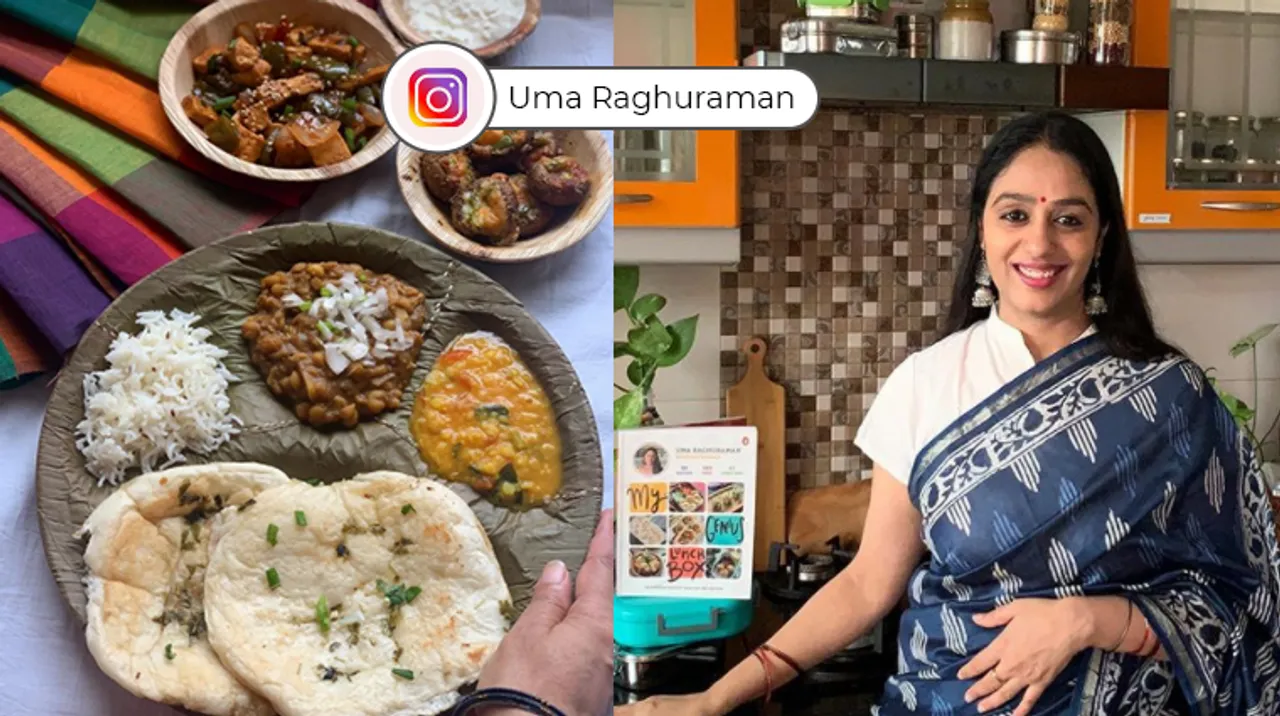 Deciding what to cook is one of the most difficult part of cooking, and to top that its getting kids to eat them. And don't you forget the dish should be visually interesting, delicious, and nutritious too. Sounds like a task right? To solve all these cooking woes, Uma Raghuraman aka MasterChef Mom has penned down a book, My Genius Lunch Box.
Local Samosa was in conversation with Uma Raghuraman, to know more about her journey from being a recipe blogger to an author.
How did it all start? Tell us about your journey from food blogging to authoring a recipe book?
My journey of a thousand recipes begins at home! My family loves to eat good food, which means I am constantly dishing out different varieties of meals and snacks, fresh from scratch, day in and day out. 
More than the time it takes to cook, it is deciding what to cook for each meal that takes time. Even more challenging is deciding what to pack for school lunch boxes. The worst thing for any parent is to see their child's half-eaten tiffin. Challenges in life brings the best in us. I used to come up with interesting and creative dishes that are both healthy as well as eye appealing that would please my fussy eaters. 
When I quit my school teacher's job to remain full-time at home, I started posting some of these recipes in my  Facebook page. To my big surprise, many people liked them and started asking me for detailed recipes including step-by-step methods. This is when my family encouraged me to start my blog. It was my children who suggested the name "Masterchefmom"!
In the last 6 to 7 years since I started by blog, www.masterchefmom.blogspot.com, I have documented more than a thousand recipes. My objective is very clear. I want to help young parents who are going through similar challenges every day.  What started as a hobby has now become a passion.
One day, I was approached by Smit Zaveri from Penguin Random House with the opportunity of authoring a book exclusively focussed on lunch box recipes. Such a big coincidence. Writing a book and that too on a topic that I am passionate about! I was more than thrilled, as this was the reason I started my blog and now through the book, the recipes would reach more parents across the globe. 
Uma Raghuraman, What made you pen down this book? What can readers expect from the book My Genius Lunch Box?
First of all, no parent likes to see half-eaten food in the lunch boxes when kids come back from school. While food waste is not acceptable, even more worrying is the impact on the health of the child. You want your child to enjoy the long day at school. The only way a mother can be present with the child in the school is through their lunch box. I would make different types of tiffins for my children and also leave small notes inside their tiffin box to inspire them and also tell them that I love them. When my children come home and tell me that, "Amma, today lunch was yummy! My friends also enjoyed it." That is priceless to my ears! So I would try every day to make their lunchbox experience better and better. I felt that every parent must be going through similar challenges and will really benefit from my book "My Genius Lunch Box". 
 "My Genius Lunch Box" has fifty-plus fun, nutritious and simple vegetarian recipes that can be made on a school day or even as anytime snack. The book is divided into six sections, one for each weekday and a bonus section that includes recipes for bite-sized snacks. You can learn to make original, innovative dishes like Paneer Makhani Kulzza, Gnocchi di Idli, Iyengar Bakery-Style Frankie, Vermicelli Pancakes, Greek Strawberry Samosas, and more. 
Any fond memory from your lunch box days?
Lunch box memory to me is not just about food but my mother's love. The day my mother travelled for more than an hour just to reach my school before lunchtime to add salt to the lemon rice that she had packed is an unforgettable lunchbox memory. A lunch box is not just food but 'love in a box'. 
Who is your inspiration for cooking?
The way to a man's heart is through his stomach. My better half Raghu, lives by the adage 'Live to Eat '. He is my greatest inspiration to cook. Also, I have seen both my grandmothers, my Mother- in- Law and my Mother, cooking 24/7/365 delicious and wholesome food for the large families around them with a smile. I try my best to do the same. They are my constant inspiration.
Cuisine you love to cook, and cuisine you love to eat? (In case they are different)
I just love to cook South Indian and love to eat North Indian and Street Food like Chaats. Just can't live without the weekly dose of Golgappas and Samosas.
In the world of aesthetic modern food flatlays, Uma Raghuraman your Instagram feed is like fresh air giving a traditional touch to your food recipes. Can you share what goes behind the styling?
I am so happy that you like it. A picture says a thousand words or in this, a picture tastes a thousand flavours. We eat through our eyes first. My mantra is "Being real, simple, and original ". I also try and share a small part of my personality in every frame. Also, the feedback I get keeps me motivated to try and innovate constantly.
There are so many fantastic recipes that you worked on. How did you finalize the recipes to be included in the book?
Some of these dishes were my children's favourites and I had never blogged about them or shared them on social media before, while many others were exclusively curated for the book. Making lunchbox experience exciting for children, was something I always believed in and practiced on a daily basis during my children's school days. Over the years, there are many recipes that my children have repeatedly requested me to make and send for their lunch boxes. These recipes have been tried, tested, and also appreciated by my children and also by their friends. So, when deciding recipes for the book, these recipes topped the list. 
Tell us about your most successful and failed food experiments! If any!
Today's failed food is tomorrow's breakfast. On a serious note, I have had my fair share of kitchen disasters. Some made me laugh and some made me cry. The most hilarious one was the 'Vathal Kuzhambu' that I made right after my marriage. I forgot to add the main ingredient 'Tamarind'  and was wondering why the kuzhambu is orange in colour and so watery, while it has to be brown and slightly viscous! Even today, my husband teases me that I was a great cook who made 'Orange Water'. But that was two decades ago. Now, I have not only mastered the dish but also teach people to make a great tasting one. 
What was the most interesting thing you learned while writing the book?
There are so many things that I learned while writing recipes and clicking the pictures for the book. First and foremost, attention to detail. Observing and noting down every minor detail related to each recipe was so very important. I learnt about various aspects of smartphone photography while clicking thousands of pictures out of which just 50 were chosen finally. Last but not the least, I learnt how to be patient. A combination of these learnings is what made the book come out so well!
You hail from Chennai Uma Raghuraman, can you share your favourite local spots to eat?
Well, I moved out of Chennai in the last 90s and have been in Delhi NCR for close to two decades. Some of my favourite memories are, going to the beach and eating at the Dosa Camp, a mobile van where they would make yummy Dosas, and that too in different varieties.  Saravana Bhavan is another hotel that I have gone quite a few times. I used to love the puffs and pastries from McRennett. Even today I miss the freshly fried potato wafers from Hot Chips. You don't get that kind of wafers anywhere else.
Your 5 Must utensils or gadgets in the kitchen?
Tava
Kadai/small wok
Ladles and Spatulas
Mixer/Grinder
Oven
Your 5 Must spices in the kitchen?
Turmeric
Cumin Seeds
Black pepper
Coriander seeds
Dry red chillies
Uma Raghuraman, Can you share one of your favourite recipes with us?
Every recipe in my book "My Genius Lunch Box" is a favourite. Here is one delicious snack recipe for all of you to try. 
Mini Masala Pinwheels
What you need (Makes 28)
FOR THE DOUGH
Wholewheat flour: 1 cup
Water (adjust if needed): 1/2 cup
Baking powder: 1/4 tsp
Salt, to taste
Oil, for greasing: 1 tsp
Carrot, peeled and
grated: 1/2 cup
FOR THE FILLING
Coriander leaves, finely
chopped: 1 tsp
Mint leaves, finely chopped: 1 tsp
Spinach leaves, thick, stems removed: 15-17
FOR DUSTING
Powdered sugar: 2 tsp
Roasted cumin seeds powder: 1/4 tsp
FOR DEEP-FRYING
Method
Add all the ingredients for the dough in a large bowl. Add water, little by little, to make a stiff dough.
Spread a few drops of oil on the clean work surface and roll out the dough with the rolling pin, just like a roti. It need not be a perfect circle!
For the filling, place the spinach leaves, coriander leaves and mint leaves all over the rolled-out dough, then place the grated carrots on one side.
Carefully roll the dough tightly to make a log. Tuck any stray vegetables and herbs into the log as you roll it. Cut the log of dough into one-inch roundels, Swiss-roll style, and flatten each roundel.
Heat a small pan or kadai with the oil. When the oil is hot, drop the roundels in batches and fry until brown on both sides. Drain on a kitchen towel. Alternatively, you could grease the roundels with oil and bake in a preheated oven at 200 degrees C for 15 minutes or until crisp.
Place the cumin seeds powder and powdered sugar in a large bowl and mix until thoroughly combined. Drop the pinwheels into the bowl and coat them with the cumin-sugar powder.
Pack the mini masala pinwheels in the lunch box.
Homework
Wash and pat dry the coriander leaves and mint leaves in advance to prevent the dough from becoming wet.
Chef's tips
Add grated vegetables like carrot, cabbage, etc. Do cut the vegetables just before making this so that they release less water.
You can make this snack a day ahead.
Check out the recipes by Uma Raghuraman here!
For more such stories follow Local Samosa on Facebook,  Instagram,  Twitter, and Telegram.