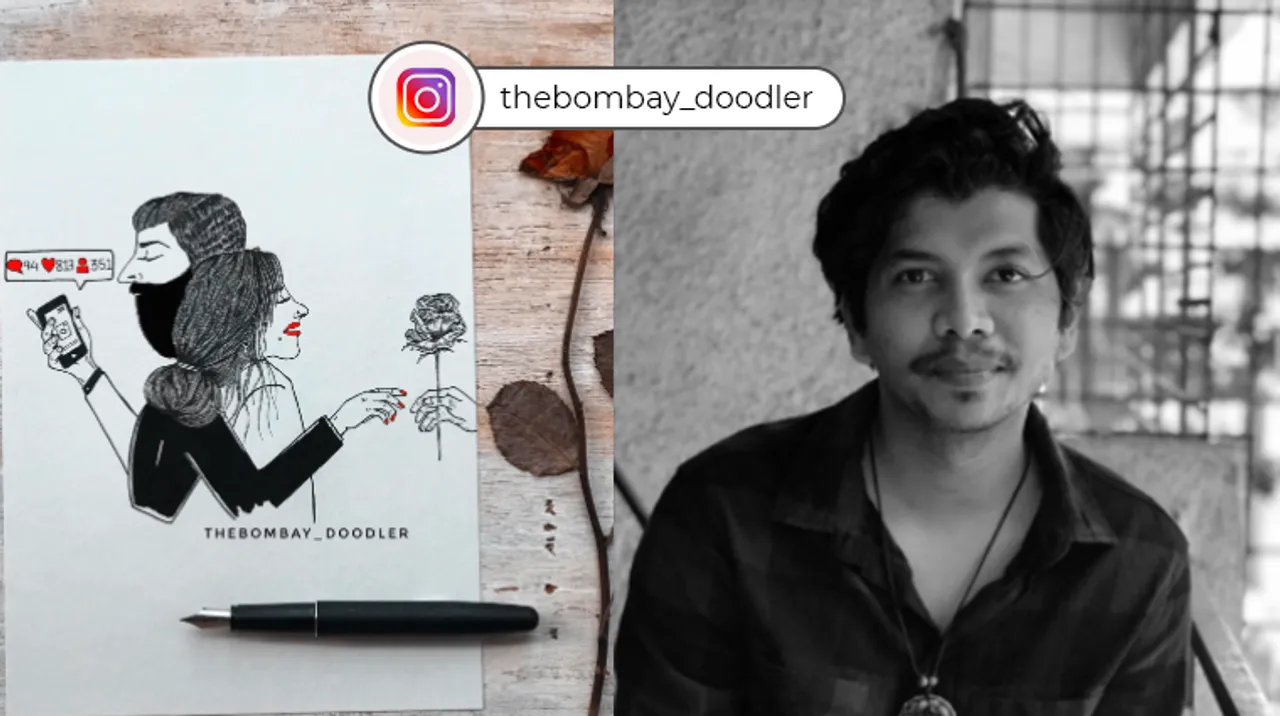 If you have something for ink sketches and doodles, you'll be surely impressed by the work of Pradeep Das, aka, The Bombay Doodler. Whether its a paper, notebook, paper cups, or a wall, anything can be a canvas for him to bring out stories and emotions.
We were in conversation with Pradeep Das, to decode his art flow.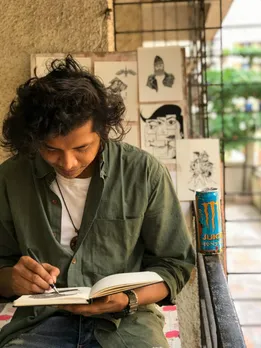 Can you tell us a little about yourself? 
I am Pradeep Das now well known as The Bombay Doodler. As fancy as the name sounds the simpler is the life I live. I am a middle-class young mind that loves spending time with books, papers, and pens rather than phones, Laptops, and TVs . If you are wondering if I am boring no not at all I watch movies and know how to have fun too but spend maximum of my time sketching my thoughts and emotions out. I have loved doodling from the time it wasn't even a thing till this date where doodling is now recognized as an art form. I have been fond of creations all my life, the only difference that has emerged through the years is - Initially as a kid I drew to impress & now I create to express.
Can you walk us through your journey of becoming a doodle Artist?
My intentions towards art in the initial days were very raw and more inclined towards gaining attention. Like any other artist I had to start from the very beginning, there is no other shortcut. I have invested a good amount of my life learning, practicing, learning, and practicing again because that's how one grows. Although I have a very interesting graph which starts with scribbling on school desks to creating sketches to come in the limelight, to creating characters because I wanted an upgrade to myself, to creating cartoons because now I loved what I had started doing, to making mandalas because by now it was a passion I never wanted to get rid of and then finally doodles my most favorite art form that grew on me to an extent that I wanted the world to know my perspective and appreciate the love for art I have.
To be honest this journey has been a crazy deep dive but today at social events when I'm recognized as TheBombay_Doodler there's nothing more than I would ask for.
What is your doodle style? Where do you find your inspiration?
Basically, I am a black and white artist. I don't follow any style as such, my pen works what my mind thinks. Someday you would find me doodling about love, and the other day you would find me sketching about life. So, it's all about what I want to show the world, what the world needs.
And frankly speaking, I believe that style doesn't matter when you want to inspire the world for good. If you can achieve that, you have got your style. And talking about my inspiration, Well travelling has always been the second half of my soul, first being my family. I visit new places, see new faces, encounter vivid personalities and I feel blessed and proud to mention it because my inspirations are majorly drawn from that part of my life. Not to forget the daily hustle which I always look out for and the belief that the game is strong and you have to earn your way at the top.
Sometimes you may run out of content to create from and that's when you would need the hunger inside you to help you create and re-create. This is where most of my inspiration is drawn from. I believe that sometimes you need to be your inspiration because that's how an individual grows. I am a self-inspired person, and I think it helps and could be the best thing you could do for yourself. As correctly said, 'To be irreplaceable, one must always be different' I try to take the less-traveled path.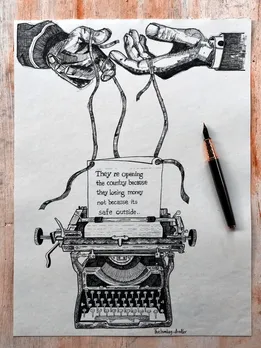 Tell us the thought or a story behind your work that is close to your heart. 
Sometimes a walk does wonders. Otherwise, a roadside Chai does the job. There are numerous ways through which I receive encouragement to think creatively, for example, my walls in my room are full of my most favorite memories and moments, Mandalas, a travel van, photographs of my favorite humans in my life and much more. When I see my wall each morning, I feel pumped up for the day to kickstart and get going. Also, I have an amazing sister who motivates me and helps me to think differently. And talking about how I manage to bring different concepts, well I never bring out different concepts, it's all out there, we just grasp, Adjust, and express our perspective. Mostly, I just observe things, question the facts, meet new people, interact with different artists, evaluate myself, seek out for truth and that's where most of my concepts come from.
If not illustrating, what else we would find Pradeep Das doing?
Without a second thought, my alternate career choice would be a traveler. I could have been a full-time traveler vlogger or a food blogger since I'm a foodie and I would know about the best dishes at restaurants at the tip of my tongue. I have always loved to explore because I have a curious mind and I love learning, accepting, grasping, and expressing. 
Traveling for me is my second home, where I feel closer to nature and feelings. I feel free, it's my escape for the regular hustle, it gives me the satisfaction which is equal to the satisfaction I get from an expressive art I created.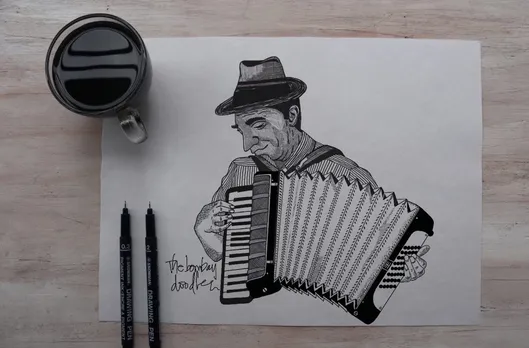 Indian Artists you look up to?
I have never admired any artwork based on the artist or his nationality. Differentiating an art style sounds legitimate but differentiating an artist doesn't feel right. I have grown up admiring and passionately following Mario Miranda's work. I love his style and the essence that he puts in each of his work. Apart from him, there is no specific artist that I look up to, I try to see the good in every art and artwork. 
Pradeep Das, What is about Mumbai you love and adore the most?
Everything about Mumbai feels like home, from the chai stalls to Mumbai monsoon to the Mumbai traffic. Everything about Mumbai is beautiful and special, Mumbai is warm and welcoming it has a different kind of peace in its air. This city brings something new every day that you encounter or experience. I am 29 and have spent it all in this beautiful city if there is something about it that keeps you attached it is the feeling of home.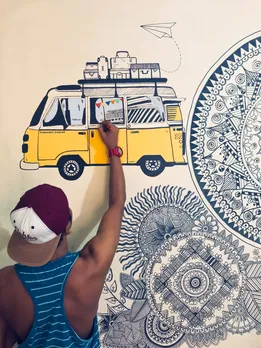 If you have to make an illustration of a local place, a spot in a city, or favourite eatery, which place would that be?
If you ask me I love Marine Drive the most. I could sit there all day amongst the calm of the sea and see the world from a different perspective. If it is 6 am or 6 pm there is nothing about this place that changes. You witness different kinds of people there and witness different stories. From a chai wala to a rich man walking his dog, from a cute couple to a lonely person, from a big family to a big group of friends. You witness soo many people,so many aspects, so many stories. These stories are not just stories for me but are my observations and learnings. I witness, learn, and create emotions from emotions I have felt or seen. 
Tell us your favourite local spots!
Prithvi cafe is by far my most favourite place. I visit and re-visit there to gather my thoughts and meet new people. Mostly I like to visit vintage cafés serving Irani chai. I am a chai lover and of course some bun maskas with chai are to die for. I adore Irani cafes for their simplicity and amazing food. So if you own an Irani Cafe you will definitely happen to see me hop in there once in a while.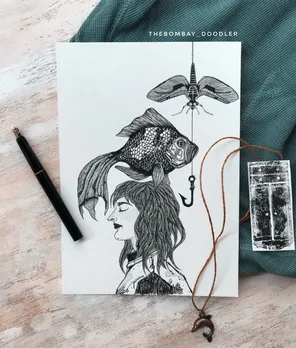 What are your future plans? Any other details you would like to share.
Future is too far a thing, I believe is working for the present because that's how you'll set your paths apart from the others. Although I would love to create an art school for budding artists and have them the best of artists from around the world to teach and train them so that people at a very early age understand what Art is and never have to struggle their way through to prove it to the world. 
I have also had major interests in travelling and I have a long list of names i would love to travel to and doodle around at spaces. This is my major future goal and I'm looking forward to this the most. If by then I succeed at making my own art space I'll definitely have my entire team travel the world with me and spread the love for art like never before.
Check out the work of Pradeep Das here!
For more such stories follow Local Samosa on  Facebook,  Instagram,  Twitter, and Telegram.