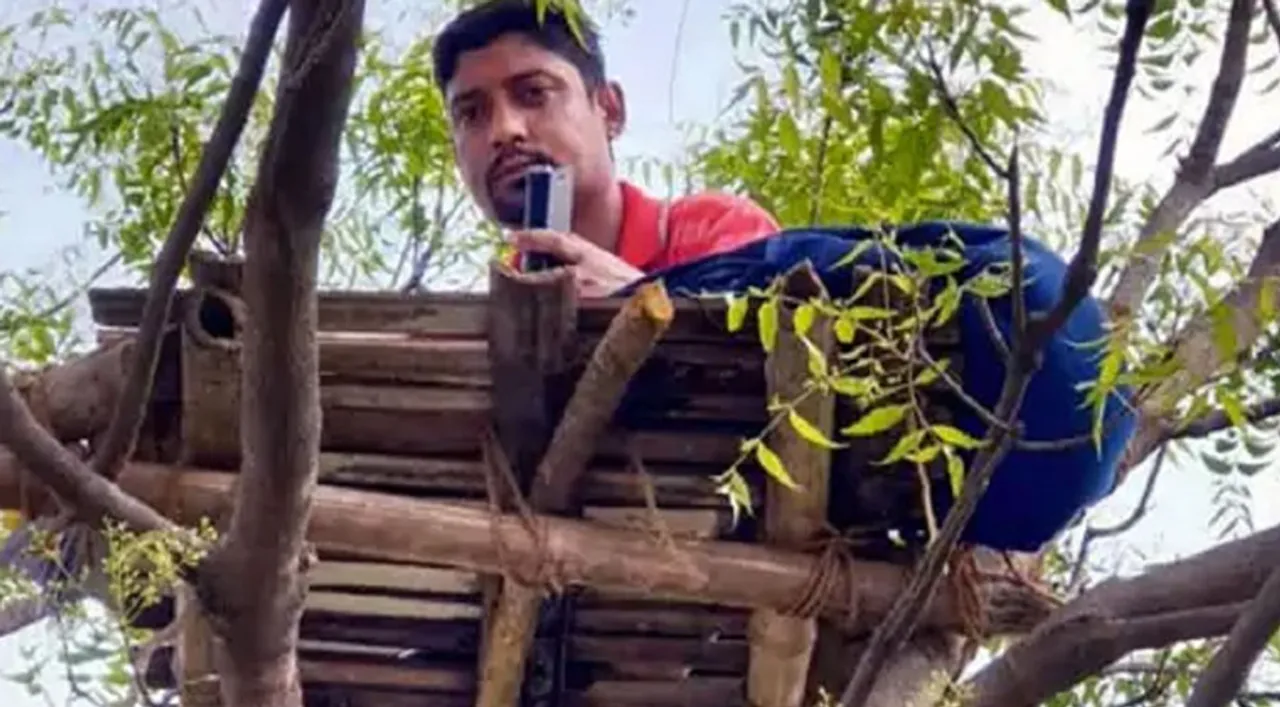 There was a time where we joked about education being taught online, and now that has come true. Owing to the current situation of coronavirus pandemic that we are stuck in, everything has now become online. And so is our education system. This Teacher's Day lets all come together and thank our teachers for going that extra mile to teach us. Here are few Inspiring Stories of Teachers that have truly made a difference. Read on to find more about them.
1. Pune teachers 'Jugaad' wins praises!
Recently a Chemistry teacher in Pune came up with desi Jugaad to conduct her live class. She didn't own a tripod, but that did not stop her from taking her classes. She made her tripod using a chair, hanger, and few cloth strings. Moumita B proved the statement, 'Where there's a will, there's a way'.
2. A Math teacher's Desi Jugaad is worth praising!
A teacher using a refrigerator tray for her online class broke the internet a few days ago. She balanced the tray on two containers so that the students can see her solve the problem without any hurdle. We love how these desi jugaads by teachers are making their teaching experience better for both students and themselves.
3. A Teacher from Leh tested positive yet continues Teaching, wins our heart
A Maths teacher from Leh, who tested COVID positive, converted his isolation ward into a mini classroom. Yes, you read that right. He stayed in contact with his students through apps like Zoom and WhatsApp. Apart from that, he also uploaded videos on his Youtube channel during that time.
4. Climbing Neem trees to make sure the classes go on! Yes, that's right.
Not everyone has access to steady networks, but that does not stop teachers from doing their duties. Subrata Pati, a History teacher conducts online lectures by climbing on a neem tree. According to a few sources, he even carries water and food with him when he has classes for long hours. Our hearts swell with pride when we see teachers taking so much effort for their beloved students.
5. Teaching Farming through WhatsApp? You bet.
Sarita Vijayakumar, a Hindi teacher in Kochi has been training kids farming for 20 years now. So, when the lockdown came into action, she was worried that her students would lose interest. To make sure her students are connected to farming, she started taking classes on WhatsApp. She would grow plants and vegetables in her backyard and encourage her students to do the same. We love how education is not just about studies, but about extra-curricular activities as well. 
6. Radios are back into action! How? Read on to find out.
Who said classes need to be virtual-only? Uttar Pradesh is breaking all norms and is taking the help of radio for students who cannot access online virtual classes. They are using radios to increase students' retention rates and improve teaching quality. Thoughtful, isn't it?
If you know anymore Inspiring Stories of Teachers then do let us know in the comments below.
For more such stories follow Local Samosa on Facebook,  Instagram,  Twitter, and Telegram.