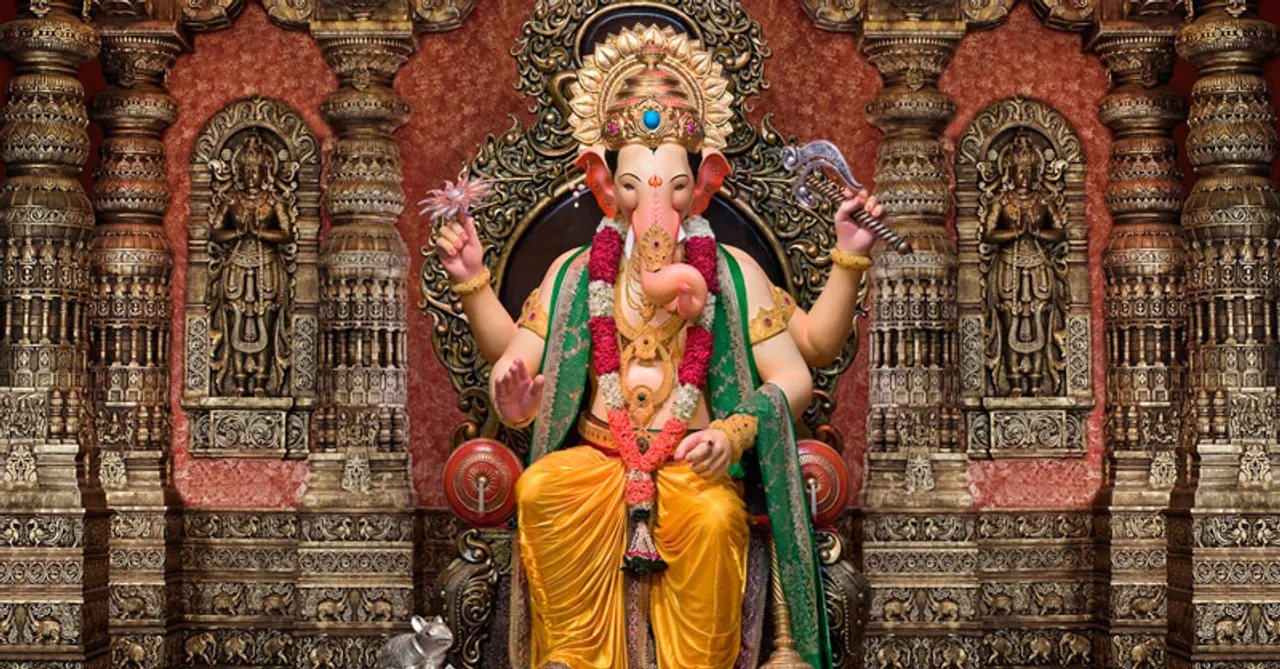 The most awaited festival of Mumbaikars is round the corner, but this year, however, given the coronavirus situation, celebrating it like every year seems a little difficult. Taking a trip down the memory lane, here's a list of Ganpati Pandals in Mumbai we are going to miss visiting.
1. Lalbaug Sarvajanik Utsav Mandal, Ganesh Galli
Not known to many, Lalbagh Sarvajanik Mandal is the oldest Mandal in Lalbaug and the most visited pandals in Mumbai. Last year the pandal was a replica of the Sripuram Golden Temple in Vellore. People from all over the nation come here to have a glimpse of Ganpati.
Where: Lower Parel, Mumbai
2. Keshavji Naik Chawl Sarvajanik Ganeshotsav Mandal, Girgaum
The oldest Mandal in the city has played host to Lokmanya Tilak. Devotees line-up patiently to catch sight of Ganpati Bappa. Last year the pandal celebrated its 125th year. On that occasion, the youngsters of the Mandal made 500 paper bags, wherein they had written a poem on the conservation of trees.
Where: Girgaum, Mumbai
3. Azad Nagar Sarvajanik Utsav Samiti, Andheri
Popularly known as Andheri cha Raja, Azad Nagar pandal is one of the pandals in suburbs that are visited by celebrities. Andhericharaja looks the same every year and wears a 3.1 kg crown, which is usually made using gold donations received from Mumbaikars on its 50th anniversary.
Where: Andheri, Mumbai
4. Lalbaugcharaja Sarvajanik Ganeshotsav Mandal, Lalbaug
Talking about Ganesh Chaturthi in Mumbai and not mentioning Lalbaugcha Raja is a crime. Mumbaikars have even stood in line for more than 24- hours to get a glimpse of Bappa.
Where: Lower Parel, Mumbai
5. Chinchpoklicha Raja
Chinchpoklicha Raja, or what we Mumbaikars lovingly call as Chinchpoklicha Chintamani, is a Mandal with vibrant ambiance. Last year, the pandal was a replica of the Mahishmati Darbar, from the renowned movie, Bahubali. Apart from that, every year the Mandal spends 60% of the money collected on initiatives for a social cause.
Where: Chinchpokli, Mumbai
6. Fort Vibhag Sarvajanik Ganeshotsav Mandal Circle, Fort
A pandal full of colors, with captivating idol and grand decorations! Fortcha Icchapurti leaves no stone unturned to make their decorations as royal as possible. From a 40-feet elephant gate to a replica of Bikaner Palace with marble effects, they have done it all.
Where: Fort, Mumbai
7. Khetwadicharaja, Khetwadi's Sarvajanik Ganeshotsav Mandal
Khetwadi cha Raja has won awards for the best idol and even for the best Ganpati Pandals in the city. The previous year, they tried something different. Apart from the idol, even the trunk of Ganpati had been adorned with diamonds. Yes, and Mumbaikars loved it.
Where: Khetwadi, Mumbai
8. Goud Saraswat Brahmin Sarvajanik Ganeshotsav Samiti, King's Circle
Traditional celebrations, eco-friendly idol, and religious poojas, these 3 things define the GSB Pandal. And this year, we'll miss visiting the pandal.
Where: King Circle, Mumbai
9. Sahyadri Krida Mandal, Chembur
If you are looking for some hatke decorations, then Sahyadri Krida Mandal might be the answer. Last year, the pandal supported the cause of organ donation, and the decoration was based on the same theme. From the replica of the Dakshineshwar temple to the replica of Kung Fu Panda village, they have tried various themes to celebrate Ganpati. 
Where: Chembur, Mumbai
10. Goud Saraswat Brahmin (GSB) Seva Mandal, Wadala
What makes GSB Pandal a must-visit in Ganesh Chaturthi is the fact that they use eco-friendly idols. GSB is one of the richest pandals in the city and adorns Bappa with flower decorations and gold necklaces.
Where: Sion, Mumbai
Which Ganpati Pandals in Mumbai are you going to miss visiting? Do let us know in the comments below.
For more such stories follow Local Samosa on Facebook,  Instagram,  Twitter, and Telegram.