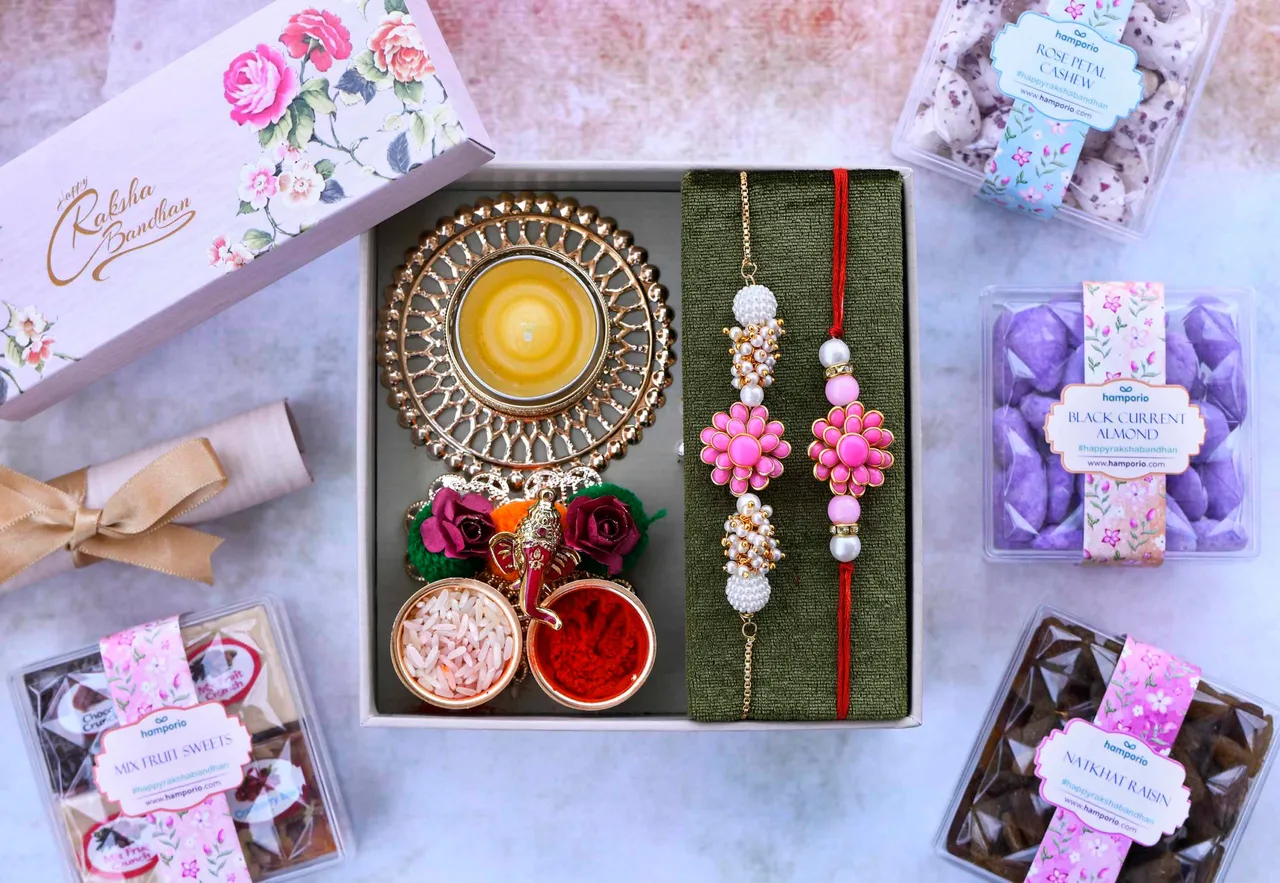 Don't be clueless about gifting something to your siblings this Rakhi. These Insta stores have brought something, which is sure to make their lips curl immediately. Each hamper has something unique about them. So, you can pick as you like. Go order your Rakhi Hampers online before it gets too late.
1. Midori by SGV
Midori is here to help you send the best gift for your loved ones with one of the best Rakhi hampers online. They have an amazing hamper which comprises of a sequence face mask, a dragonfly brooch, Rs 1000 voucher of Midori, and an elegant Rakhi. This Rakhi hamper is packed with love and hygiene. They are shipping pan India. Order yourself one right away.
2. The Body Shop
While you can't go and meet your loved ones personally, Body Shop is here to celebrate the zeal of the festival with a hamper to spread the warmth just right. Choose from fascinating and beautifully crafted gift hampers comprising of Delicate British Rose or nourishing Almond Milk and Honey, delectable Strawberry or caring Shea Butter, soothing Satsuma, or refreshing Moringa, are just a few of the hamper options available for you to customize from. Order online and opt for contactless delivery.
3. Dimusa
Dimusa, a newly launched gifting brand, has come up with a cute little rakhi hamper to send the positive vibes to your caring and loving siblings. You can get these hampers customized as you like. Though the small hampers include rakhi, dry fruits, soap, scented candles, and chocolates, the other hamper has all of this, along with a mug. If you can't decide on anything, this can be the best gift to send away. They are delivering across India.
4. Soapify
Soapify has come with a simple and cute little hamper. The hamper comes with their handcrafted popsicle soap stick and a rakhi with a message for your loved ones. If you want something easy yet lovely, this can be your best buy.
5. Suroso
Suroso has come up with a 'Rakhi ka Pitara.' The Pitara has self-care products, tiny handcrafted things, and of course, an elegant Rakhi. The packaging is so classy and unique that it will make your siblings fall in love with just one glance. Can't go and meet them? Sending this Pitara is the next best thing you can do. And guess what, they are shipping worldwide.
6. 361 Degree
They have come up with Rakhi Hampers to share the special bond of brothers and sisters. They have a lot of varieties of hampers that you can choose from. Hampers are loaded with stuff like dry fruits, chocolates, cookies, and types of rakhis and lumbas. Place your orders right away, so that they can customize the hamper without any compromises.
7. Wishk Jaipur
Whisk Jaipur has come up with a range of hampers that you can select for. Their wooden platter hamper has tea cake, cookies, lavash, brownies, plants, and a happy Rakhi card. The other hampers have more gourmet options that you can pick from. This is the hamper for your sweet tooth siblings, you can send them anywhere they are in India.
8. Fluorescent Studio
Fluorescent Studio has a hamper for every mood. They have rolled out the best Rakhi hampers online with chocolates, mugs, perfumes, personalized photos, face masks, wine bottles, earrings. Go check their Instagram page or their website to gift your brother the perfect gift that will match their vibe and put a smile on their face. You can get it sent anywhere in India.
9. The Thread Weavers
They have come up with a very simple gift for your loved ones to celebrate the amazing bond. A combo of their beautiful signature scarf and traditional rakhi. Start ordering without worry, they are shipping worldwide.
10. CrafTrik
They have brought to you a very cute little hamper perfect for your baby brother or sister. They have a cute little box with a rakhi, kumkum, chawal, chocolate, personalized message chits, and photos. Start placing your orders before its too late.
11. Annapurna
Annapurna has come up with hampers that comprise of their superior quality stuffed dry fruits, florentine, and cookies with a decorative rakhi. All of this comes in a very designer packed box making it appealing outside and good on the inside.
12. Balm Tree
Balm Tree has come up with very unique Rakhis and along with that they have come up with name chocolates. They are so appealing and taste even better. Get your siblings' names customized into a block letter chocolate. Everyone deserves a sweet treat at festivals.
13. The Bake Shop
The Bake Shop has come up with a variety of hampers with baked goodies in it. Nothing beats enjoying the festival with some sweets to hog on. Apart from the baked goodies, the hamper has a hand-lettered art, traditional rakhi, Kum Kum, chawal pouch in a beautifully decorated box. Get this box delivered anywhere across India.
14. Sock Soho
Sock Soho has come up with a very cool gift box with kinds of quirky socks in them. Every time you order a gift box they roll out a free rakhi with the box. What can be better than this?
15. Nuts and Bites
Nuts and Bites has rolled out their Rakhi Hampers online. They have different Rakhi Hampers with nuts and chocolates. They come in different kinds of packaging you can pick the ones you like. Each of them has a rakhi.
16. SmiiSenses
To rejoice and cherish the beautiful bond of siblings SmiiSenses has come up with their gift hampers of all things handmade. Helping you to send them good vibes anywhere in India. The hamper has Mandarin Lime Basil Soy Candle, a set of 2 notebooks. Orange Cranberry Candles, Orange Cranberry Butter Cookies with a wooden tray decked up with flowers.
17. The Sugar Trip
The Sugar Trip has launched a Rakshabandhan Hamper. It is a combo box that includes 6 Choco-Chip Cookies, 6 Double Chocolate Cookies, 1 Chocochip Brownie, 1 Walnut Brownie, 1 Strawberry Blondie. Apart from this, you can also get your hampers customized.
Order these Rakhi Hampers online and shower love on your siblings just right.
For more such stories follow Local Samosa on Facebook,  Instagram,  Twitter, and Telegram.