Divyanshi in 12th Class CBSE board from Lucknow and Rishita in 10th Class Haryana Board from Hisar has made a new mark in the field of academics by scoring 100% marks in 10th and 12th Board exams.
1. Divyanshi Jain, Lucknow
Divyanshi Jain, a Lucknow based girl, has set the standards world apart with her scores as high as 100% marks in the 12th boards. The 18-year-old girl has bagged 100 marks in all the 6 subjects in CBSE class 12th exams, obtaining 600 out of 600 marks and scoring 100%
"This is unbelievable. I am elated and surprised at the same time," said Divyanshi Jain with a big grin and pride. Divyanshi is a student of Navyug Radiance School, Lucknow. The topper had English, Sanskrit, History, Geography, Insurance, and Economics. She has bagged a 100 in each of them.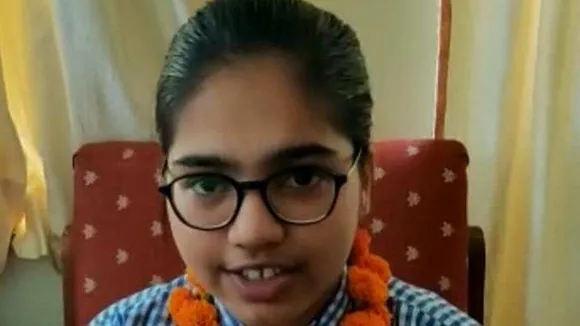 Due to the COVID-19 pandemic, she could not appear for Geography but otherwise attempted all the papers. She is also among the school toppers and has previously scored 97%.
For her unmatchable performance, she gives all the credits to her parents and her teachers. "My teachers guided me throughout the year and I was able to follow a systematic routine due to my parents. Both these factors allowed me to concentrate on my studies and score good marks," said Divyanshi.  She further added, "I also made it a point to focus on revision and mock tests that helped me to score better."
Divyanshi is keen on studying History further. She has applied to Delhi University for BA History.
2. Rishita, Hisar
Rishita from Narnaund in Hisar, Haryana has bagged 500 out of 500 marks in the Haryana Board Class 10 exams taking her total to 100% marks. She thanked her parents and teachers for her success. She wants to take up Science with Biology and enter the field of Medicine. 
Rishita said "My parents and teachers motivated me a lot. I believe hard work is the key to success." She further added "I used to study for 7 to 8 hours. After coming from school, I used to take some rest and also help out in household work, then again I used to study till 10 pm in the night."
She cannot be found on social media and believes it is just a distraction. The principal of the school is very proud and stated "We never use help books in schools. We teach our students from prescribed NCERT books."
Both the girls have done us proud with their undivided devotion and zeal to study which has rightly reflected through their 100% marks in 10th and 12th Board exams.
News Source: Times Of India and Hindustan Times
For more such stories follow Local Samosa on Facebook,  Instagram,  Twitter, and Telegram.