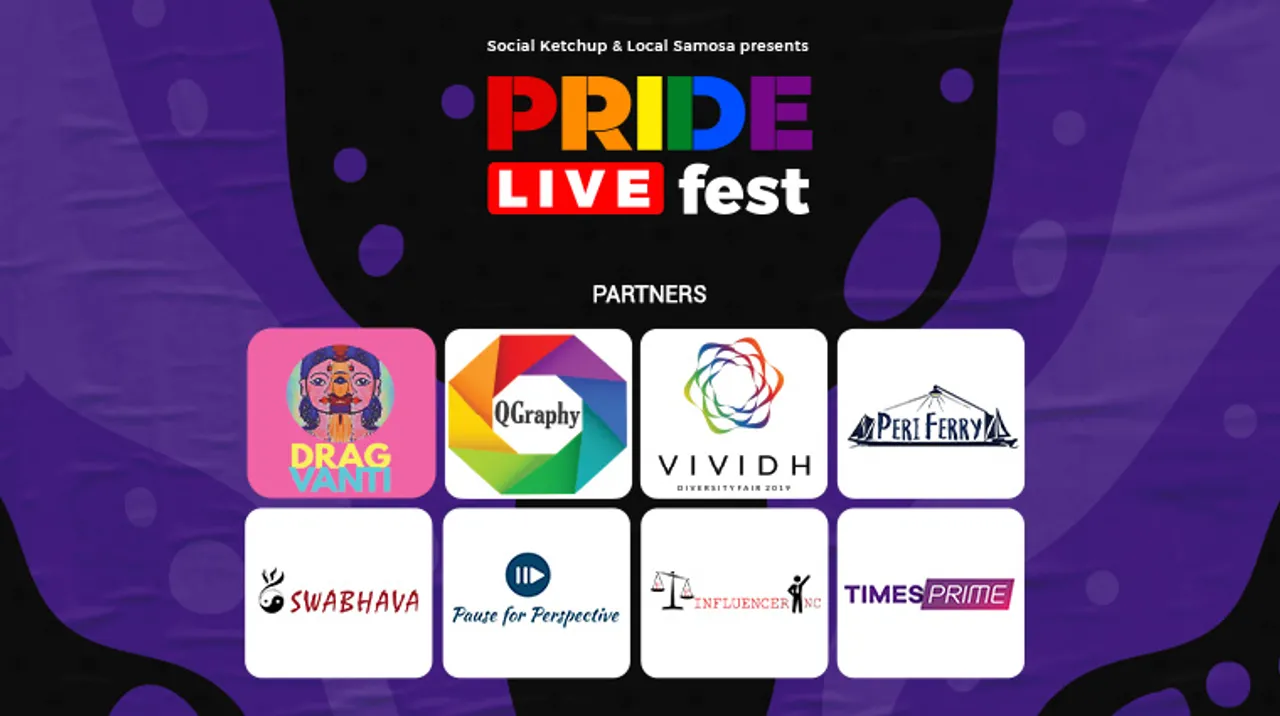 Several amazing online LGBTQ+ communities are teaming up with Social Ketchup and Local Samosa for the Pride LIVE fest and here's what you need to know about them!
Prie months holds an unmatched significance for everything it honours and represents. It began as a way to commemorate the Stonewall Riots where people fought back against suppression, has over the years evolves as a way to bring together everyone from the LGBTQ+ communities and the allies. A way to fight for the right to be and live life as one's true self and not conform to the age-old rules.
The community has seen growth as more and more people are finding ways to embrace their amazing authentic selves and aren't afraid to hide it from the world. To honour this spirit of freedom and every single person who has contributed towards fighting for the rights of the LGBTQ+ community Social Ketchup and Local Samosa are hosting their first-ever Pride LIVE fest. And we are thrilled to have LGBTQ+ communities who are actively working towards helping people, team-up with us the event!
Social Ketchup and Local Samosa (from the house of Social Samosa Network) presents Pride LIVE Fest is an initiative to normalise the conversation around LGBTQIA+ community. We intend to celebrate the month of Pride by creating informative and engaging content in a safe space for the LGBTQ+ community to come together!
Scheduled on 26th June 2020, with the virtual fest we intend to bring the community together on one common forum to facilitate an exchange of thoughts and views in a safe space.
And here are the LGBTQ+ communities who are partnering with us for #PrideLIVEfest 2020:
Dragvanti
DragVanti is an online platform for upcoming desi drag artists and drag enthusiasts where you will find drag shows,  reviews,  photographs,  drag memes, drag Directory and more.
QGraphy
QGraphy is a platform for budding & accomplished photographers among LGBTQ individuals.
PeriFerry
Social enterprise creating employment opportunities for transgender individuals in India and promoting LGBTQI+ inclusion at workplaces.
Pause for perspective
They are experts in psychotherapy, couples counseling, family counselling, children's counselling & group counselling to help individuals and communities live fully and live well. They are also experts in training Mental Health workers in colleges, organizations and NGOs.
Vividh
Vividh is a first of its kind Indian diversity-focused career fair that brings candidates of All Genders, Sexualities, Ages and Abilities together.
Swabhava
Swabhava is a charitable trust, registered in Bangalore, Karnataka on 18th September 1999. The core area of our work is to provide access to support services for people who are identified as lesbian, gay, bisexual, transgender, intersex, hijra (LGBT) or other similar gender and sexual(ity) minorities.

Our Influencer-Outreach partner is:
The Influencer Inc
The Influencer Inc is a 360° campaign amplification and influencer marketing service.
Our lifestyle partner is:
Times Prime
A Times internet Product, Times Prime is a lifestyle service that offers Premium memberships and exclusive benefits on 25+ brands!
Stay tuned to our social media space for more updates about the Pride LIVE Fest! We're geared-up to be creating this wholesome experience for you. So, join in with enthusiasm, positive vibes, and love. Click here for more updates!
For any queries, partnership or participation requests for Pride LIVE Fest, drop us an email on content@socialketchup.in