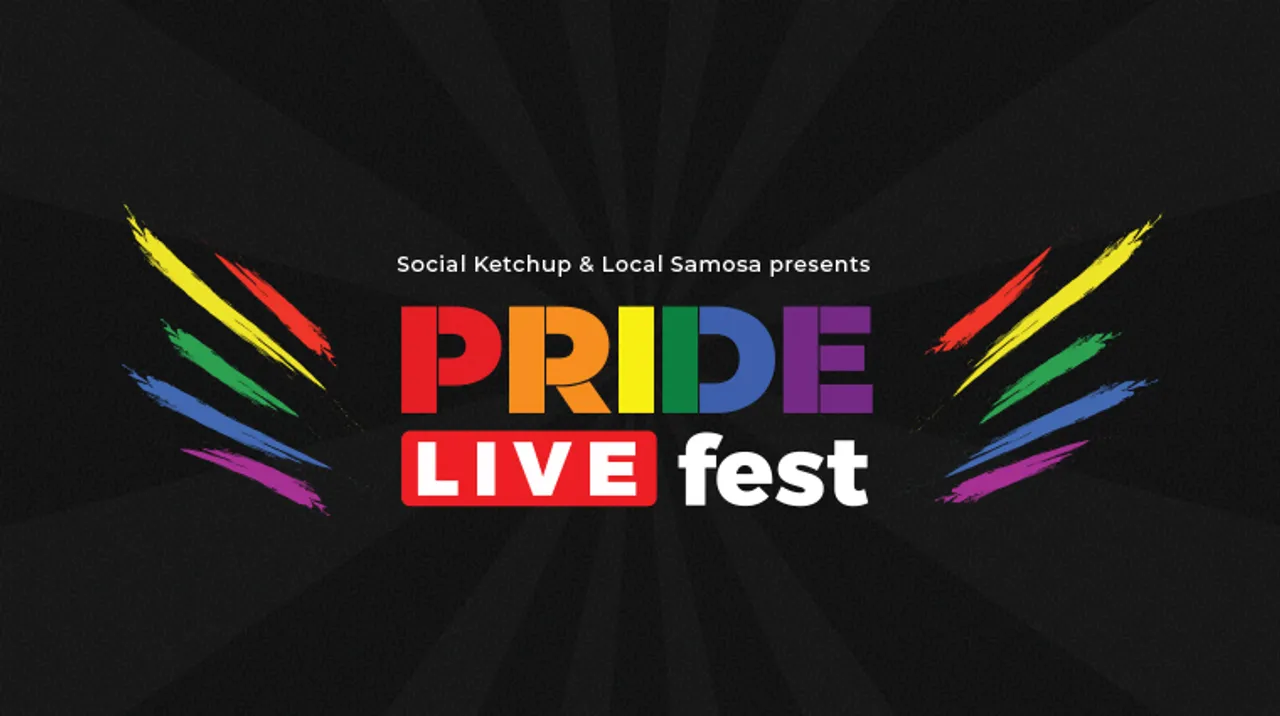 It's almost time for our first-ever Pride LIVE fest and here's why you absolutely can't miss it!
June is celebrated as the Pride month dedicated to the LGBTQ+ community. This is why, we are thrilled to be hosting our first-ever Pride Live Fest to celebrate the brave, free-spirited and amazing people who are a part of the LGBTQ+ community. Social Ketchup and Local Samosa (from the house of Social Samosa Network) presents Pride LIVE Fest is an initiative to normalise the conversation around LGBTQIA+ community. We intend to celebrate the month of Pride by creating informative and engaging content in a safe space for the LGBTQ+ community to come together!
Scheduled on 26th June 2020, with the virtual fest we intend to bring the community together on one common forum to facilitate an exchange of thoughts and views in a safe space.
And here's why you shouldn't miss it!
It's a virtual Pride Party!

It's a huge celebration of individuality, love, being one's true self and spreading the good vibes!
Bringing people together
Pride LIVE Fest is all about bringing together folks of the LGBTQ+ community and their allies to create a safe space of thoughts, and ideas!
Real-life couples
It is always special when love triumphs over all hurdles, isn't it? This is why at Pride Live Fest we also have some real-life couples sharing their inspiring journies with us! We're also hosting a panel to talk about everything that comes with finding love and relationships.
Discussion on observing Pride at work
It is very important to have a safe, accepting and unbiased working environment and that's why we'll also be having a panel discussion about observing pride respectfully at work.
A safe space for mental health discussion
Focusing on mental health is just as important as taking care of your body, which is why we have a special panel dedicated to discussions on various aspects of mental health.
Live performances by amazing queer artists
YAS! Some very talented and entertaining queer artists will also be joining us Live for to add to the festive vibe!
Make*up tips and tricks from Roshan Nausad!
The talented artist, Roshan Nausad will be joining us for a Live session talking all about make-up!
We are thrilled to have Dragvanti, QGraphy, PeriFerry, Vividh, Swabhava, Pause for perspective as our Community partners and Times Prime as our Lifestyle Partner for Pride LIVE Fest.
Stay tuned to our social media space for more updates about the Pride LIVE Fest! We're geared-up to be creating this wholesome experience for you. So, join in with enthusiasm, positive vibes, and love!
For any queries, partnership or participation requests for Pride LIVE Fest, drop us an email on content@socialketchup.in