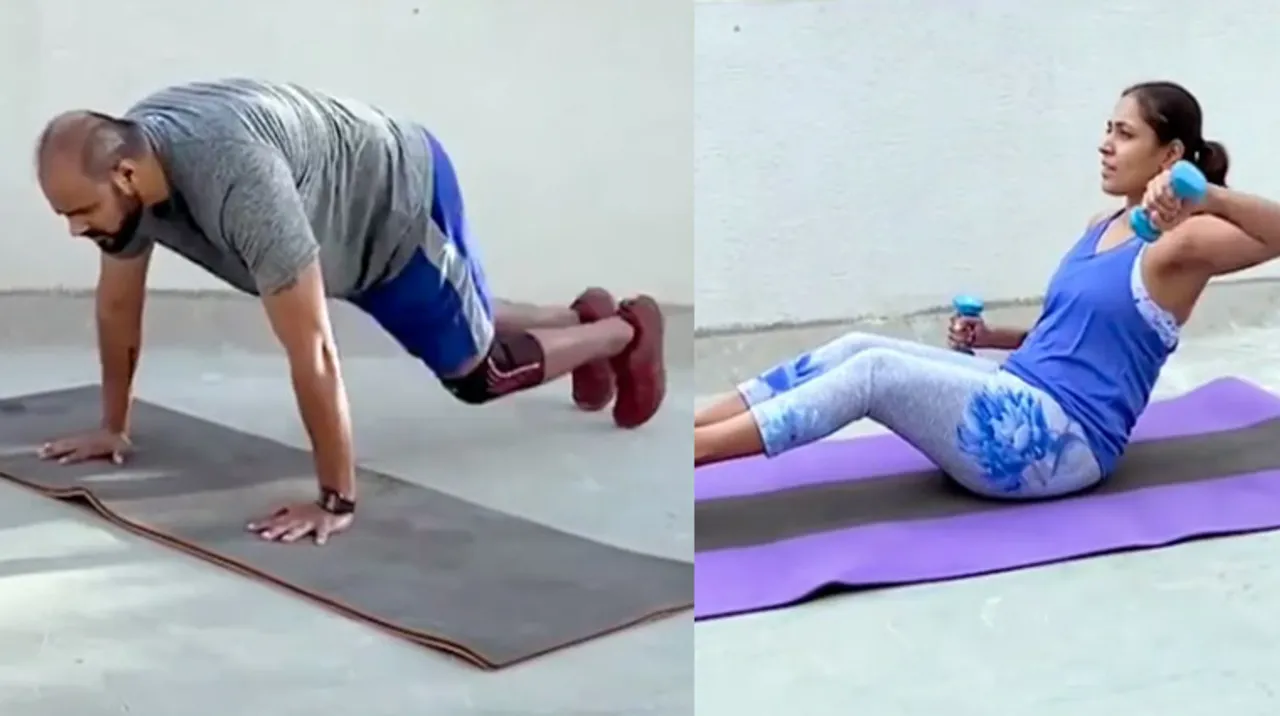 Fitbee have realized that the definition of health and wellness is evolving, people are taking up more holistic states of being, where one's physical and emotional health and wellbeing are of primary importance.
It is well documented that obesity in the world is growing exponentially. However, these numbers can be controlled and reversed by making small changes in one's way of life. The imbalance between calories consumed and calories burnt is one of the primary factors of obesity.
Slowly fitness is beginning to gain the priority ladder. The global pandemic has been a major reason in furthering the fitness movement online and increased accessibility and convenience for people to get fit and improve one's immunity.
Here are some tips that one can incorporate to lead a healthy and fit lifestyle, shared by Avinash and Prathima from Fitbee-
1. Stay Active
According to WHO, regular physical activity (60 minutes a day for children and 40 minutes a day for adults) is essential. Apart from this, kids need to be allowed to take up a sport they like that will encourage them to stay active throughout.
Start off your day by building a stronger core and strengthening your immunity by working on your abs. Here are some quick exercises.
Take up combined activities and get the whole family moving—together. Here are some quick videos you can follow for an easy and fun session.
Pre-or-post dinner walks are a fun and interesting idea.
Make a game out of household chores – this way, work gets done quickly, there's no pressure on one person in the family, and everybody gets to sneak in a quick workout. Solid win-win!
Turn TV commercials into fitness breaks – when it comes to little children, invent silly names for simple exercises like Call them "princess sit-ups" or "Bob the Builder muscle builders", "Hulk Punches"!
Creative strolls up and down the stairs tone the legs and even control blood sugar. It keeps your leg arteries flexible, allowing blood to move more easily. Better blood flow in your legs equals a healthier heart and body.
Run to the nearest stair and try these quick "Killer leg" hacks.
Run up, walk down, Feet-elevated push-ups, Push-ups with torso rotation, Box jumps + assisted kick back and Toe taps
We suggest 15-20 reps, 3-5 rounds to begin with. Watch us and get the legs you always wanted.
Who needs a gym when you have all the necessary equipment at home? It's all about finding the right exercise for the right furniture in your house! Surprised, check these out:
Bench it up: Tap push-ups, hops, Knee tucks, Broad jumps, Feet-elevated mountain climbers, all this with just a bench. We recommend 15 to 20 reps, 4 to 6 rounds. Watch and learn here:
The Stable Table: even a little table does the trick! Knee up, Step up, Squat, and do the Bulgarian split squat for 20 reps on each side and go for just 3-5 rounds. Watch and learn here: 
No Potating on this Couch: Walkouts, High plank leg raises, Elevated arm taps, and High to low planks.  Engage the core and you will have a great workout in 15 minutes. We suggest 15-20 reps and 3-5 rounds to begin with. Watch and learn here: 
2. Eat Healthy and Hydrate
Consume a healthy and balanced diet comprising of protein, carbs, fats, and fiber. It is important to eat a minimum of three meals a day, including a heavy nutritious breakfast. Don't compromise on water intake! Since our bodies are made up of approximately 70% water, it is important to stay hydrated by sipping water throughout the day.
3. Sleep Well
Sleeping for 8-9 hours every night keeps you fresh throughout the day and improves productivity. Kids who sleep well have improved attention, behavior, learning, memory, and overall mental and physical health.
4. No Sugar
The body gets all the sugar it needs from natural sources such as fruits. Added sugar in children may lead to obesity, high blood pressure, and type 2 diabetes. Try limiting the intake of sweets, snacks, and sugary drinks to once or twice a week.
The article is authored by Avinash Rajapet Co-founder and Program Director along with Co-founder and Chief Executive officer at Fitbee.
For more such stories follow Local Samosa on Facebook,  Instagram,  Twitter, and Telegram.