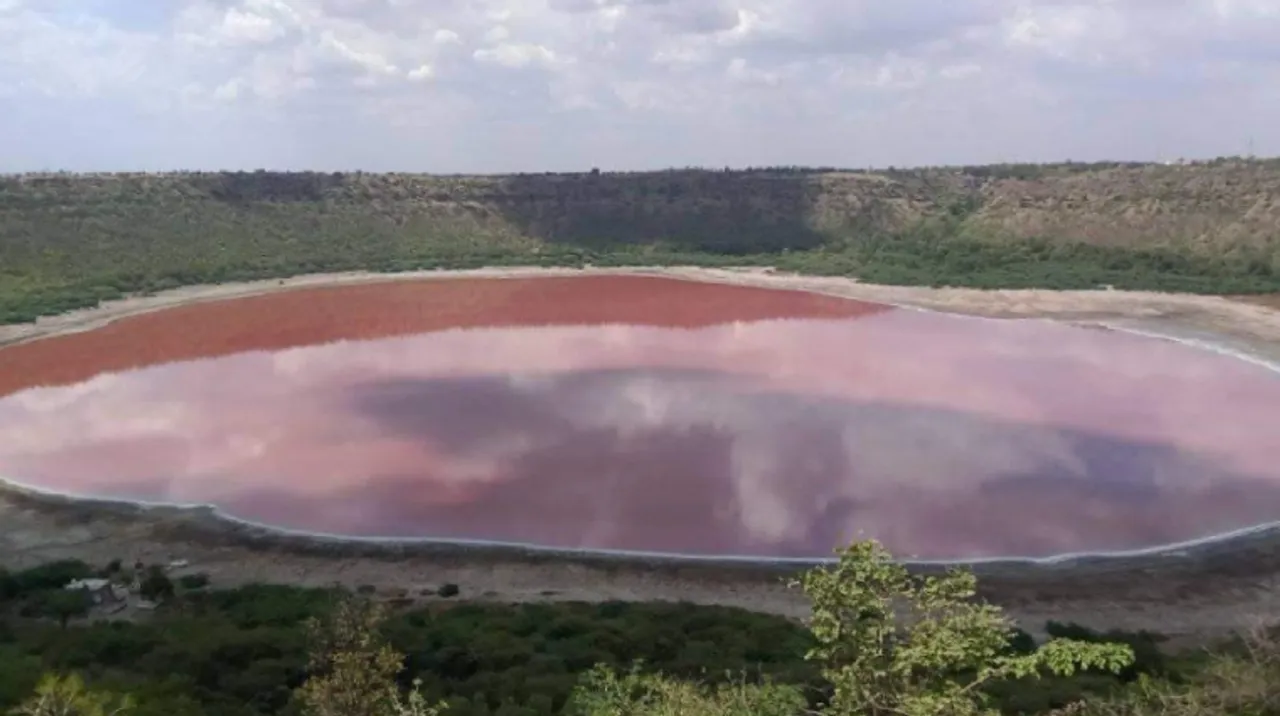 There's something about the outer space that intrigues a lot of us. But unless you're working for ISRO, the closest you can come to something extraterrestrial is the Lonar Crater in Buldhana district of Maharashtra. A result of Comet or Asteroid impact, this crater dates back to the ice age. But why are we talking about it now?
Well, the almost 50,000-year-old crater, also known as the Lonar Lake, used to hold water, which had a greenish tint to it. And suddenly, the water in the lake has turned pink! Baby Pink!
The sudden colour change was first noticed by Buldhana Tehsildar Saipan Nadaf over two decades earlier when it had similarly changed its hue to reddish-pink. Lonar Tehsildar Saipan Nadaf said local old-timers and records indicate a similar change in colour around 2000, but it did not grab much attention then.
Situated inside the small Lonar Sanctuary, it is renowned globally as the largest basaltic impact crater on the planet, created around 57,000 years ago, with 78-hectare lake's water unique on Earth for its dual salt and alkaline qualities.
Though in a remote location around 500 kms east of Mumbai, Lonar Lake now attracts around 400,000 tourists annually, besides scientists, from around the world.
Another unique aspect was in February when a couple of pink Flamingos made the Lonar Lake their home for a fortnight, gobbling on the lake algae.
Spread across 1.8km with 150m depth, this is one of the four rare craters on the planet. But the change in the colour of the water was not something anyone saw coming. And hence it's all hands on deck to collect samples and uncover the mystery.
According to the Deputy Conservator of Forests (wildlife), Akola, a sample of water from the lake, will be collected and sent for testing in Neeri, Nagpur, and Agharkar Research Institute, Pune. And since it is happening for the first time, researchers have no concrete idea as to what the case might be.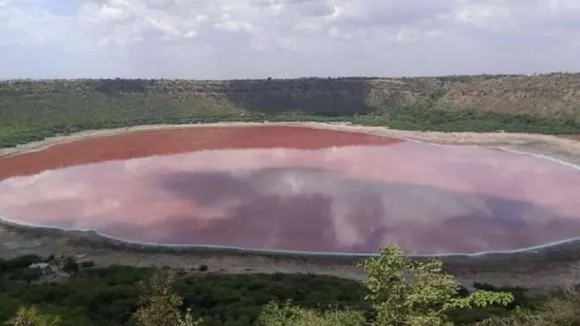 But looking at a similar case from Iran, we could deduce some theories. According to the scientist who studied similar happenings there, the water level which reduces during summer might be a cause. The reducing water level brings along a rise in the salinity of the water. Which, in turn, becomes a great breeding ground for Dunaliella Algae. These algae are known to turn red as they soak up the sun. And could be the reason behind the pinkish water.
But if research is to be believed, this phenomenon might not last long. As monsoon comes in, rains will replenish the lake and would bring back the salinity level to normal, which means goodbye Dunaliella Algae and pink water.
Featured Image: Source
For more such stories follow Local Samosa on Facebook,   Instagram,   Twitter, and Telegram.