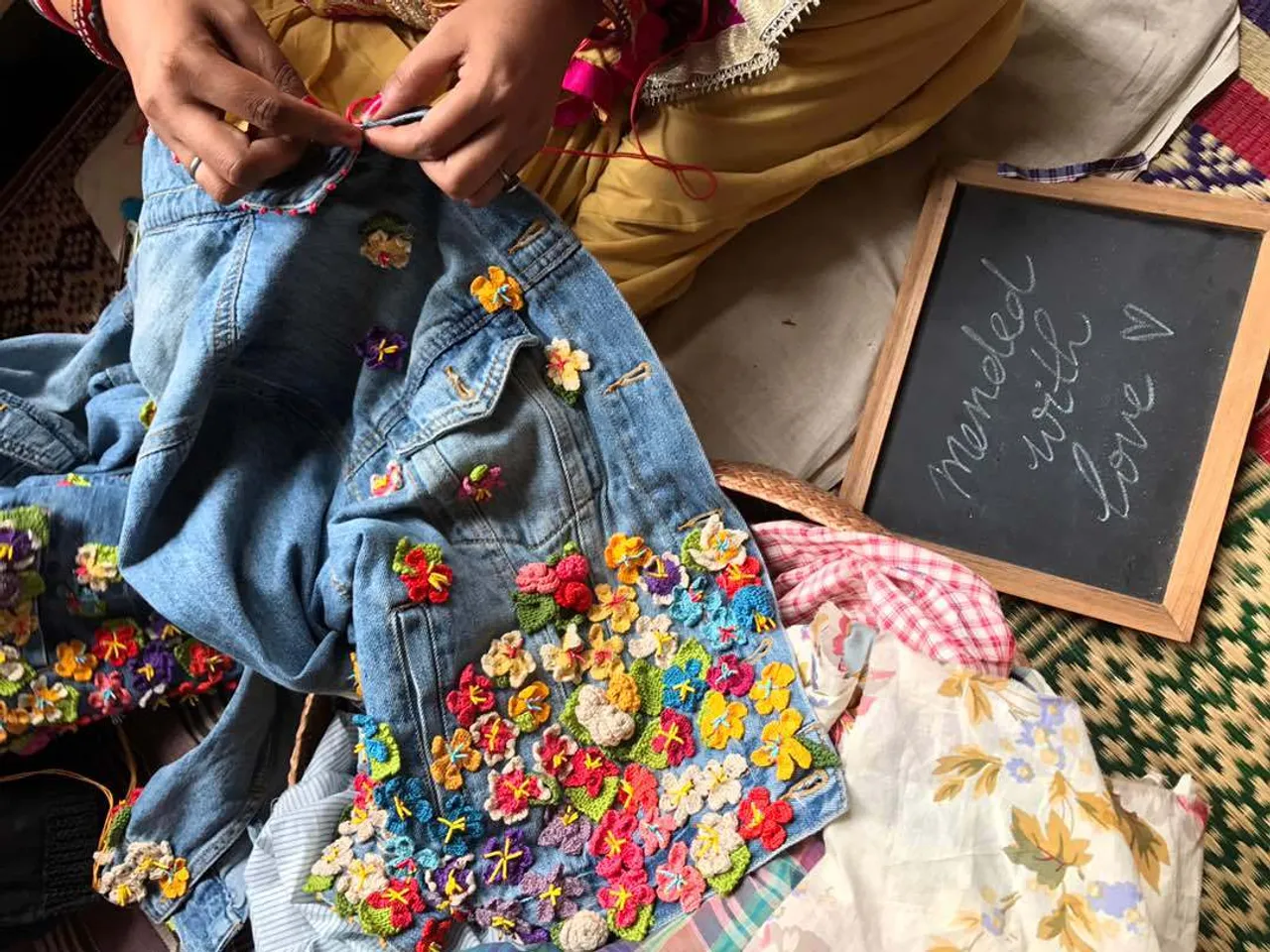 'Upcycling' means reuse (discarded objects or material) in such a way as to create a product of higher quality or value than the original. In today's time, environmentally conscious concepts like upcycling are the need of the hour. It is a true art to create something from discarded buttons, broken beads, old rags, worn-out jeans, and so on into a wearable design. The concept has become famous in the recent past and can be seen walking down runaways, in bride wedding outfits, contemporary clothing coming into your wardrobe. The major aim behind upcycling is to reduce textile waste. Let's check out the Indian brands in the 'Upcycling' game transforming old into new very seriously!
1. Dwij
'Dwij' means second life. This Mumbai based brand is working towards giving a useful second life to used jeans and industrial denim. There focus is to make different types of bags for almost all age groups from denim. Not just this, Dwij not only sells but also creates awareness. Moreover, Dwij is a PETA approved vegan brand.
Buy Here
2. Doodlage
Doodlage, a Delhi based brand, has championed the recycled chic eco-fashion. They entered the market in 2012, since then, there has been no looking back. Their forte is to produce fashionable outfits for people falling in the age group of 18 to 45 years. This brand is a perfect amalgamation of upcycling and fashion.
Website: www.doodlage.in
3. Ka-Sha
Ka-Sha is based out of Pune and came into the market in 2011. Ka-Sha literally upcycles everything like jackets, plastic, Banarsi saree borders, and a lot more. They believe in a zero-waste policy. Celebrities like Vidya Balan can be spotted wearing Ka-Sha's outfits.
Website: www.ka-sha.shop
4. AM.IT
AM.IT by Amit Aggarwal is no less than a brand name when it comes to Indian wear. Every bride has a dream to wear Sabyasachi, not always. Some people deeply believe in sustainable fashion, and those are the ones who choose Amit Agarwal for their wedding outfit. The major part of lehengas is made out of their signature linear recycled polymer. AM.IT's clothing is a fashion statement. Your jaw can drop looking at the beauty they create from upcycling.
Website: www.amitaggarwal.com
5. 11:11
Eleven Eleven is said to bring out the contrast in unique ways. Minimalism is its focus on producing new clothes merging modernity and pre-modernity. Looking at the current situation, they tried their hands on making some masks from organic cotton. On their social media, they put out materials that are earth-friendly related to clothing and are used by them.
Website: www.11-11.in
6. Pero
'Pero' means to wear in Marwari, the local language of Rajasthan. Every cloth at Pero is handmade with love. Pero has transformed its clothing with time. They create some crazy Boho outfits for your wardrobe. Currently, Pero's outfits can be seen resonating around floral and check designs.
Website: www.pero.co.in
7. RaasLeela
RaasLeela is a Gujrat based label. They have an all-women artisan team creating breathable, comfortable, and timeless clothing. They have 100% hand-stitched products using every tiny bit of leftovers from their store and manufacturing units.
Website: www.raasleela.co.in
8. Refash
Refash is Akanksha Kaila Akashi's baby. They intend not only to sell their upcycle products but make every individual aware of the concept of Upcycling. The aim is to be a destination where one can see DIY videos of upcycling and try at home. Also, they are not just a brand but a movement. They sell at pop-up events and via their website.
Website: www.refash.in
9. House of Wandering Silk
This Delhi-based brand was founded in 2011. The vision is to upcycle old silk into useful fashion accessories, not just restricted to women. The focus is on the upliftment and empowerment of women artisans. They sell their products online and also have tie-ups with stores across the globe.
Website: www.wanderingsilk.org
10. Real State
They create contemporary jewelry inspired by modern aesthetics and conscious thinking. The jewelry is made out of upcycled marble and gold-plated silver.
Website: www.therealstate.in
11. Mayank Anand Shraddha Nigam
They are a design studio based out of Mumbai. Mayank and Shraddha were Television actors and now designers. Built upon the philosophy of natural and organic clothing, they reuse, recycle, repurpose, and recreate, earning their entire line the label of 'upcycled fashion'. They only use Indian fabrics to make the outfits.
Website: www.thesecretlable.com
It's time to be responsible and be conscious of our environment. Next time you wanna shop something, try replacing your regular outfits with these upcycled ones.
For more such stories follow Local Samosa on Facebook, Instagram, Twitter, and Telegram.