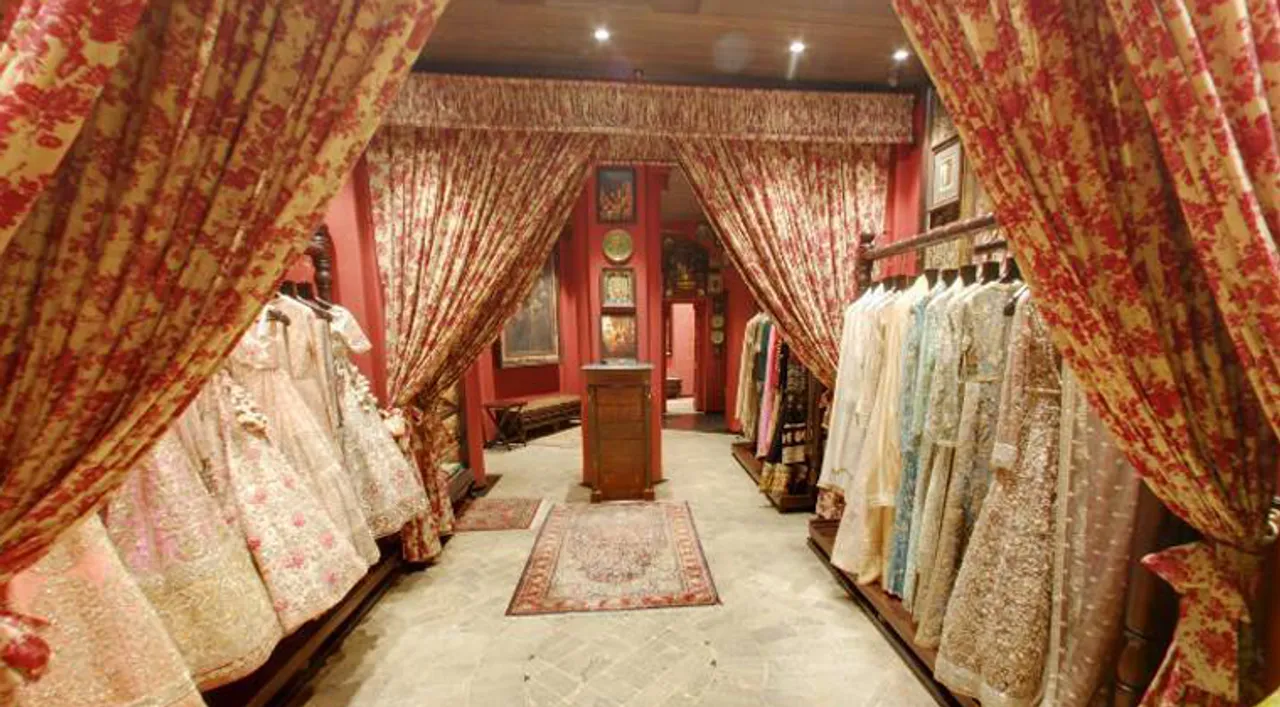 Be it red carpet event, magazine cover shoot, or their own wedding, we have seen Bollywood celebrities donning Sabyasachi outfits from time to time. The most famous and sought after fashion designer in India, Sabyasachi Mukherjee started off selling his collections from multi-designer stores. But with growing popularity and demand, the designer decided to open his flagship store at his hometown of Kolkata. And the Sabyasachi store at Lake Road, Kolkata is where it all started.
The store is located on Lake Road, Ballygunge, and is a must-visit for anyone who loves to wear designer dresses. The store is as grand as his lehengas, and it starts at the entrance. With a wooden accent and the Sabyasachi logo shining bright, you'll know you have reached the right place. 
Staying true to his style, Sabyasachi's Kolkata store and the Mumbai one share great similarities starting with the colour scheme. The royal red, along with the floral patterns on the curtains, will ring wedding bells even if you're already married!
The store showcases beautiful outfits for both men and women, making it a perfect place for the couples to look for their dreamy outfits for their The Day. Given you are not getting married, the store has a lot in store to offer, even if you are looking for a 'no' wedding attire.
The decor completely compliments the designer dresses, lehengas, or Sherwanis. Vintage paintings created by Sabyasachi Art Foundation adorn the walls, and the chandeliers at the Sabyasachi's Kolkata store will make you feel you are walking into a palace.
So next time you are shopping for your friend's wedding or your own, check out the Sabyasachi store in Kolkata, maybe you'll fall in love with one of his designs or the place. We sure have!