Virali Modi was only 14 when she faced a near-death experience. Undiagnosed malaria and wrong treatment from the doctors pushed Virali Modi into a coma. After being in a coma for 23 days, her family fighting with doctors to get the right treatment, and celebrating her 15th birthday while being in a coma, Virali finally came back to life. But, it was not the same, the incident left her paralyzed from the waist below. But, this didn't break Virali's spirit. After fighting all the stigma surrounding people with disabilities, she turned her life around to become a source of motivation for others. Now a disability rights activist and motivational speaker, Virali Modi is not only trying to make the life of people like her easier but also trying to educate people about the need for accessibility. We caught up with Virali Modi for a tête-à-tête. Here's an excerpt from the conversation.
You have been campaigning for disable friendly public transport with #mytraintoo. How did it start, your journey in leading the campaign, and what are your expectations out of it?
My journey started when I moved to India in 2008. I had to board a train from Mumbai to Delhi. That is when due to inaccessibility, the porters had to carry me. I was molested by the porter carrying me from my upper body. That happened to me on 2 other incidences too. One in 2011, and the other in 2013. I was scared no one would believe me, that's why I didn't say anything.
In 2015 when the Prime Minister launched the accessible India campaign that brought me a lot of joy. And then in late 2016 and early 2017 when the disability rights bill was passed. That was just like a total win. And then early 2017 I found out that then railway minister Mr. Suresh Prabhu Ji is launching a train called the Tejas Express, which is friendly for people for disabilities such as visually impaired and hearing impaired but nothing for people like with locomotive disabilities. So that really pissed me off.
I wrote an open letter regarding my experience in the Indian railways. That was published in a lot of newspapers and different outlets. And then, I put it out on Twitter, but I didn't get any response from the government. So, I filled a complaint at the PMO's office and the railway Ministery website. I didn't get a reply back from PMO but I got a reply back from the Railway Ministry saying that this complaint does not portray in this ministry and has been forwarded to the Ministry of External Affairs. That pissed me off even more. So then I started a petition on change.org called #MyTrainToo and that petition currently has over 2 lakh signatures.
A railway official from Kerala and I came together and we made 5 stations in Kerala totally wheelchair accessible. Just by implementing portable ramps and small aisle sized wheelchairs. That extended to Hyderabad, Orissa and then finally Mumbai. And that is the journey of #MyTrainToo. I just really hope that other stations take inspiration from what we have done and implement the same system. It will be just a win on every avenue.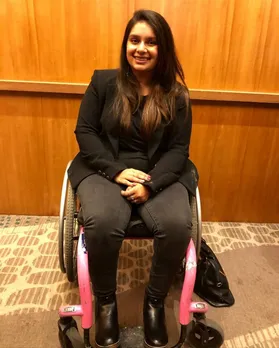 You've achieved a lot in your life, which achievement is more close to your heart?
I think the closest achievement to my heart is probably the women's achievement award from the Delhi Commission for Women. I received that award for my campaign for accessible railways. That campaign is close to my heart because there are so many people that are affected due to the inaccessibility of the railways. And we were able to make 8 stations in India totally wheelchair accessible. So, just imagine how many people are at ease now. They are not having any problems accessing the trains and the stations. How amazing is that? It is freedom, its liberty, and that's why that campaign is so close to my heart.
The incident of 2006 has been your major turning point. How has your life changed since then?
I think my life has changed because I have become more optimistic, but the challenges I faced in 2006 and all of the life lessons I have learned throughout, I realized, I just need to move on. I need to forgive and I need to forget and just to move on, create life, live it, and love it. That's all you can do.
How did your journey as a motivational speaker start?
So after my campaign for accessible railways, my journey started off by speaking at Ted X. But before that, I was speaking at local hospitals and trying to encourage and motivate the patients there, especially the disabled realm. That was my first venture into motivational speaking and after my campaign, I got the platform of Ted X and from that point, it was like a wildfire. I was speaking about my journey, what I have learned in life at lots of colleges, NGOs, and corporates. It is just a beautiful career because I am able to impact people and change their thinking and perception of life, and I think that is so amazing and I am so grateful.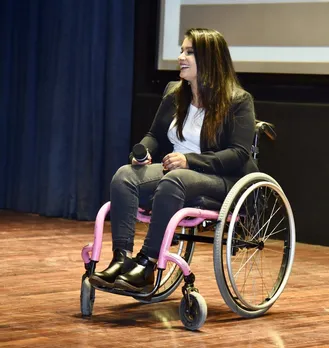 How did it feel to be a part of BBC's 100 women list?
I literally thought it was spam when I first got the email from the BBC 100 Women. I was going to delete that email, but I decided to give it a read. The email was surprising. But I was still suspicious of it. And so I just replied to them thinking if it will be true, they'll reply back. Then a day later I got a reply back, and I was like wow, this is real. I was so excited. I was clueless, and I had no words for such an amazing feeling. It is an honour to be included in such a respectful list.
Do you see any places in India that have evolved and adapted inclusive living spaces?
Actually, ya I have. A lot of restaurants I have been seeing, they are including ramps. Even festivals are including ramps and accessible toilets. I think that's brilliant, and people are catching on to it. Whatever the reasoning may be, at least we are being inclusive. So I do see the change, it is slow, but it is definitely happening. I am very grateful and hopeful for the future.
Do you feel there's a lack of unified efforts to influence changes? Or do we need more voices?
I feel that there are a lot of voices, but I feel its all about the influence. So, supposedly right now on Facebook, I have 9K Followers, another person might have 5K followers, and then, there is another person with 50 followers. The voices of people with more followers reach a larger audience, they are being more magnified than those who do not. The voices are there but they are not being heard, and that's the problem.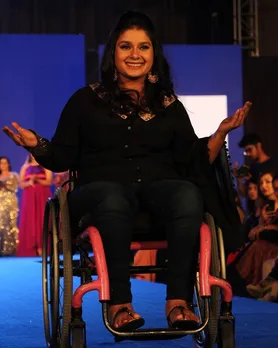 Can you give us a sneak peek into the gym routine of Virali Modi?
I am actually not really into sports, but I am into swimming, I love swimming and scuba diving. The gym is part of my routine, and if you go to my Instagram and you'll see clips of me working out at the gym. I just love it. I really enjoy it and try to do it every day if I can.
You are an inspiration to many, someone who has honed the challenges and transformed them into strength. What is one thing that kept Virali Modi going?
I get an email or message from someone saying that 'I was on the verge of killing myself, I had given up on my life, and then I saw your video, or I heard you speak somewhere, you give me that will to just push on and carry on.'
I see the impact I have created when I see these messages. That is my inspiration and my motivation. It is like a circle, I work for you and you work for me and I think its a beautiful relation. I am so grateful.
In your leisure time, What do you enjoy to do, places you love to eat and travel?
In my leisure time, I have two modes: the first mode is - just stay at home, watch Netflix, eat junk food and just lay around in pyjamas. The second mode would be - I want to go somewhere, I want to do something, I want to travel somewhere. And my third mode would be- I want to party, I want to go to a concert or I want to do something loud. So it really depends on the day, but if I had a choice I would just be home, in my pyjamas, eating a large pizza, that's where the chill is.
What are the future plans of Virali Modi and how can someone be part of your initiatives?
My future plan as of now is that I want to spread disability awareness and I want to spread positivity. I want to do that through motivational talks, I want to involve the public in public activities. I want to collaborate with people, create change and I want to figure out a way to do that. So if anyone has any ideas, just send me an email or dm on Instagram. Let's talk, let's do something. I want to help the public and I know the public wants to help me, it's the only way we can create positive change, and that's something I want to really focus on in future.