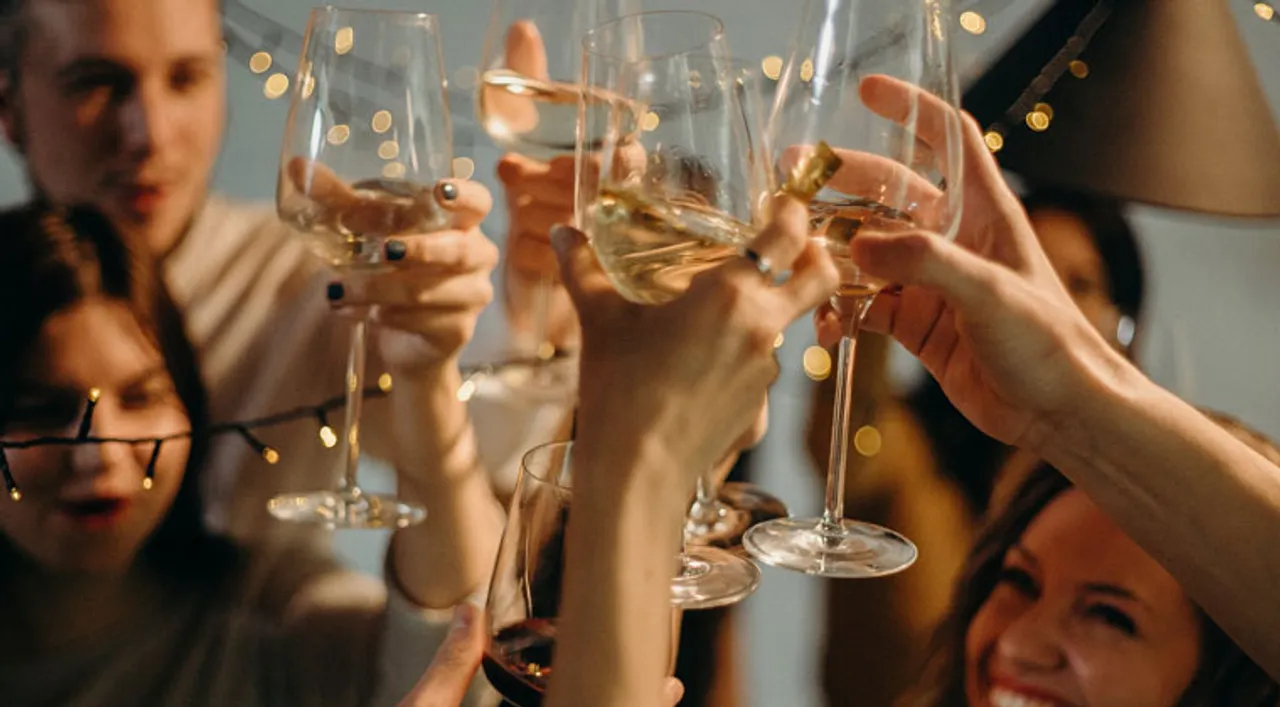 We are already at the end of the last month of the year. Just a couple of days and 2019 will be a history with a lot of memories in the diaries of every individual's life. Before we wave a cheerful goodbye, let's make the best New Year Eve ever. Here is a list of best New Year parties in Ahmedabad.
The NYE Gala- Hyatt Regency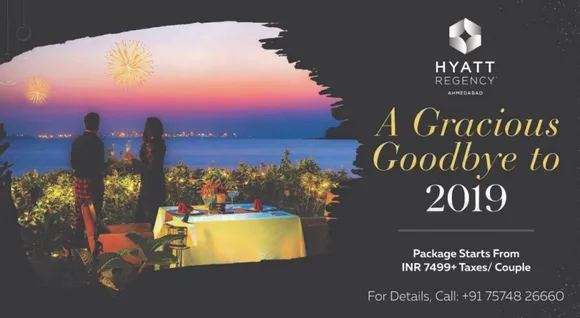 A luxury option especially for couples to make your New Year Eve the most memorable one with a Gala Dinner added with a spice of live music band creating the perfect romantic mood at Hyatt Regency, Sundowner by the pool, one night stay and a hear-warming Thank you on checking out the next day.
Where: Hyatt Regency, Usmanpura, Ahmedabad
Cost: Rs 7500 + taxes/Couple
Mystical Robotic Night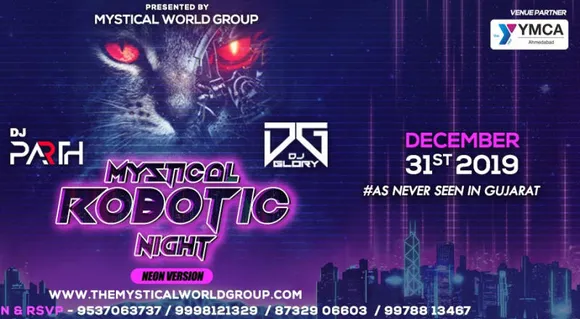 Gujarat's best DJ artists DJ Glory and DJ Parth will be on the biggest stage in Ahmedabad for the first time. The robotic theme with a bombastic sound effect and a special get-up of the Neon theme is going to make you look fantastic. 
Where: YMCA International Centre, Ahmedabad
Cost: Rs 499 – 5999
Jomoso's Masquerade Carnival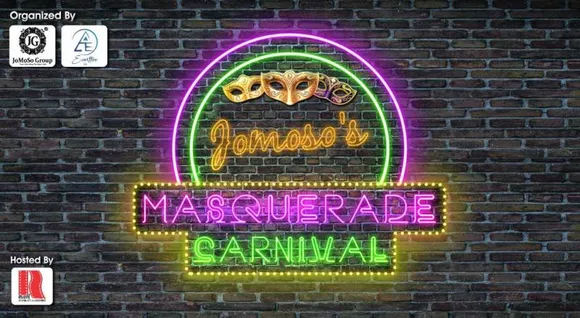 The well-known Duo artist J&U is performing here to make you dance to your last breath. Join them here and bid 2019 goodbye in style.
Where: Prabhuleela Upvan Party Plot, Makarba, Ahmedabad
Cost: Rs 300 & Rs 500
Paradox 6.0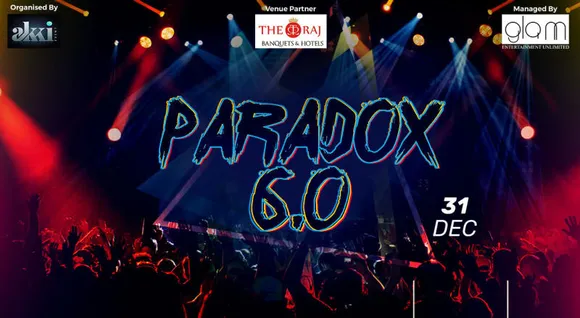 With a lot of excitement, celebration, craziness, and satisfaction, Paradox 6.0 is to make the best last day of the year.
Where: The Raj Thaal and Restaurant, the Raj Banquet, KK House, Sardar Patel Ring Rd, Bopal, Ahmedabad
Cost: Rs 399 & Rs 599
Zero Music Fest – New Year Party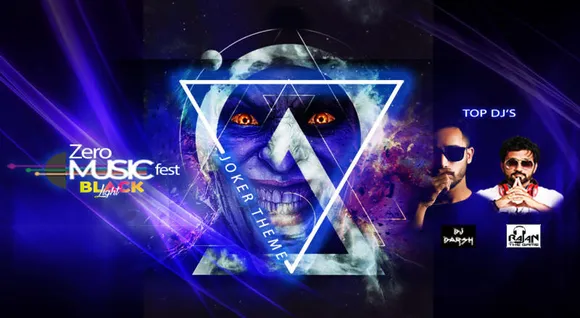 DJ Darsh and DJ Rajan will be performing for the first time in Ahmedabad and will make you dance on your toes the entire night. Zero Music Fest is well-known for its best dance music. So go here for a musically night!
Where: Krishna Farm, Sindhu Bhavan Marg, Bodakdev, Ahmedabad
Cost: Rs 300 – Rs 2800
Also Read: Welcome 2020 with these getaways in India!
Dance Mania @ Pool Side

Slip into 2020 with a fun-filled evening at Dance Mania Pool Side.
Where: The Ummed Ahmedabad, International Airport Circle, Ahmedabad
Celebrate 2020 Cowboy Style

This theme party is for all the cowboys and cowgirls. So saddle up to come to one of the best theme party in the City. Yummy food, rocking DJ, a gripping photo booth and lots of laughter, we hope you aren't missing this.
Where: Hotel Platinum Inn, Ahmedabad
Cost: Rs 679 – Rs 2199
Under The Sky New Year Party 2020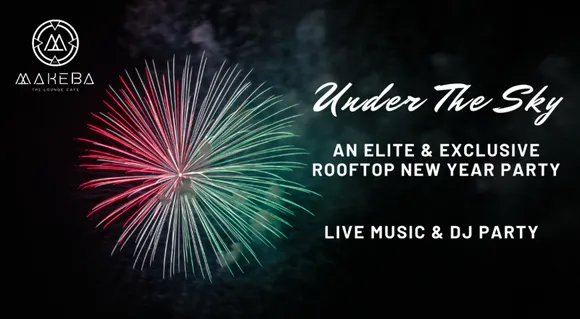 An elite rooftop party under the sky, exclusively for the lovely souls of Ahmedabad, what else do you want? Live music, DJ party, multi-cuisine unlimited buffet dinner, we bet this is one of the best new year parties in Ahmedabad.
Cost: Rs 1100 – Rs 2500
Where: Makeba The Lounge Café, University Area, Ahmedabad
Resolution 2020 – Biggest New Year Party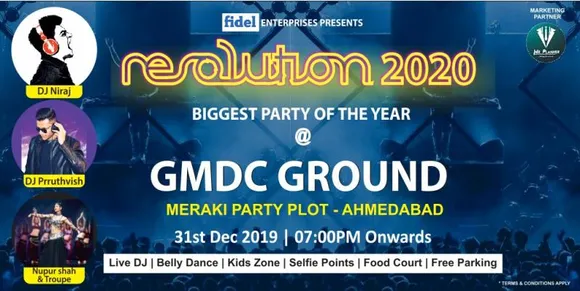 Go here to watch stellar performances by belly dancers, dance to the tunes of live DJ, click fun pictures with your friends and family at multiple selfie points. And don't worry about leaving your kids home, there is a dedicated kids zone for them to enjoy with fellow kids. For a fun-filled night with family and friends, Resolution 2020 is a must-visit.
Cost: Rs 250 – Rs 1599
Where: GMDC Ground, Memnagar, Ahmedabad
High Beat – Nye 2020 @ Courtyard by Marriott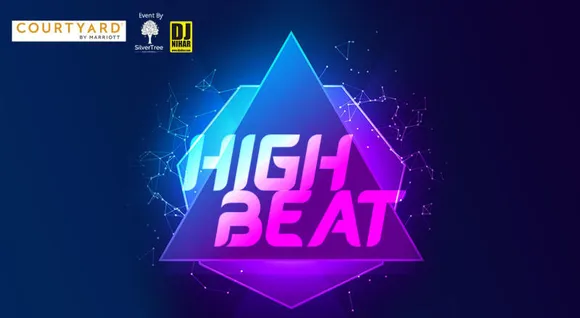 An amazing theme party with non-stop live music from the famous DJ Nihar, electrifying lights, and mind-boggling music. Celebrate your new year with the most elite crowd of Ahmedabad.
Where: Courtyard by Marriott, Ahmedabad
Cost: Rs 1299 – Rs 12000